The Hidden Oracle by Rick Riordan. The Trials of Apollo, #1.
My copy: Disney Hyperion, May 2016. Hardcover, 361 pages.
Source: Library.
Synopsis:
How do you punish an immortal?
By making him human.
After angering his father Zeus, the god Apollo is cast down from Olympus. Weak and disorientated, he lands in New York City as a regular teenage boy. Now, without his godly powers, the four-thousand-year-old deity must learn to survive in the modern world until he can somehow find a way to regain Zeus's favour.
But Apollo has many enemies—gods, monsters and mortals who would love to see the former Olympian permanently destroyed. Apollo needs help, and he can think of only one place to go… an enclave of modern demigods known as Camp Half-Blood.
---
Thoughts on The Hidden Oracle:
We get an Apollo haiku every chapter. I can die happy, because Apollo haikus are so atrocious they're brilliant.
Apollo is hilarious. He's a mighty god stuck in the form of a flabby, pimply teenage boy. The stuff he spews out of his mouth is gold sometimes. He's so gloriously full of himself, but not in a "want to smack you upside the head" kind of way.
I wish that Meg was a little bit older, 12 seemed kind of young, but she was a trip.
I loved all the references to characters and past events from Rick's other two Greek and Roman series. Also there was a sweet reference to the Magnus Chase series.
I couldn't keep up with all the Camp Half-Blood campers. Everyone had a name but I never really felt that attached to the minor characters when something happened, because there were just too many. (Also, how is everyone not dead?)
I appreciate the diversity in Rick's books. People of all backgrounds are represented, and even Apollo is bisexual!
The story is still formulaic as ever, but it works, and I love seeing how Rick incorporates myths and gods he hasn't written about yet.
But really, Camp Half-Blood seems to be located in the worst possible place EVER.
The return of Percy! I like how Percy is in The Trials of Apollo and Annabeth is in Magnus Chase.
Will + Nico = ❤
PEACHES! ♦
---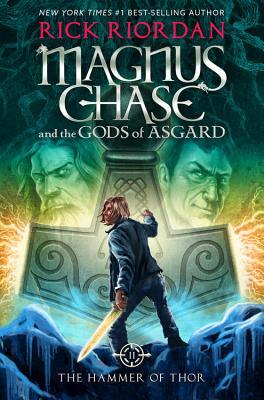 The Hammer of Thor by Rick Riordan. Magnus Chase and the Gods of Asgard, #2.
My copy: Disney Hyperion, October 2016. Hardcover, 459 pages.
Source: Library.
Read my review of The Sword of Summer, book #1, here.
Synopsis:
Thor's hammer is missing again. The thunder god has a disturbing habit of misplacing his weapon–the mightiest force in the Nine Worlds. But this time the hammer isn't just lost, it has fallen into enemy hands. If Magnus Chase and his friends can't retrieve the hammer quickly, the mortal worlds will be defenseless against an onslaught of giants. Ragnarok will begin. The Nine Worlds will burn. Unfortunately, the only person who can broker a deal for the hammer's return is the gods' worst enemy, Loki–and the price he wants is very high.
---
Thoughts on The Hammer of Thor:
Ah, I love how convoluted Norse mythology is. (I mean, all mythology is pretty convoluted, but Norse mythology can be pretty complicated.) It felt good to be back.
Jack the sword killed me. Talking weapons are my new favorite thing.
Hooray for more diversity! Not only do we have persons of color, but also an elf who is deaf, and Alex the gender-fluid child of Loki. The crew is pretty awesome.
Book 2 was kind of a chore at times. There was so just much side-tracking. I know this is Rick's formula for quests and stuff ("we have to go to A to pick up this thing B needs in order to tell us how to get to C but our ultimate goal is like G"), but at times it did get pretty ridiculous.
The pop culture references are very funny, but in the future this book will be very dated.
Sam is one strong gal. Total bad-ass, but also very vulnerable. Respect. ♦
---
Have you read The Hidden Oracle?
How about The Hammer of Thor?
If you haven't, would you be interested to?
What's a world mythology you'd love to read a new series about?
Comment below letting me know!
Follow me @ toweroftomes on Twitter | Instagram | Goodreads | and Bloglovin'!