It's been a month. How is everyone doing? Life has been crazy for me. I'm moving from the home I grew up in and going to another state. A fresh new start. I'll also be starting university at the end of the summer. I'm super excited. But I already know I won't be reading much once school starts.
I've been thinking a lot lately about how reading and blogging aren't enticing me as much as they used to. I've gone through slumps in the past purely because of burnout. But now that my life is going to dramatically change, I've had to think about managing my time going forward.
I still love reading and will always read voraciously, but with work and now college fast approaching, I find that while I do still read, I don't have the time to devote to writing reviews. I do love blogging and it's taught me incredibly useful skills that I am actively using at one of my jobs. Book blogging kept me sane while I was going through a rough patch and trying to figure out what I wanted to do with my life. I am blessed that I joined the book community and met and talked to other readers when I didn't have any IRL friends who read the same types of books as me.
I plan to try to keep up posting at least once a month up until my third year blogging anniversary on August 24th, literally the week before I start classes. After the summer is over, though, I won't promise anything. It seems like this will be the right timing to let go of The Leaning Tower of Tomes…
But until August 24th rolls around — here's a look at what I've read in the past two months. I'll admit, I have only read three books since I posted my review of Wild Orchid. And because I'm in the middle of packing, working two jobs, and getting my wisdom teeth out, I don't know if I'll be reading much of anything until I get settled in my new place. Still, I plan to read as much as I can over the summer.
---
What I Read in April and May 2017: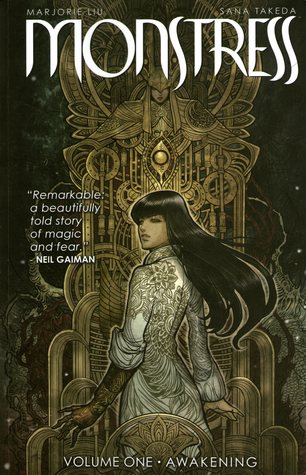 Paper Girls, Vol. 2 by Brian K. Vaughan, art by Cliff Chiang, colors by Matt Wilson, letters by Jared K. Fletcher (Paper Girls, #2) | Image Comics, November 2016. Paperback, 128 pages.
Maybe it's because I read a physical copy, but I enjoyed Paper Girls, Volume 2 much more than Volume 1. The time-travel/alternate-worlds aspect was poppin' and I felt much more invested in the mystery. ♥♥♥♥
The Legion of Regrettable Super Villains by Jon Morris | Quirk Books, March 2017. Hardcover, 256 pages. I received a copy from the publisher.
Quirk Books publishes the most amazing coffee table books, that's what I've decided. The Legion of Regrettable Super Villains is basically an encyclopedia of super villains from comics that weren't so super. ♥♥♥
Monstress, Vol. 1 by Marjorie Liu, art by Sana Takeda, lettering by Rus Wooton (Monstress, collected, #1) | Image Comics, July 2016. Paperback, 202 pages.
Now. THIS. Was quite something! Effing dark but so intriguing. I can see why it's been so hyped. I didn't love it with every ounce of my being (those cat info-dumps were tedious…), but I am definitely a fan of the story and artwork. Especially the artwork. ♥♥♥♥
---
So that's what I've been up to lately. There's just been so much going on I haven't been in the mood to sit down and read. Escaping into Korean drama land and K-pop is so much easier for my brain to handle these days. And, you know, the books I typically read are complex and dark fantasies. I just need a break.
See you next month!
---
What was your favorite book you read in the past few months?
Have you read any of these books?
If not, do any of them pique your interest?
Comment below letting me know!
Follow me @ toweroftomes on Twitter | Instagram | Goodreads | and Bloglovin'!