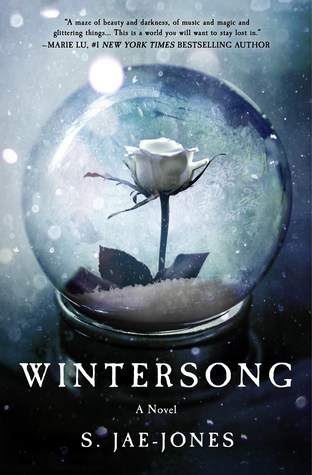 Wintersong by S. Jae-Jones.
My copy: Thomas Dunne Books (St. Martin's Griffin), February 2017. Hardcover, 436 pages.
Source: Library.
Synopsis:
Dark, romantic, and unforgettable, Wintersong is an enchanting coming-of-age story for fans of Labyrinth and The Beauty and the Beast.
The last night of the year. Now the days of winter begin and the Goblin King rides abroad, searching for his bride…
All her life, Liesl has heard tales of the beautiful, dangerous Goblin King. They've enraptured her mind, her spirit, and inspired her musical compositions. Now eighteen and helping to run her family's inn, Liesl can't help but feel that her musical dreams and childhood fantasies are slipping away.
But when her own sister is taken by the Goblin King, Liesl has no choice but to journey to the Underground to save her. Drawn to the strange, captivating world she finds—and the mysterious man who rules it—she soon faces an impossible decision. And with time and the old laws working against her, Liesl must discover who she truly is before her fate is sealed.
Rich with music and magic, S. Jae-Jones's Wintersong will sweep you away into a world you won't soon forget.
---
Liesl, a gifted composer, has always lived in the shadow of her younger siblings. Her brother, Josef, is a violin virtuoso. Her sister, Kathe, is an absolute beauty. However, the three siblings all care deeply about one another, and when Kathe is captured by the Goblin King, Liesl embarks on a journey to bring her sister back to the world of the living.
So, like, I thought the majority of this book would be about Liesl trying to find and rescue Kathe. The whole Kathe plot point was resolved rather quickly — and then the book turned into a romance. Not going to complain, though, I was aware this would be a romance-heavy story. Except that Liesl moped around in her room for, I am not kidding, probably 80% of the book, which grated on my nerves after a while. Overall, I got Hades and Persephone vibes — although Wintersong is actually loosely based on the movie Labyrinth, which I have not yet seen, so I can't make any comparisons.
I adored how music played such a large part of the story, how all the main characters loved playing and or composing. I applaud S. Jae-Jones' attention to detail and music terminology (I studied music for quite a bit of my childhood, when I played the violin and when I sang in chorus), and I loved her way of describing melodies, emotions, sound, and everything else. The writing in general is gorgeous, with incredible descriptions and lush vocabulary. Flowery prose can be a turn-off for some readers, but this was a case that I really liked from the get-go. The elaborate writing felt fitting for the historical time period and helped shape the magical world full of music and twisted magic.
Liesl was a flawed heroine, who I actually liked most in the very beginning and very end of the book. The middle of the book consisted of her moping in her room, throwing tantrums or giving goblins the silent treatment, and often ignoring whatever problems arose. (Girl, haven't you heard of something called communication? Lack of communication is my least favorite thing ever. So is shutting people out, which is essentially the same thing.) Liesl's whole identity also seemed to be only two things: her music and her devotion to her little brother. I honestly wanted more.
Now, the Goblin King, Der Erlkonig, was a fascinating creature. Mysterious, lonely, powerful, damaged, menacing — his back story, the tiny morsel we received at the veeeeery end, was what I wish I'd gotten more of. Now, I would freaking read the Goblin King's origin story, please and thank you. But he always felt slightly distant from me as a reader, mostly because I just didn't know anything about him. He was just the revered Goblin King. That was his whole identity. I never fell head over heels in love with the him like Liesl did (and I did sometimes questioned what was so great about Liesl), but he was definitely a huge presence that I always enjoyed seeing. I just wanted MOAR.
As I said previously, the book turns heavily into a romance, which I was expecting and down for. But I felt like there were too many steamy, romantic scenes? I know Wintersong started out as an adult book and then got changed to upper-YA (avert yer eyes, you young'uns!), but I would have appreciated less getting it on and more actual relationship building. Liesl and the Goblin King never did anything particularly imaginative. They had dinner, played music, composed, made out, fought, played a game in a similar vein to truth-or-dare, and… that's all I can remember. Liesl herself went dress shopping a few times and stared into a mirror that showed her the outside world. I wish Liesl had actually thoroughly explored the Underground and met more of its inhabitants. I also would have enjoyed even seeing some of the story from Josef and Kathe's perspectives. What were they going through while their sister was lost to them and they were the ones searching for her? It was their love for her, and hers for them, that kept Liesl going the entire time. (Wow, I went on a tangent. But, yeah, while the sexy times were definitely sexy and full intensity, I was never 100% sold that these two people were each other's soulmates.)
I really liked Wintersong. Was it perfect? Heck no, the plot was pretty much nil for the middle portion, and the pace definitely crawled along. But the deeply flawed characters kept them realistic — I just wish there had been more character development and back story told. If you like music, beautiful writing, romance, Hades and Persephone, and Labyrinth, you'll probably like Wintersong. If you don't like elaborate prose, can't stand the leads' pretty messed-up relationship, and hate Labyrinth, you probably won't like Wintersong. Oh, and one last thing: the book, while technically a standalone, is open-ended, so there's the possibility for a sequel. Which I'd definitely be interested in picking up. ♦
---
Have you read Wintersong?
If you haven't, would you be interested to?
What's a book about a magical king or queen you've read and recommend?
Comment below letting me know!
Follow me @ toweroftomes on Twitter | Instagram | Goodreads | and Bloglovin'!