Top 5 Wednesday is hosted by Lainey @ Ginger Reads Lainey.
---
This week's topic asks us to list books we felt betrayed by. The title is pretty self-explanatory, so let's just jump right in. Click on a title to read my review.
---
The Top 5 (*cough* 6)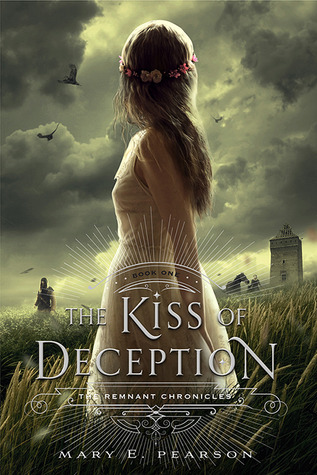 Becoming Jinn by Lori Goldstein. I was promised genies and growing up and maybe a cute romance. Instead I got an insufferable heroine and a dreaded love triangle. No thank you.
The Shade of the Moon by Susan Beth Pfeffer. The fourth and final book in Susan Beth Pfeffer's post-apocalyptic series. The first book, Life As We Knew It, is one of my favorite books ever. Book two, The Dead and the Gone, is still good but just so damn dark and depressing. Book three, This World We Live In, is eh. But The Shade of the Moon — I was absolutely astounded at how much I hated it. I can never forgive rape or almost-rape that is "justified." Hell to the no.
Queen of Hearts by Colleen Oakes. I was promised a Red Queen origin story. Instead I got a bratty, impulsive princess who I wanted to push off a tower. Ick.
The Kiss of Deception by Mary E. Pearson. Now, this is a book I'm really torn about. On one hand, I liked parts of it. Fantasy and romance and runaway princesses and fun princes and cool assassins… On the other hand, dear goodness, I was not a fan of how the identities of the two male leads were kept secret from us, the reader. It was clever, but I guessed who was the prince and who was the assassin wrong. And I ended up liking the assassin more as a character. I had and still have lots of feelings about this book that literally betrayed me.
Soundless by Richelle Mead. I wasn't exactly "betrayed," since I read Soundless after seeing less than stellar reviews of it. But I was promised Chinese folklore and a Chinese-inspired world, as well as a heroine with a disability. Well. Chinese folklore was almost nil until the very end. Chinese-inspired world could have been any type of culture if the names had been changed. And the heroine's disability? Poof. Gone with some magic. Because she's a special snowflake. Who needs to work around a disability? Disabilities aren't for heroes and heroines! Yeesh. This ticked me off, if you can't tell.
The Sin Eater's Daughter by Melinda Salisbury. I'm now always wary of books that I'm SUPER HYPED about because this was a letdown. This was my most anticipated book of 2015 — and it was really disappointing. Nothing happened. The sin-eating isn't even a thing the heroine does.
---
Have you read any of the books I listed?
What's a book you felt betrayed by?
Comment below letting me know!
Follow me @ toweroftomes on Twitter | Instagram | Goodreads | and Bloglovin'!