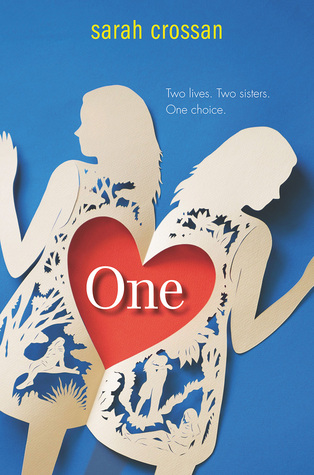 One by Sarah Crossan.
My copy: Greenwillow Books (Harper Collins Publishers), September 2015. Hardcover, 388 pages.
Source: Library.
Synopsis:
Grace and Tippi. Tippi and Grace. Two sisters. Two hearts. Two dreams. Two lives. But one body.
Grace and Tippi are conjoined twins, joined at the waist, defying the odds of survival for sixteen years. They share everything, and they are everything to each other. They would never imagine being apart. For them, that would be the real tragedy.
But something is happening to them. Something they hoped would never happen. And Grace doesn't want to admit it. Not even to Tippi.
How long can they hide from the truth—how long before they must face the most impossible choice of their lives?
---
Conjoined twins. Sisters Grace and Tippi. Them joining the harsh waters of high school. Falling in love for the first time. These are just the broad topics One touches on. This is a beautiful verse novel about family, friends, and feeling like the world is out to get you because you're different.
It took me a little while to get into the book's rhythm, as the poems at first felt sort of plain, as if a paragraph had been written and then the enter button had been hit at the best moments. But once I started to like Grace and Tippi and feel invested in their story, I was a goner and couldn't read fast enough.
The story is quite predictable, which does make the ending expected but it doesn't hurt any less. But One is a beautiful, unique, well-researched book that I highly recommend to anyone. I'm so glad I finally read it. It's memorable and relatable, and I really really enjoyed experiencing Grace and Tippi's story. ♦
---
Skyscraping by Cordelia Jensen.
My copy: Philomel Books (Penguin Group), June 2015. Hardcover, 341 pages.
Source: Library.
Synopsis:
A heartrending, bold novel in verse about family, identity, and forgiveness
Mira is just beginning her senior year of high school when she discovers her father with his male lover. Her world–and everything she thought she knew about her family–is shattered instantly. Unable to comprehend the lies, betrayal, and secrets that–unbeknownst to Mira–have come to define and keep intact her family's existence, Mira distances herself from her sister and closest friends as a means of coping. But her father's sexual orientation isn't all he's kept hidden. A shocking health scare brings to light his battle with HIV. As Mira struggles to make sense of the many fractures in her family's fabric and redefine her wavering sense of self, she must find a way to reconnect with her dad–while there is still time.
Told in raw, exposed free verse, Skyscraping reminds us that there is no one way to be a family.
---
I was perusing the shelves at my library when the title caught my eye: Skyscraping. So I picked it up and flipped it open — and was excited to see it was a verse novel, a book told in free verse poetry! Skyscraping ended up being a terrific read I took a chance on, having never heard of it before — and because I rarely read blurbs, let's be real here, I go into 95% of the books I read blind. Skyscraping is a hidden gem, a gorgeous but sad story about a girl growing up in New York City whose father falls ill with AIDS.
I loved how relatable Mira was. I grew up in New York City, and it wasn't too long ago that I was also applying to colleges and not knowing what I wanted to do with my life. What a really loved about this book was its excellent and realistic portrayals of relationships, and how you can love someone but you don't always show it or think they show it. Skyscraping is a memorable book that I totally recommend if you can handle the emotions that are sure to eat away at you. ♦
---
Have you read One?
How about Skyscraping?
If you haven't, would you be interested to?
What is a good verse novel you've read?
Comment below letting me know!
Follow me @ toweroftomes on Twitter | Instagram | Goodreads | and Bloglovin'!