Top Ten Tuesday is hosted by The Broke and the Bookish.
---
The Top Ten (*cough* twelve) List: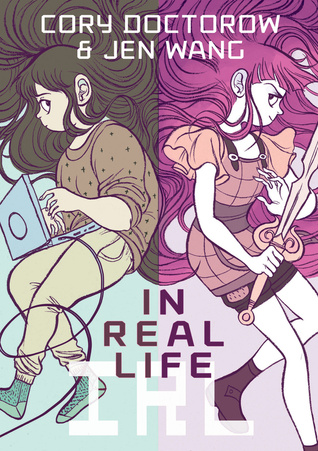 Click on a title to read my review.
Through the Woods by Emily Carroll. | This is art and storytelling at its finest. Read these creepy short stories around Halloween and get yourself a copy, because this book of horror stories is effing brilliant.
In Real Life by Corey Dotorow and Jen Wang. | In Real Life is more serious than you'd think, but what really impressed me were the COLORS. The colors are so damn beautiful and pleasing.
East of West by Jonathan Hickman and Nick Dragotta. | The Apocalypse, which takes place in our futuristic world, but with alternate history. If you can get past the confusing exposition in the first volume, you'll be in for the long haul with this series. (I might like East of West more than Saga. Shhh… don't tell Saga.)
Amulet by Kazu Kibuishi. | For the middle grade readers who'd like to get into graphic novels, the Amulet series is a wonderful, fun fantasy adventure.
Blue Is the Warmest Color by Julie Maroh. | I really didn't expect to fly through this in one sitting and love it so dearly. It's sad, it's tragic, it feels so real…
Nausicaa of the Valley of the Wind by Hayao Miyazaki. | See where it all began, the story that turned Miyazaki into a legend and birthed Studio Ghibli! The manga sprawls, unlike the movie which had to take the strongest elements from the manga and condense it all into under three hours. If you're interested in more of Nausicaa's adventures and a larger dystopian world to read about, I highly recommend checking out the manga.
Seconds by Bryan Lee O'Malley. | Great heroine, great art style, great read that I couldn't put down and loved every page of.
Death Note by by Tsugumi Ohba and Takeshi Obata. | Having now read three volumes of Death Note, I can say that this manga series is consistently smart, tense, and amazing (emphases on smart, which makes it amazing). It's definitely my favorite manga.
Maus by Art Spiegelman. | If you haven't heard of Maus, you should. Maus is an important and thought-provoking biography of Art Spiegelman's father's life during the holocaust. It's heavy stuff, but worth reading.
Nimona by Noelle Stevenson. | Quirky, hilarious, and heartfelt. Nimona is just charming and bad-ass.
Saga by Brian K. Vaughan and Fiona Staples. | Where do I even begin? If you haven't heard of Saga, where have you been living. Just go read it. Do it now. It's probably the best place to start if you're new the comics/graphic novel scene and you're down for sci-fi, sex and gore.
American Born Chinese by Gene Luen Yang. | From my review: "American Born Chinese delves into the topic of identity, self-acceptance, racism and stereo-types, and feeling like you're different and don't belong/fit in." It was the first graphic novel I ever read, and I'm glad I started with it, as it opened the door to the incredible world of stories told through art (in book form).
---
Honorable mentions:
Love: The Tiger | Pyongyang | Maid-Sama! | Explorer | Manga Classics | Scott Pilgrim | Boxers | I Hate Fairyland
---
Have you read any of these books?
If not, do any of them pique your interest?
What are your favorite graphic novels, comics, or manga?
Comment below letting me know!
Follow me @ toweroftomes on Twitter | Instagram | Goodreads | and Bloglovin'!