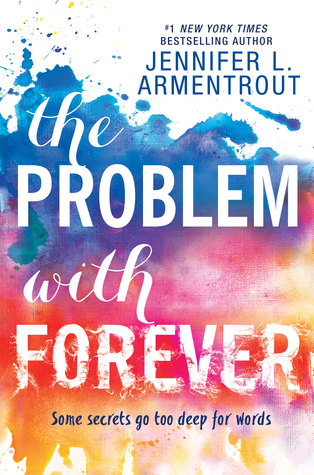 The Problem with Forever by Jennifer L. Armentrout.
My copy: Harlequin Teen, May 2016. Hardcover, 474 pages.
Source: Library.
Synopsis:
For some people, silence is a weapon. For Mallory "Mouse" Dodge, it's a shield. Growing up, she learned that the best way to survive was to say nothing. And even though it's been four years since her nightmare ended, she's beginning to worry that the fear that holds her back will last a lifetime.
Now, after years of homeschooling with loving adoptive parents, Mallory must face a new milestone—spending her senior year at public high school. But of all the terrifying and exhilarating scenarios she's imagined, there's one she never dreamed of—that she'd run into Rider Stark, the friend and protector she hasn't seen since childhood, on her very first day.
It doesn't take long for Mallory to realize that the connection she shared with Rider never really faded. Yet the deeper their bond grows, the more it becomes apparent that she's not the only one grappling with the lingering scars from the past. And as she watches Rider's life spiral out of control, Mallory faces a choice between staying silent and speaking out—for the people she loves, the life she wants, and the truths that need to be heard.
---
At first glance, Mallory Dodge is literally me: her name is Mallory, she was adopted, she home schooled, and she completely overthinks what to say and how people will perceive her words. So the beginning of this book, whilst getting to know "Mouse", was kind of strange, but after the story kicked in, it shaped up to be a great book about personal strength, moving on, and finding love and support from all sorts of people.
Mallory was abused in the foster care system, as was the boy, Rider, she spent years living with. Eventually, they both got out from their cruel foster family, but were separated and never found each other again. Four years after the abusive trauma is over, but still extremely scarred from the experience, Mallory goes to high school for her senior year—and meets Rider, the boy she thought she lost forever. Their reunion is actually amazing, but the past they both tried to forget comes back to haunt them. The Problem with Forever is about their struggle to heal and grow. Oh, and fall in love, duh.
The plot does have two fairly predictable elements, but they don't make the story any less enjoyable. And if you're familiar with the romance genre, you know of the specific beats the story and characters have to hit.
The characters are all lovable. While as "silent as a mouse" Mallory is, her inner monologue is pretty great—she has that dose of spunk and sarcasm all of Jennifer L. Armentrout's heroines possess. It was awesome seeing her slowly come out of her shell and learn to trust in people. I admired her bravery and determination. Rider was wonderful, too. Totally damaged but in a way not easy to notice. Utterly caring and precious, he was perfect for Mallory, and I really enjoyed seeing him come to terms with his past by the book's end.
The supporting characters were great as well, especially Mallory's adoptive mom Rosa, Mallory's BFF Ainsley, Mallory's new friend Keira, the eccentric brothers Jayden and Hector, speech class teacher Mr. Santos—pretty much everyone. If there was any person I wasn't a big fan of, it was Paige, Rider's kind-of girlfriend. I could see where the author tried to make her rough around the edges, tough, and protective, but Paige came off pretty cliche to me. She antagonized Mallory constantly with verbal and public displays of insult, as well as passive-aggressive acts to stake her claim on Rider. Oy.
But the book does win points for having tons of diversity! Sadly, Mallory is your standard white protagonist, but Rider is half Puerto Rican, Mallory's adoptive parents are Latino, Keira is African American, and the list goes on.
Slight tangent: The cover is gorgeous! It looks like just a generic, pretty cover—but the design is actually an element of the story, which I was delighted to discover. Let's just say that some of the characters are pretty artsy… I love when cover artists design covers thoughtfully and symbolically.
This book, while massive at almost 500 pages, was a blast to read. I read half one night and finished the other half the next morning. Jennifer's books are like that: completely addicting, fast-paced, funny, and with grounded characters who act, talk, and think like you'd expect people of their age to behave. I absolutely recommend The Problem with Forever if you want a romance with a lot of emotional substance, and characters who aren't just focused on falling in love. ♦
---
Have you read The Problem with Forever?
If you haven't, would you be interested to?
What's your favorite JLA book, if you've ready any?
If you haven't, what book of JLA's would you like to read?
Comment below letting me know!
Follow me @ toweroftomes on Twitter | Instagram | Goodreads | and Bloglovin'!