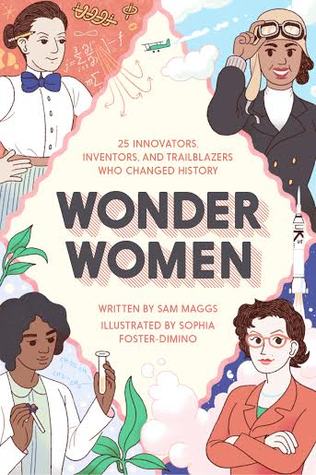 Wonder Women: 25 Innovators, Inventors, and Trailblazers Who Changed History by Sam Maggs.
My copy: Quirk Books, October 4th, 2016. ARC (review copy), 240 pages.
Source: I received this book from the publisher in exchange for an honest review. Thank you, Quirk Books!
About the book:
Ever heard of Allied spy Noor Inayat Khan, a Muslim woman whom the Nazis considered "highly dangerous"? Or German painter and entomologist Maria Sibylla Merian, who planned and embarked on the world's first scientific expedition? How about Huang Daopo, the inventor who fled an abusive child marriage only to revolutionize textile production in China?
Women have always been able to change the world, even when they didn't get the credit. In Wonder Women, author Sam Maggs introduces you to pioneering female scientists, engineers, mathematicians, adventurers, and inventors—each profile a study in passion, smarts, and stickto-itiveness, complete with portraits by Google doodler Sophia Foster-Dimino, an extensive bibliography, and a guide to present-day women-centric STEM organizations.
---
Women in history had it hard. Women today still do, but it is thanks to these pioneers of their gender and generation that we can freely attend college, study STEM, travel the globe, fly planes, wear pants, and climb mountains, among other things that were unheard of for women even just a century ago.
This incredible gem of a book is organized into five chapters: Women of Science, Women of Medicine, Women of Espionage, Women of Innovation, and Women of Adventure. Each chapter features five awesome women, who each get their own mini biography, peppered with Sam Maggs' contemporary speech and sarcasm. Following these crash course bios are some brief snippets about a few more notable women, and the end of each section features a Q&A with an accomplished present-day wonder woman.
Of the 67 women mentioned in this book, I had only heard of 10 of them: Ada Lovelace, Alice Ball, Hypatia, Marie Curie, Elizabeth and Emily Blackwell, Josephine Baker, Sacagawea, Nelly Bly, and Amelia Earhart. Most people know about Marie Curie, Sacagawea, and Amelia Earhart, and as a kid who always questioned where the girls in history were, I luckily knew of seven more coolio gals, albeit not nearly as extensively. There are 57 other women spoken about in this book who I had never heard of, however, and that made me both sad and elated. Look at all the girl power that existed! And look at all the girl power most of us never were taught about…
I think my favorite wonder women to learn about were Ogino Ginko, a nineteenth century Japanese doctor, Anandibai Joshi, a nineteenth century Indian physician, Mary Bowser, a nineteenth century American spy, Sarah Emma Edmonds, a nineteenth century Canadian soldier, Huang Daopo, a thirteenth century Chinese textile pioneer, Margaret Knight, a nineteenth century American inventor, and Bessie Coleman, a nineteenth/twentieth century American aviatrix. Have you heard of these women? I hadn't, and I am severely ashamed that I only now learned who they were and what they did with their lives to empower themselves, other women, and advance society in various ways.
All of the women mentioned in this book fought hard for what they wanted. Some took the world by storm early on in their lives, some took until they'd aged a bit before they started making waves. Wonder Women is an excellent inspiration to young women of today and the future. If you care about something enough, you'll be able to succeed. It could take a long time, your family might outcast you, others will definitely laugh at or mock you, men will be jerks and try to steal your ideas, but women are beyond capable and super smart. You and others will get through it all just fine, and even hit it big if you really want.
Everyone needs to read this book, and I especially recommend getting it for your daughters, nieces, or any young women you know. This is important history to know about, and this book is the bomb dot com. ♦
---
Have you read Wonder Women?
If you haven't, would you be interested to?
What's a book about fabulous females you've read?
Comment below letting me know!
Follow me @ toweroftomes on Twitter | Instagram | Goodreads | and Bloglovin'!