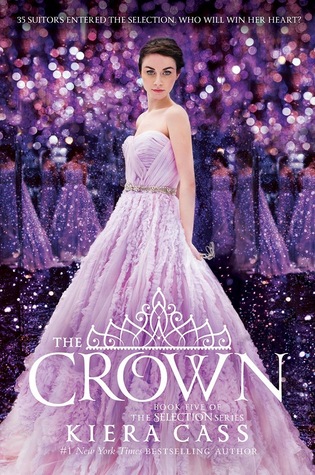 The Crown by Kiera Cass. The Selection, #5.
My copy: HarperTeen (Harper Collins Publishers), May 2016. Hardcover, 278 pages.
Source: Library.
Read my review of The Heir, book #4, here.
Synopsis:
When Eadlyn became the first princess of Illéa to hold her own Selection, she didn't think she would fall in love with any of her thirty-five suitors. She spent the first few weeks of the competition counting down the days until she could send them all home. But as events at the palace force Eadlyn even further into the spotlight, she realizes that she might not be content remaining alone.
Eadlyn still isn't sure she'll find the fairytale ending her parents did twenty years ago. But sometimes the heart has a way of surprising you…and soon Eadlyn must make a choice that feels more impossible—and more important—than she ever imagined.
---
Hi, yes, I'm still alive. Sorry for the lack of action on the blog, but life's been stressful and I haven't been reading much lately. However, I did read The Crown, so here are some quick thoughts on it:
Total fluff. So illogical. Doesn't even try to be creative. But still so addictive! I read this in one sitting, as I normally do with Kiera Cass's books.
I mean, it's pretty obvious who Eadlyn's going to choose, right? Of the Elite who are left, I actually liked all of them, but I wish Eadlyn had actually tried to get to know them all even more. Things just flew by so fast.
I didn't find Eadlyn as annoying as she was in The Heir. She still wasn't my favorite character, but at least I wasn't rolling my eyes every ten seconds. She's aware of her snobby, bossy ways, and at least tries to change. Girl's got a lot of work to do, but at least she was trying to become a better person. Eadlyn wins points here.
America and Maxon moments are adorable. I needed more of them because they had the only real, deep relationship going on here. The romance concerning Eadlyn was just so fast and abrupt.
This dystopian government is just all kinds of unrealistic. Don't think too hard about it because you will see all the ways such a system would never work.
The political sub-plot was just… bad. So obvious and so obviously thrown in there. It could have been actually very interesting, but any attempt at fleshing it out was not there.
It sounds like I have only complaints for The Crown, but I did enjoy it. The Selection series is fun and addictive, but it's not great by any means. Still, pretty dresses and lots of cute boys and sweet kisses wrapped up in an easy and fast-to-read story works for me. ♦
---
Have you read The Crown?
If you haven't, would you be interested to?
What's a princess series you've read and recommend?
Comment below letting me know!
Follow me @ toweroftomes on Twitter | Instagram | Goodreads | and Bloglovin'!