Reviews!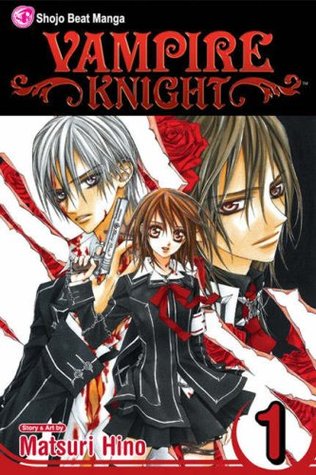 Vampire Knight, Volume 1 by Matsuri Hino, translated by Tomo Kimura
&
Manga Classics: Great Expectations by Charles Dickens, art by Nokman Poon, adapted by Crystal S. Chan, script by Stacy King
---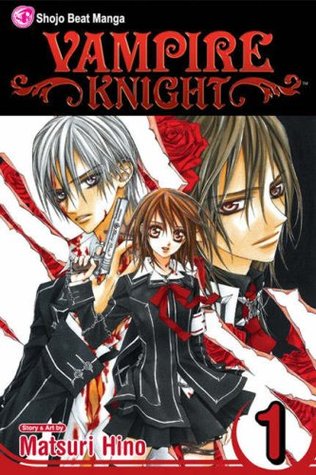 Vampire Knight, Volume 1 by Matsuri Hino, translated by Tomo Kimura. Vampire Knight, #1.
My copy: VIZ Media LLC, June 2014. Paperback, 192 pages.
Source: Library.
Synopsis:
Yuki Cross has no memory of her past prior to the moment she was saved from a vampire attack ten years ago. She was adopted by the headmaster of Cross Academy, and now works alongside Zero to guard the Academy's secret. Cross Adademy is attended by two groups of students: the Day Class and the Night Class. At twilight, when the students of the Day Class return to their dorm, they cross paths with the Night Class on their way to school. Yuki Cross and Zero Kiryu are the Guardians of the school, protecting the Day Class from the Academy's dark secret: the Night Class is full of vampires!
---
I said I wouldn't read Vampire Knight after being unable to finish watching the second season of the anime. Yet, here I am…
Basically, Vampire Knight is about a school that vampires and humans attend, but in separate classes. The humans are the Day class, the vampires are the Night class. And Yuki and Zero are in charge of making sure the Day class never finds out that the Night class is made up of vampires.
I watched the anime and enjoyed the first season despite all the vampire brooding and Kaname, the president of the Night class, being pretty much a useless turd, and Yuki getting on my nerves. I watched half of the second season, Vampire Knight: Guilty, before I couldn't handle it anymore. The characters and the plot just got ridiculous. So I formed a love-hate relationship with this popular anime/manga.
But lo and behold — I took out the first manga volume from my library the other day and really enjoyed it. Mysterious Kaname, the vampire who saved Yuki's life when she was younger and who she has a major crush on, was still as bland as ever. Gorgeous, since it's a rule for vampires to be hot, but that's pretty much all he had going for him.
But by reading this manga I remembered why I liked Vampire Knight in the first place: Zero. Zero is by far the most interesting and layered character in the story. His parents were killed by vampires when he was little and so he has a huge grudge against them. He'll keep the peace, but he's not happy about it. Zero has such inner conflict, and he shows far more emotion than anyone else. I'm totally team Zero, and even when I was watching the anime I liked Zero so much more than that wash Kaname.
Knowing what's to come makes me a little hesitant to continue with the manga, but I very well might. Yes, there's going to be a massive, frustrating love triangle and lots of blood-sucking, but there will be action — of which there was almost zilch in this first volume.
Do I recommend Vampire Knight? Yeah… I do, for those who like vampire stories and can deal with the love triangle. And for fans of the anime will obviously enjoy the original story source. ♦
---
Manga Classics: Great Expectations by Charles Dickens, art by Nokman Poon, adapted by Crystal S. Chan, script by Stacy King. Manga Classics.
My copy: UDON Entertainment Production and Morpheus Publishing, April 2015. Paperback, 294 pages.
Source: Library.
Read my reviews of Manga Classics: Les Miserables and Manga Classics: Pride and Prejudice here.
Synopsis:
Great Expectations has it all: romance, mystery, comedy, and unforgettable characters woven through a gripping rags-to-riches tale. Naive Pip, creepy Miss Haversham, beautifully cold Estella, terrifying Abel Magwitch, and the rest of Dicken's fantastic cast are perfectly envisioned in this new adaptation in this 300-plus page volume featuring artwork by artist Nokman Poon. Manga Classics editions feature classic stories, faithfully adapted and illustrated in manga style, and available in both hardcover and softcover editions. Proudly presented by UDON Entertainment and Morpheus Publishing.
---
Manga Classics adapt the classics we all know and love in the manga comic format and art style. I've read and loved the manga adaptations of Les Miserables and Pride and Prejudice, so I was thrilled that my library had Great Expectations! These are hefty books, around 300 pages, but they fly by so quickly! This one happens to be an adaptation of Charles Dickens' Great Expectations, and, while it obviously had to cut a huge amount of the original story, it does a very good job of remaining (relatively? I'll get to that in a moment) faithful to the original story.
Back to the "relatively" from the previous paragraph: I haven't actually, uh, read Great Expectations, so I'm perhaps not the best judge of how much was cut for this manga. But I have watched the 2011 BBC miniseries, which I liked for the most part (Douglas Booth's cheekbones and jawline are unreal), and which garnered generally positive reviews. From what I remember of the miniseries, the manga mirrors it well. But… I guess I should go and read the real Great Expectations? Because I totally missed out on that in high school. (I have read A Christmas Carol, however, so you can't say I've never read Dickens.)
I think the main gripe I have with Great Expectations, in any format, is how unlikable Estella is, and how arrogant and different Pip becomes. I like the mystery behind Miss Havisham, Magwitch, and Compeyson, as they are far more interesting characters, despite being strange and quite hard to decipher.
But besides the fault of Dickens, and not this manga, which I am reviewing today, this is a great visual adaptation to ease readers into Great Expectations or give those who have already read the book a new way to look at the story. The illustrations are simply gorgeous, and the dialogue, for the most part, is pretty straightforward. (There was one instance, though, where Pip called Orlick a "punk" and I had to laugh. Did "punk" even exist in the early to mid-1800s?) Anyway, I highly recommend the Manga Classics series. They're also a terrific way to get into manga in general, as they tell familiar stories most of us are familiar with. ♦
---
Have you read Vampire Knight, Vol. 1?
How about Manga Classics: Great Expectations?
If you haven't, would you be interested to?
What is a manga you've read and recommend? I want your suggestions!
Comment below letting me know!
Follow me @ toweroftomes on Twitter | Instagram | Goodreads | and Bloglovin'!