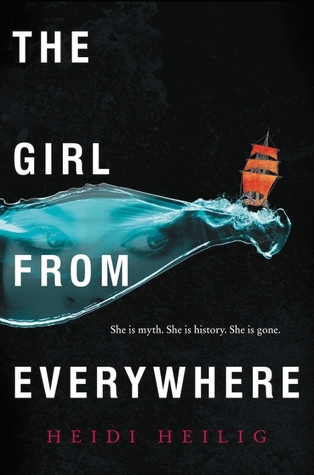 The Girl from Everywhere by Heidi Heilig. The Girl from Everywhere, #1.
My copy: Greenwillow Books (Harper Collins Publishers), February 2016. Hardcover, 443 pages.
Source: Library.
Synopsis:
Nix has spent her entire life aboard her father's ship, sailing across the centuries, across the world, across myth and imagination.
As long as her father has a map for it, he can sail to any time, any place, real or imagined: nineteenth-century China, the land from One Thousand and One Nights, a mythic version of Africa. Along the way they have found crewmates and friends, and even a disarming thief who could come to mean much more to Nix.
But the end to it all looms closer every day.
Her father is obsessed with obtaining the one map, 1868 Honolulu, that could take him back to his lost love, Nix's mother. Even though getting it—and going there—could erase Nix's very existence.
For the first time, Nix is entering unknown waters.
She could find herself, find her family, find her own fantastical ability, her own epic love.
Or she could disappear.
---
After really enjoying Passenger, another time travel book involving ships and sailors (though less so than in The Girl from Everywhere), I went into The Girl from Everywhere wanting to love it. I'd seen some good reviews and was looking forward to reading about pirates and maps and time travel and Hawaii. (Bonus points for Nix being half-Chinese.) Well. I started it and… it just never clicked for me, sad to say.
Nix's father, Captain Slate of the Temptation, can navigate to any location, real or fantasy, as long as he has a map of it. He's obsessed with finding the original map to take him back to 1868 Honolulu, Hawaii, in search of the love of his life, Nix's mother. Nix, however, is opposed to his search, since going back in time could potentially be disastrous for her — she might just cease to exist if history changes.
The plot was a little confusing, and very confusing at some points. The time travel rules I felt were never entirely clear, and all the time hopping got hard to keep track of. I liked the book a lot more when Slate finally began to bargain for the elusive map (which didn't happen until around page 160!), because then the story started to take on a nice thievery and trickster plot-line. Started.
But I still was never drawn into the book like I wanted to be. I also wasn't expecting so much mythology to pop up towards the end of the book; it seemed a little too convenient when it hadn't played a big role until then. (Or maybe I just wasn't paying attention. It took a lot of effort to make myself sit and read this. A whole month of reading a few chapters here and there.) I did love Swag the tiny dragon, though. He didn't do much besides be cute and be a dragon. But y'all know how much I love dragons! And maps. I love maps, so dragons and maps were a big plus for me here. Sadly, they can't make up for the fact that the rest of the book didn't enamor me.
Character-wise, Nix was fine. I neither loved her nor hated her. I did like Kashmir, her thief best friend, he was so sassy. I wasn't a huge fan of Blake, the young gentleman Nix develops a crush on, he was a bit bland. I was warned of the love triangle, however, and while I rolled my eyes because do we really still need love triangles, the romance wasn't actually that big of a deal here. Yeah, the boys act jealous and Nix flirts with both of them, but the romance subplot is a subplot. The quest for the map is the book's main focus, and for that I was grateful.
Heidi Heilig's writing is great, so vivid and descriptive. If I hadn't been feeling meh about the story, I think I would have appreciated her writing even more, because I did find myself skimming long paragraphs about the scenery and whatnot at various instances. But the writing, what I did digest, was great. Hawaii, even 19th-century Hawaii, sounds gorgeous and a place I'd love to visit. Slate and Nix — will you take me aboard the Temptation and sail me there?
In conclusion, The Girl was From Everywhere is a very unique story with a different spin on time travel. It's not all I'd hoped it to be, but there were some aspects I did like (namely maps and Swag the dragon, who really needed to be involved in the story much more). I don't know if I'll pick up the next book, but I guess I am glad that I experienced a book I'd been very curious about and wanted to read for a while. ♦
---
Have you read The Girl From Everywhere?
If you haven't, would you be interested to?
What's a book about pirates/thieves you've read and recommend?
Comment below letting me know!
Follow me @ toweroftomes on Twitter | Instagram | Goodreads | and Bloglovin'!