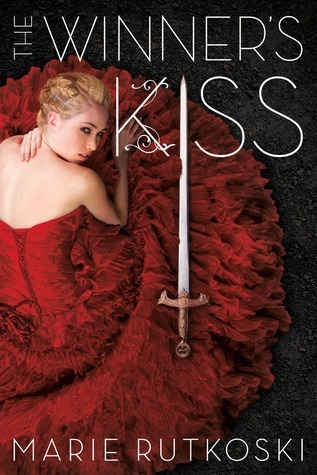 The Winner's Kiss by Marie Rutkoski. The Winner's Trilogy, #3.
My copy: Farrar, Straus and Giroux BFYR, March 2015. Hardcover, 484 pages.
Source: Library.
Read my review of The Winner's Curse, book #1, here.
Read my review of The Winner's Crime, book #2 here.
Synopsis:
Some kisses come at a price.
War has begun. Arin is in the thick of it with untrustworthy new allies and the empire as his enemy. Though he has convinced himself that he no longer loves Kestrel, Arin hasn't forgotten her, or how she became exactly the kind of person he has always despised. She cared more for the empire than she did for the lives of innocent people—and certainly more than she did for him.
At least, that's what he thinks.
In the frozen north, Kestrel is a prisoner in a brutal work camp. As she searches desperately for a way to escape, she wishes Arin could know what she sacrificed for him. She wishes she could make the empire pay for what they've done to her.
But no one gets what they want just by wishing.
As the war intensifies, both Kestrel and Arin discover that the world is changing. The East is pitted against the West, and they are caught in between. With so much to lose, can anybody really win?
---
It's been a while since I read The Winner's Curse and The Winner's Crime. I suppose I could have gone back to read my reviews of those books, but I didn't. I just dived right into The Winner's Kiss, not knowing what to expect besides (very likely) an epic conclusion to the war and the romance.
The book does a good job summing up what happened previously, and I overall loved this conclusion to the trilogy. However, the tropes were very trope-y (amnesia? Again?), and I got so frustrated at the whole "let's not talk about our feelings" that practically every romance book has. Don't get me wrong — I love a good romance, as well as nitty-gritty strategy and plotting (political fantasies are the bomb dot com for me). Everything felt believable here, but there was just something missing… I wanted to give The Winner's Kiss five stars, I wanted to love it with my entire heart, and while I did love it, The Winner's Kiss is, regrettably, not going to join the ranks of my favorite fantasies. I'll get to why soon.
Let's talk about that major trope first: memory loss/amnesia. Selective amnesia really gets on my nerves, and it was so frustrating seeing the strained dynamic between Kestrel and Arin due to Kestrel's memory loss. Amnesia definitely shakes things up, and it can be utterly heartbreaking (like how it was here at first), but it's a trope that needs some rest. I saw it coming as soon as Kestrel drank the drugged water and my heart sank.
I did really appreciate the short chapters and numerous line breaks within any given chapter. It made the pace very fast, and made flying through the book that much faster. The story did drag a little in the middle where Kestrel and Arin were basically rebuilding their relationship, but I loved the beginning and end, the beginning covering Kestrel's time in the work camp and the end covering the climax of the war. I'll talk about the climax later, because it started off rather anti-climactic — and then turned pretty bad-ass.
Probably my favorite thing about the book was Roshar. I absolutely loved Roshar. He was the light in this darkness, throwing quips and jokes in everywhere and mainly making life more colorful for Arin and Kestrel. His and Arin's bromance was the best. I need more Roshar. Can we get a spin-off featuring him?
I didn't really remember the other female characters, though, like Sarsine and Risha from previous books… Like I said, it's been a while since I read the prequels. So I kind of had to judge Sarsine and Risha purely on their actions in The Winner's Kiss. I did really like Sarsine. She was cool and I wish she'd been present even more throughout the story because she really had a good rapport with Kestrel. She softened Kestrel and helped her out emotionally. Risha didn't really strike me here, and I didn't seem to mention her in my previous reviews, so I can't say much. Moving on…
Kestrel and Arin. Were… awesome and frustrating and just about everything in between. I didn't really like these two as a pair in the very first book, and I wasn't on board the romance ship until I read book 2. (And then I was on board the ship so hard.) The two of them evolve so much through this series, and seeing their damaged selves fighting to make best of their situations was really heartening. LOVE PREVAILS.
The romance was well done. There were so many JUST KISS DAMMIT moments, as well as so many JUST TALK IT OUT DAMMIT moments. The one thing I hate about romance stories is that the love interests have to keep secrets from and not communicate with each other in order to create tension and distrust and otherwise confuse and hurt each other. I really dislike this aspect of romances, but Kestrel and Arin did eventually work through their problems. And the KISSES, goodness! Goddamn, the kisses were amazing! Kestrel and Arin have such chemistry I was practically squealing when they gave into their feelings and passionately made out. It was awesome. (But with a title like The Winner's Kiss, the kisses had to be good, right?)
Back to the climax, like I promised. I wasn't expecting the book's climax to be — wait for it… a game of Bite and Sting. At first I was like, The hell? The war gets decided on a freaking game?! I was actually more looking forward to Kestrel confronting her father, which we did get, but it didn't feel as dramatic and satisfying as I wanted it to. POTENTIAL SPOILER COMING. I'll try to keep it as vague as possible: Still, Kestrel's game with the emperor was pretty dope when I realized what was going on. Kestrel's a smart girl, even in her damaged state. I knew she wouldn't be that utterly stupid, and my mouth dropped open when all was revealed. I probably should have known she'd have an ace up her sleeve, but my heart and brain was still crying from the feels of everything else that had been going on thus far. END SPOILER.
I also really liked all the battle tactics and strategy in this book. I love reading action, but I also love all that intricate political scheming. (Kristin Cashore, anyone? Well-done political fantasies are my jam.) Yes, it made the pace slow at times, but everything was carefully thought out by the characters (and therefore by Marie Rutkoski herself) and it was amazing to see the tricks, twists, and turns our clever heroes and heroines implemented.
The writing was also terrific. Lots of short sentences, lots of fragments. Lots of poetic thoughts. Lots of head-hopping between Kestrel and Arin. Rutkoski's writing hasn't before jumped out at me, but it sure did in The Winner's Kiss.
So those are my jumbled thoughts on this finale. I loved The Winner's Kiss, I did, and I think that every fan of the series will be extremely satisfied with how the story wraps-up. It's not my favorite fantasy book ever, and the frustrating romance really got on my nerves, which I guess is the reason why I'm not giving it five stars. (Or five hearts.) Still, this is an excellent book that I slurped up in two days. If you haven't read the Winner's Trilogy, you should. The first book has its flaws, but the series just gets better and better and more and more feels-worthy. ♦
---
Have you read The Winner's Kiss?
If you haven't, would you be interested to?
What's a romantic fantasy you've read and loved?
How about a book where memory loss/amnesia is a thing?
Comment below letting me know!
Follow me @ toweroftomes on Twitter | Instagram | Goodreads | and Bloglovin'!