Mini-Reviews!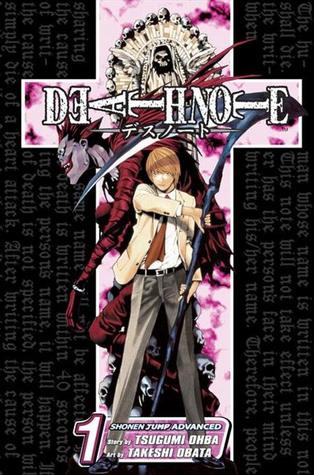 Death Note, Volume 1: Boredom by Tsugumi Ohba, art by Takeshi Obata, translated/adapted by Pookie Rolf
&
Blue Exorcist, Volume 1 by Kazue Kato, translated by John Werry
---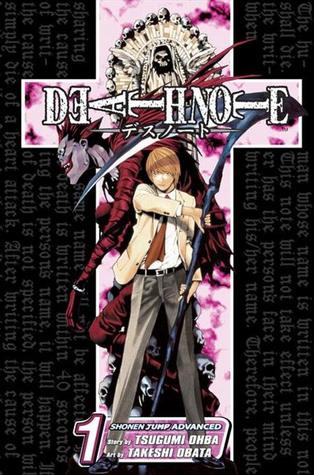 Death Note, Volume 1: Boredom by Takeshi Obata, translated/adapted by Pookie Rolf. Death Note, #1.
My copy: VIZ Media LLC, September 2014. Paperback, 194 pages.
Source: Library.
Synopsis:
Light Yagami is an ace student with great prospects – and he's bored out of his mind. But all that changes when he finds the Death Note, a notebook dropped by a rogue Shinigami, a death god. Any human whose name is written in the notebook dies, and now Light has vowed to use the power of the Death Note to rid the world of evil. But when criminals begin dropping dead, the authorities send the legendary detective L to track down the killer. With L hot on his heels, will Light lose sight of his noble goal…or his life?
Boredom
Light tests the boundaries of the Death Note's powers as L and the police begin to close in. Luckily Light's father is the head of the Japanese National Police Agency and leaves vital information about the case lying around the house. With access to his father's files, Light can keep one step ahead of the authorities. But who is the strange man following him, and how can Light guard against enemies whose names he doesn't know?
---
Some things about Death Note, Volume 1: Boredom:
Ryuk the Shinigami was my favorite thing about Death Note. He is humorous but also menacing, and I really like the neutral stance he took, neither helping nor hindering Light's use of the Death Note. I've heard that Ryuk stays consistently great throughout the series, so I'm looking forward to more of the death god.
Light was a fascinating character. At first he uses the Death Note to rid the world of vile, evil people. But it becomes clearer that, while he's intent on doing "good things" with the power of the Death Note, he isn't as innocent as he believes he is. He likes the power he wields, and he's having fun playing games with the Japanese Police. Seeing Light change over the course of the series is going to be interesting, since he can easily be seen as both a hero and a villain.
L the mysterious detective was also intriguing. He's not really the focus of volume 1, but he's obviously going to become super important as the series progresses. He's tasked with hunting down the person behind all the mysterious deaths, and it's great fun to see L and Light working against each other when each are both brilliant and cunning. I have a theory about L that I hope is true even though it's probably not, so I am eager to continue with the series to see if I'm at least partially correct.
In conclusion: I didn't know what to expect going into Death Note, but I absolutely loved it. I appreciate stories that tackle difficult issues like right and wrong, and power and corruption, and from what I've heard, Death Note does this beautifully. If volume 1 is anything like the rest of the series, I'm all in. Where you at, volume 2? ♦
---
Blue Exorcist, Volume 1 by Kazue Kato, translated by John Werry. Blue Exorcist, #1.
My copy: VIZ Media LLC, April 2015. Paperback, 195 pages.
Source: Library.
Synopsis:
Fight Hellfire With Hellfire!
Raised by Father Fujimoto, a famous exorcist, Rin Okumura never knew his real father. One day a fateful argument with Father Fujimoto forces Rin to face a terrible truth – the blood of the demon lord Satan runs in Rin's veins! Rin swears to defeat Satan, but doing that means entering the mysterious True Cross Academy and becoming an exorcist himself. Can Rin fight demons and keep his infernal bloodline a secret? It won't be easy, especially when drawing his father's sword releases the demonic power within him!
Reads R to L (Japanese Style) for audiences T+.
---
Some things about Blue Exorcist, Volume 1:
The fact that Rin's father is Satan. Which makes Rin a demon. Who, to seek avenge his adoptive father, decides to become an exorcist. It's also pretty obvious that Rin being the son of Satan has to be kept a secret. I really like the good versus evil that Rin has to balance, and I always like a good revenge plot.
Rin and Yukio's brotherhood. They're twins, but Rin was born first. Yukio, though, was weaker at birth, so he didn't absorb any demonic powers. However, Yukio become aware of demons and their parentage at a young age while the truth was kept from Rin until the story's start. Rin is very protective and somewhat jealous of his younger brother, and Yukio also seems very conflicted about their complicated family dynamic. I enjoyed their difficult sibling relationship, and found myself both liking and disliking each brother.
Mephisto Pheles. The principal (?) of True Cross Academy who is able to transform into a cute white dog. Mephisto, whose name is a play on Mephistopheles, is a colorful and larger than life type of person who was definitely my favorite character in this volume.
The big panels and the action scenes. This manga is so pretty to look at when it comes to the action sequences. The panels become large, maybe two taking up one page. The art is fantastic, and it really feels like I'm looking at real stills from an action movie. I imagine the anime must be pretty sweet.
In conclusion: Blue Exorcist was an interesting read, but a lot if it felt like set-up, and I'm not typically someone who gravitates toward, uh, exorcism. The school setting felt a bit odd, as well as somewhat tiring because so many manga seem to be set in high school… The relationships among all the characters was definitely this book's strong point, however, and I wouldn't be against continuing with the series to see how things shape up. ♦
---
Have you read Death Note?
How about Blue Exorcist?
If you haven't, would you be interested to?
Which you would rather: be a master of death or a master of exorcism?
Comment below letting me know!
And, as always, happy reading!
Follow me @ toweroftomes on Twitter | Instagram | Goodreads | and Bloglovin'!