Mini-Reviews!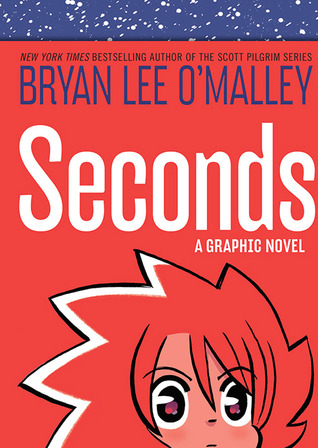 Seconds by Bryan Lee O'Malley,
with Jason Fischer (drawing assistant), Dustin Harbin (lettering), and Nathan Fairbairn (colorist)
&
Friends with Boys by Faith Erin Hicks
---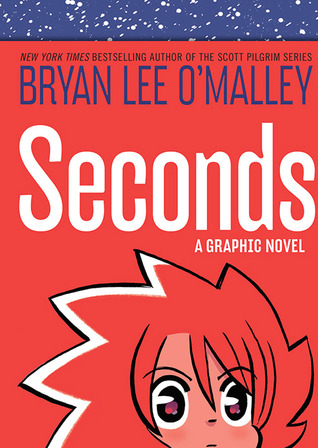 Seconds by Bryan Lee O'Malley, with Jason Fischer (drawing assistant), Dustin Harbin (lettering), and Nathan Fairbairn (colorist).
My copy: Ballantine Books (Random House), July 2014. Hardcover, 323 pages.
Source: Library.
Synopsis:
Katie's got it pretty good. She's a talented young chef, she runs a successful restaurant, and she has big plans to open an even better one. Then, all at once, progress on the new location bogs down, her charming ex-boyfriend pops up, her fling with another chef goes sour, and her best waitress gets badly hurt. And just like that, Katie's life goes from pretty good to not so much. What she needs is a second chance. Everybody deserves one, after all—but they don't come easy. Luckily for Katie, a mysterious girl appears in the middle of the night with simple instructions for a do-it-yourself do-over:
1. Write your mistake
2. Ingest one mushroom
3. Go to sleep
4. Wake anew
And just like that, all the bad stuff never happened, and Katie is given another chance to get things right. She's also got a dresser drawer full of magical mushrooms—and an irresistible urge to make her life not just good, but perfect. Too bad it's against the rules. But Katie doesn't care about the rules—and she's about to discover the unintended consequences of the best intentions.
From the mind and pen behind the acclaimed Scott Pilgrim series comes a madcap new tale of existential angst, everyday obstacles, young love, and ancient spirits that's sharp-witted and tenderhearted, whimsical and wise.
---
Thoughts on Seconds:
I didn't really know what to expect going in. I was pleasantly surprised. In fact, I was thrilled because I loved every single page of Seconds.
What a hefty book. I didn't expect it to be this thick, but I was so glad it was long because I barely noticed. I was sad when it ended!
Katie was funny. Stubborn but determined, flawed and immature at times, but a good person who learned from her mistakes. In fact, she became a bit too eager to fix her mistakes… and thus we have our book's plot. (Nothing ever good comes of obsessing over the past and trying to do things differently. The universe doesn't like that.)
I really sweet, quiet Hazel, but also Lis, bizarrely. The cast was certainly eclectic, if a tad cliche.
I appreciated the snark, sarcasm, dry humor — and continual "breaking the fourth wall". That was great fun to see in a graphic novel. I appreciated how it didn't take itself too seriously.
The cartoonish art style and the red and blue color palettes really worked for this story. I loved the book's visuals very much.
In conclusion: I am stoked to read Scott Pilgrim now because I love Bryan Lee O'Malley's art style and humorous writing. Seconds was a terrific book and I highly recommend it! ♦
---
Friends with Boys by Faith Erin Hicks.
My copy: First Second, February 2012. Paperback, 220 pages.
Source: Library.
Synopsis:
After years of homeschooling, Maggie is starting high school. It's pretty terrifying.
Maggie's big brothers are there to watch her back, but ever since Mom left it just hasn't been the same.
Besides her brothers, Maggie's never had any real friends before. Lucy and Alistair don't have lots of friends either. But they eat lunch with her at school and bring her along on their small-town adventures.
Missing mothers…distant brothers…high school…new friends… It's a lot to deal with. But there's just one more thing.
MAGGIE IS HAUNTED.
---
Thoughts on Friends with Boys:
What I liked:
I liked how the book really focused on Maggie's struggle to make friends, maneuver the foreign territory of high school, and figure out what to do based on the judgments of the people around her.
Maggie's brothers were a cool bunch. I liked how supportive and kind they were.
Lucy and Alistair were a cool sibling duo. I liked how they didn't care about what people thought of them (for the most part; they had their own insecurities to deal with), and happily made friends with Maggie.
The zombie school musical was the best thing by far.
I really enjoyed the black and white illustrations. They were pretty, detailed enough that I didn't mind not having gorgeous color palettes to drool over.
What I didn't like:
Um, the blurb says "MAGGIE IS HAUNTED" in caps. Well, she is, but… I felt like the haunted/ghost aspect of the plot was really lacking. And it didn't end in a very satisfying way. I was expecting more supernatural and I was grumpily disappointed. I was reminded slightly of Anya's Ghost, which really focused on the "ghost" aspect. And while Friends with Boys was decent, I think I preferred Anya's Ghost over this one.
I literally laughed when the kids decided to "borrow" an object from the museum. AND THEN THEY ACTUALLY JUST SNEAKED IN AND STOLE IT. The fudge?! What sort of museum is this!! I pretty much gave up on the story when this highly illogical thing happened.
In conclusion: I enjoyed Friends with Boys, but it wasn't particularly strong or unique. I wanted a real plot instead of a loose story about making friends and growing up. I mostly just wanted more ghosts. ♦
---
Have you read Seconds?
How about Friends with Boys?
If you haven't, would you be interested to?
What's a book with ghosts I should read, since I didn't get much ghostliness from Friends with Boys?
Comment below letting me know!
And, as always, happy reading!
Follow me @ toweroftomes on Twitter | Instagram | Goodreads | and Bloglovin'!