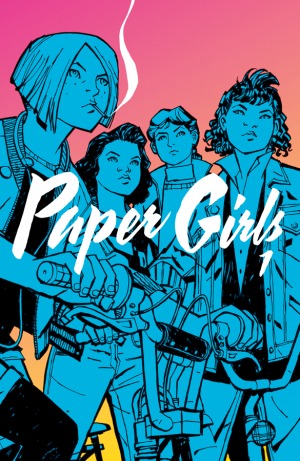 Paper Girls, Vol. 1 by Brian K. Vaughan, illustrated by Brian Chiang and colored by Matthew Wilson. Paper Girls, #1-#5.
My copy: Image Comics, April 5th, 2016. Egalley (review copy), 146 pages.
Source: I received this book from the publisher through NetGalley in exchange for an honest review. Thank you, Image Comics and Diamond Book Distributors!
Synopsis:
In the early hours after Halloween of 1988, four 12-year-old newspaper delivery girls uncover the most important story of all time. Suburban drama and otherworldly mysteries collide in this smash-hit series about nostalgia, first jobs, and the last days of childhood.
Collects Paper Girls #1-5.
---
Thoughts upon finishing Paper Girls, Volume 1:
This is a weird book. Fascinating, but just bizarre. I was so confused most of the time, but in a good way! It's about some newspaper girls who get caught up in some strange and disturbing sci-fi elements that include dinosaur-looking creatures, potential aliens, and a time travel machine/spaceship. Yeah, there's a lot going on here. It's crazy. (Also, what does that Apple logo have to do with everything? SO CONFUSED.)
The ending was one of those "what the heck?!" type cliff-hangers. I didn't expect it, but now I want Volume 2 so badly!
I never really connected to any of the characters, though I liked the girls' determination and tough skin. More character development would have been nice, although I was cool with the extremely fast pace of the plot. Still, the girls didn't seem 12, they seemed older, so it was jarring when I was reminded they were so young.
Loved the color palettes, the cool blues and reds. Vibrant but also muted, if that makes any sense. Awesome job by Matthew Wilson, the book's colorist. (Matt Wilson worked on The Wicked + the Divine.) The illustrations by Cliff Chiang were great, too, though the artwork in Paper Girls is not the most visually stunning I have come across in graphic novels.
I do recommend checking Paper Girls out if you're a fan of Brian K. Vaughan. This series promises lots of sci-fi elements that are only touched on/set-up in this volume. It's not nearly as good as Saga, but Paper Girls has a sinister and haunting atmosphere about it that I really enjoyed. ♦
---
Have you read Paper Girls?
If you haven't, would you be interested to?
What's an interesting book you've read that you'd describe as "bizarre"?
Comment below letting me know!
And, as always, happy reading!
Follow me @ toweroftomes on Twitter | Instagram | Goodreads | and Bloglovin'!