Another month gone… Wow, time flies… In March 2016, I managed to read a whopping total of 5 books. Not a great reading month, but I've been feeling stressed and watching a lot of TV lately, so… that's why. Anyway, let's take a look at the books, shall we? Here they are, organized by rating. Click on a title to read my review.
---
What I read in March 2016:
4 stars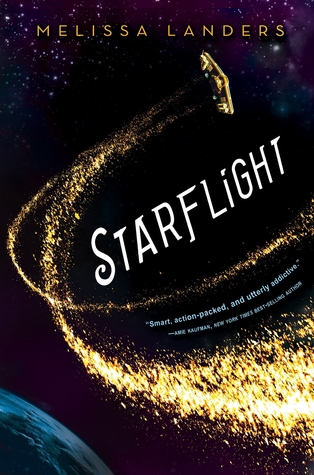 Firelight by Kazu Kibuishi // Starflight by Melissa Landers // Not If I See You First by Eric Lindstrom // Paper Hearts, Volume 1: Some Writing Advice by Beth Revis
2 stars
Swordbird by Nancy Yi Fan
---
So I started off the month with book 7 in the Amulet graphic novel series, Firelight. I think the series is wandering around and losing a bit of its steam, but there were some incredibly striking scenes and, of course, the artwork is visually stunning. I love graphic novels because they're usually gorgeous to look at and they're quick reads.
After that, I read Melissa Landers' Starflight, the first book in her new space duology, and my favorite book of the month. I got some Firefly vibes from this book, so if you're a Firefly fan, you'll probably like this book. It was funny, fast-paced, action-packed, and overall incredibly enjoyable. I am a little disappointed, though, that the sequel is more of a companion book than a true sequel, as it'll be told from the POVs of different characters.
Then I read Not If I See You First, a contemporary story about a blind girl who runs track. It was very engaging, I liked how blunt the main character was, and I appreciated how Eric Lindstrom tackled the subject of blindness by making it a fact instead of the point.
Nonfiction came next, in the shape of Beth Revis's writing advice book, Paper Hearts, Vol. 1. It was cool to learn about Beth's writing journey. She's a bit wordy, and doesn't really introduce anything new to the writing advice pool, but it's a valuable source for novice writers aiming for the YA market.
And the last book I read in March was a reread, because I needed a short book I knew I could fly through. Swordbird by Nancy Yi Fan isn't that good of a book, and she was twelve when she got it published back in 2007. Past Mallory, who wanted to be a published author, too, picked it up to figure out what Nancy did right, and I have since read the book multiple times trying to understand what made Swordbird stand out from the slush pile. Read my review for my complete thoughts because I don't want to get rambly on you in this wrap-up post. 😉
---
What was your favorite book you read in March?
Have you read any of these books?
If not, do any of them pique your interest?
Comment below letting me know!
Follow me @ toweroftomes on Twitter | Instagram | Goodreads | and Bloglovin'!