Stacking the Shelves is hosted by Tynga @ Tynga's Reviews.
---
Here are the books I have recently acquired.
---
Justice Buried by Hilary Thompson. Starbright, #1. [Goodreads] Source: Bought [free]. Format: Kindle.
Benjaminoftomes' Free Book Friday pick from last week! Love growing my Kindle library bit by bit.
The people need Justice, but she's not listening.
One hundred years before, the Great Sickness reduced the world to three cities. Now the community of Asphodel is trapped underground, waiting for the prophesied maiden of Justice to return and save them from their Fates.
Sixteen-year-old Astrea is supposed to be this savior – too bad for them she isn't a believer.
Trea fights against her false destiny: she rebels against her family and friends, then refuses her arranged marriage to the charming but deceitful Lexan. Learning her life is in danger, Trea is forced to trust Lexan – until she discovers a power she never knew she had, and one he already knew he did.
As betrayal closes every door, Trea decides she must submit to her stars and accept her fate. Then a handsome stranger offers her an unexpected escape and the chance to create her own destiny.
---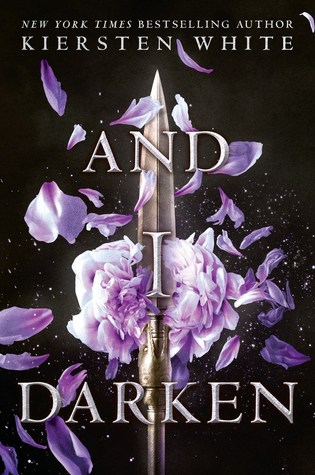 And I Darken by Kiersten White. The Conquerors Saga, #1. [Goodreads] Source: Delacorte Press via NetGalley. Format: Egalley [review copy].
You cannot believe how excited I am for this book! I flipped when I was approved for it on NetGalley! I absolutely loved Kiersten's standalones The Chaos of Stars (definitely her most underrated book) and Illusions of Fate (one of my favorites from last year). (Mind Games and Perfect Lies didn't really impress me, though…) And I Darken sounds effing amazing, and I cannot wait to dive into this historical fantasy!
NO ONE EXPECTS A PRINCESS TO BE BRUTAL.
And Lada Dragwlya likes it that way. Ever since she and her gentle younger brother, Radu, were wrenched from their homeland of Wallachia and abandoned by their father to be raised in the Ottoman courts, Lada has known that being ruthless is the key to survival. She and Radu are doomed to act as pawns in a vicious game, an unseen sword hovering over their every move. For the lineage that makes them special also makes them targets.
Lada despises the Ottomans and bides her time, planning her vengeance for the day when she can return to Wallachia and claim her birthright. Radu longs only for a place where he feels safe. And when they meet Mehmed, the defiant and lonely son of the sultan, who's expected to rule a nation, Radu feels that he's made a true friend—and Lada wonders if she's finally found someone worthy of her passion.
But Mehmed is heir to the very empire that Lada has sworn to fight against—and that Radu now considers home. Together, Lada, Radu, and Mehmed form a toxic triangle that strains the bonds of love and loyalty to the breaking point.
From New York Times bestselling author Kiersten White comes the first book in a dark, sweeping new series in which heads will roll, bodies will be impaled . . . and hearts will be broken.
---
100 Days of Cake by Shari Goldhagen. [Goodreads] Source: Atheneum BFYR via NetGalley. Format: Egalley [review copy].
I'm here for the exotic fish store and the cake. 😉
I normally wouldn't read something tackling depression and what sounds like eating disorders, but this sounds like it could be good.
Get well soon isn't going to cut it in this quirky and poignant debut novel about a girl, her depression, an aggressive amount of baked goods, and the struggle to simply stay afloat in an unpredictable, bittersweet life.
There are only three things that can get seventeen-year-old Molly Byrne out of bed these days: her job at FishTopia, the promise of endless episodes of Golden Girls, and some delicious lo mien. You see, for the past two years, Molly's been struggling with something more than your usual teenage angst. Her shrink, Dr. Brooks isn't helping much, and neither is her mom who is convinced that baking the perfect cake will cure Molly of her depression—as if cake can magically make her rejoin the swim team, get along with her promiscuous sister, or care about the SATs.
Um, no. Never going to happen.
But Molly plays along, stomaching her mother's failed culinary experiments, because, whatever—as long as it makes someone happy, right? Besides, as far as Molly's concerned, hanging out with Alex at the rundown exotic fish store makes life tolerable enough. Even if he does ask her out every…single…day. But—sarcastic drum roll, please—nothing can stay the same forever. When Molly finds out FishTopia is turning into a bleak country diner, her whole life seems to fall apart at once. Soon she has to figure out what—if anything—is worth fighting for.
---
Grayling's Song by Karen Cushman. [Goodreads] Source: Clarion Books via NetGalley. Format: Egalley [review copy].
Karen Cushman is an author I read a lot of as a kid. Catherine, Called Birdy, Matilda Bone, and The Midwife's Apprentice are my favorites of hers. She does a lot of historical stories, but I'm looking forward to this new middle grade fantasy of hers!
When Grayling's mother, wise woman Hannah Strong, starts turning into a tree, Hannah sends Grayling to call "the others" for help. Shy and accustomed to following her mother in everything, Grayling takes to the road. She manages to summon several "others"—second-string magic makers who have avoided the tree spell—and sets off on a perilous trip to recover Hannah's grimoire, or recipe book of charms and potions. By default the leader of the group, which includes a weather witch, an enchantress, an aspiring witch, a wizard whose specialty is divination with cheese, and a talking and shape shifting mouse called Pook, Grayling wants nothing more than to go home.
Kidnapping, imprisonment, near drowning, and ordinary obstacles like hunger, fatigue, and foul weather plague the travelers, but they persist and achieve their goal. Returning, Grayling finds herself reluctant to part with her companions—especially Pook. At home she's no longer content to live with her bossy mother, who can look after herself just fine, and soon sets out on another journey to unfamiliar places . . . possibly to see the young paper maker who warmed her heart.
---
What books have you recently added to your collection?
And have you read any of the books I just acquired?
If so, which should I start ASAP?
Follow me @ toweroftomes on Twitter | Instagram | Goodreads | and Bloglovin'!