Stacking the Shelves is hosted by Tynga @ Tynga's Reviews.
---
Here are the books I have recently acquired.
---
Paper Hearts, Volume 1: Some Writing Advice by Beth Revis. Paper Hearts, #1. [Goodreads] Source: Scripturient Books via NetGalley. Format: Egalley.
EDIT: Read my review of Paper Hearts, Vol. 1 here!
Currently reading and enjoying. It's very easy to understand, and Beth does talk about some good things. She's a little wordy, but I'm glad to have a new "writing advice" book in my collection because they're absolutely fascinating to read, and to see what works for successful authors.
Bird by Bird meets Save the Cat in this new writing advice book by NY Times bestselling author Beth Revis. With more than 100000 reads on Wattpad, this newly expanded and rewritten edition features 350 pages of content, including charts and a detailed appendix.
~~~
Fight the blank page.
When it comes to writing, there's no wrong way to get words on paper. But it's not always easy to make the ink flow. Paper Hearts: Some Writing Advice won't make writing any simpler, but it may help spark your imagination and get your hands back on the keyboard.
Practical Advice Meets Real Experience
With information that takes you from common mistakes in grammar to detailed charts on story structure, Paper Hearts describes:
-How to Develop Character, Plot, & World
-What Common Advice You Should Ignore
-What Advice Actually Helps
-How to Develop a Novel
-The Basics of Grammar, Style, & Tone
-Four Practical Methods of Charting Story Structure
-How to Get Critiques and Revise Your Novel
-How to Deal with Failure
…And much more!
BONUS! More than 25 "What to do if…" scenarios to help writers navigate problems in writing from a NY Times Bestselling author who's written more than 2 million words of fiction.
---
The Secret of Dreadwillow Carse by Brian Farrey. [Goodreads] Source: Algonquin Young Readers. Format: ARC.
Time to break up the YA with some Middle Grade! This looks like a fun fantasy.
A princess and a peasant girl must embark on a dangerous quest to outwit a centuries-old warning foretelling the fall of the Monarchy in this modern fairytale.
In the center of the verdant Monarchy lies Dreadwillow Carse, a black and desolate bog that the happy people of the land do their best to ignore. Little is known about it, except for one dire warning: If any monarch enters Dreadwillow Carse, then the Monarchy will fall. Twelve-year-old Princess Jeniah yearns to know what the marsh could possibly conceal that might topple her family's thousand-year reign of peace and prosperity.
Meanwhile, in the nearby town of Emberfell, where everyone lives with unending joy, a girl named Aon hides a sorrow she can never reveal. She knows that something in the carse–something that sings a haunting tune only Aon can hear–holds the cure for her sadness. Yet no matter how many times she tries to enter, the terror-inducing dreadwillow trees keep her away.
After a chance meeting, Princess Jeniah and Aon hatch a plan to send Aon into the heart of the carse to unlock its darkest secret. But when Aon doesn't return, a guilt-stricken Jeniah must enter the carse to try and rescue her friend–even if it means risking the entire Monarchy.
---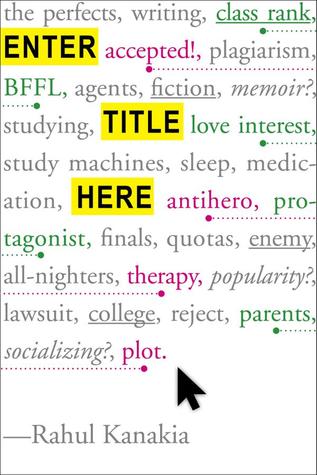 Enter Title Here by Rahul Kanakia. [Goodreads] Source: Disney Hyperion via NetGalley. Format: Egalley.
This sounds both awesome and terrible. Like a weird reality TV show this girl has to go through. I hope it's entertaining because I normally wouldn't pick up this sort of contemporary book, but for the first time ever my "wish" was "granted" on NetGalley, so that was exciting.
I'm your protagonist—Reshma Kapoor—and if you have the free time to read this book, then you're probably nothing like me.
Reshma is a college counselor's dream. She's the top-ranked senior at her ultra-competitive Silicon Valley high school, with a spotless academic record and a long roster of extracurriculars. But there are plenty of perfect students in the country, and if Reshma wants to get into Stanford, and into med school after that, she needs the hook to beat them all.
What's a habitual over-achiever to do? Land herself a literary agent, of course. Which is exactly what Reshma does after agent Linda Montrose spots an article she wrote for Huffington Post. Linda wants to represent Reshma, and, with her new agent's help scoring a book deal, Reshma knows she'll finally have the key to Stanford.
But she's convinced no one would want to read a novel about a study machine like her. To make herself a more relatable protagonist, she must start doing all the regular American girl stuff she normally ignores. For starters, she has to make a friend, then get a boyfriend. And she's already planned the perfect ending: after struggling for three hundred pages with her own perfectionism, Reshma will learn that meaningful relationships can be more important than success—a character arc librarians and critics alike will enjoy.
Of course, even with a mastermind like Reshma in charge, things can't always go as planned. And when the valedictorian spot begins to slip from her grasp, she'll have to decide just how far she'll go for that satisfying ending. (Note: It's pretty far.)
---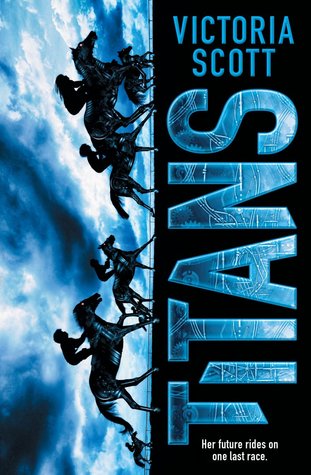 Titans by Victoria Scott. [Goodreads] Source: Library. Format: Hardcover.
It sounds like The Scorpio Races (which is one of my favorite books of all time) with mechanical horses instead of murderous horses. I'm in, because horses. And because of that stunning cover. Like, the cover is amazing and different and eye-catching. Also, creepy horses. I hope I love this book. Because horses. (Any Heartland or Phantom Stallion or Misty of Chincoteague or National Velvet or Black Beauty fans out there?!)
Ever since the Titans first appeared in her Detroit neighborhood, Astrid Sullivan's world has revolved around the mechanical horses. She and her best friend have spent countless hours watching them and their jockeys practice on the track. It's not just the thrill of the race. It's the engineering of the horses and the way they're programmed to seem so lifelike. The Titans are everything that fascinates Astrid, and nothing she'll ever touch.
She hates them a little, too. Her dad lost everything betting on the Titans. And the races are a reminder of the gap between the rich jockeys who can afford the expensive machines to ride, and the working class friends and neighbors of Astrid's who wager on them.
But when Astrid's offered a chance to enter an early model Titan in this year's derby, well, she decides to risk it all. Because for a girl from the wrong side of the tracks, it's more than a chance at fame or money. Betting on herself is the only way she can see to hang on to everyone in the world she cares about.
---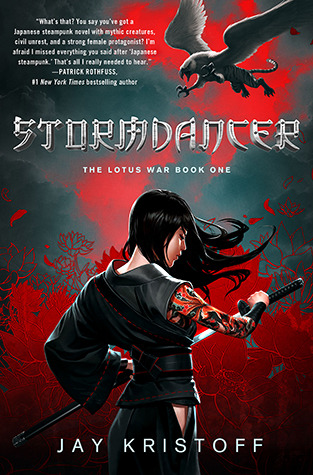 Stormdancer by Jay Kristoff. The Lotus War, #1. [Goodreads] Source: Library. Format: Hardcover.
Eff yes, I'm finally going to read Stormdancer! I'm always dying to get my hands on books based on Asian culture, history, or mythology, and Stormdancer seems to take place in a Japanese-inspired fantasy world. That's freaking enough to lure me in. (And my last Asian-inspired read, Soundless, was a major disappointment.) Also, can we admire the gorgeous cover?! Asian girl on the cover for the win!
A DYING LAND
The Shima Imperium verges on the brink of environmental collapse; an island nation once rich in tradition and myth, now decimated by clockwork industrialization and the machine-worshipers of the Lotus Guild. The skies are red as blood, the land is choked with toxic pollution, and the great spirit animals that once roamed its wilds have departed forever.
AN IMPOSSIBLE QUEST
The hunters of Shima's imperial court are charged by their Shōgun to capture a thunder tiger – a legendary creature, half-eagle, half-tiger. But any fool knows the beasts have been extinct for more than a century, and the price of failing the Shōgun is death.
A HIDDEN GIFT
Yukiko is a child of the Fox clan, possessed of a talent that if discovered, would see her executed by the Lotus Guild. Accompanying her father on the Shōgun's hunt, she finds herself stranded: a young woman alone in Shima's last wilderness, with only a furious, crippled thunder tiger for company. Even though she can hear his thoughts, even though she saved his life, all she knows for certain is he'd rather see her dead than help her.
But together, the pair will form an indomitable friendship, and rise to challenge the might of an empire.
---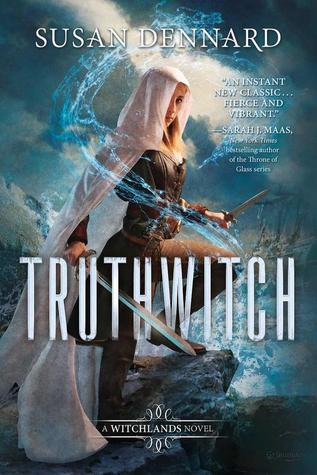 Truthwitch by Susan Dennard. The Witchlands, #1. [Goodreads] Source: Library. Format: Hardcover.
Do I need to say anything? I just hope I love it.
On a continent ruled by three empires, some are born with a "witchery," a magical skill that sets them apart from others.
In the Witchlands, there are almost as many types of magic as there are ways to get in trouble—as two desperate young women know all too well.
Safiya is a Truthwitch, able to discern truth from lie. It's a powerful magic that many would kill to have on their side, especially amongst the nobility to which Safi was born. So Safi must keep her gift hidden, lest she be used as a pawn in the struggle between empires.
Iseult, a Threadwitch, can see the invisible ties that bind and entangle the lives around her—but she cannot see the bonds that touch her own heart. Her unlikely friendship with Safi has taken her from life as an outcast into one of reckless adventure, where she is a cool, wary balance to Safi's hotheaded impulsiveness.
Safi and Iseult just want to be free to live their own lives, but war is coming to the Witchlands. With the help of the cunning Prince Merik (a Windwitch and ship's captain) and the hindrance of a Bloodwitch bent on revenge, the friends must fight emperors, princes, and mercenaries alike, who will stop at nothing to get their hands on a Truthwitch.
---
What books have you recently added to your collection?
And have you read any of the books I just acquired?
If so, which should I start ASAP?
Follow me @ toweroftomes on Twitter | Instagram | Goodreads | and Bloglovin'!