Stacking the Shelves is hosted by Tynga @ Tynga's Reviews.
---
Here are the books I have recently acquired.
---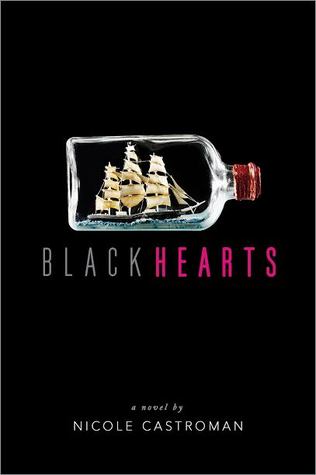 Blackhearts by Nicole Castroman. [Goodreads] Source: Library. Format: Hardcover.
So this is mostly romance and not very much pirating. Which is okay, though a bit disappointing to learn. I still like origin stories, and hopefully I'll like the characters and find the romance to be well-done. Fingers crossed!
Blackbeard the pirate was known for striking fear in the hearts of the bravest of sailors. But once he was just a young man who dreamed of leaving his rigid life behind to chase adventure in faraway lands. Nothing could stop him—until he met the one girl who would change everything.
Edward "Teach" Drummond, son of one of Bristol's richest merchants, has just returned from a year-long journey on the high seas to find his life in shambles. Betrothed to a girl he doesn't love and sick of the high society he was born into, Teach dreams only of returning to the vast ocean he'd begun to call home. There's just one problem: convincing his father to let him leave and never come back.
Following her parents' deaths, Anne Barrett is left penniless and soon to be homeless. Though she's barely worked a day in her life, Anne is forced to take a job as a maid in the home of Master Drummond. Lonely days stretch into weeks, and Anne longs for escape. How will she ever realize her dream of sailing to Curaçao—where her mother was born—when she's stuck in England?
From the moment Teach and Anne meet, they set the world ablaze. Drawn to each other, they're trapped by society and their own circumstances. Faced with an impossible choice, they must decide to chase their dreams and go, or follow their hearts and stay.
---
Firelight by Kazu Kibuishi. Amulet, #7. [Goodreads] Source: Library. Format: Paperback.
Check out my review of Firelight here.
Amulet is a terrific graphic novel series. The story is wandering now, but the artwork is absolutely gorgeous. Basically, I'm reading the books because of Kazu Kibuishi's stunning illustrations.
Emily, Trellis, and Vigo visit Algos Island, where they can access and enter lost memories. They're hoping to uncover the events of Trellis's mysterious childhood — knowledge they can use against the Elf King. What they discover is a dark secret that changes everything. Meanwhile, the voice of Emily's Amulet is getting stronger, and threatens to overtake her completely.
---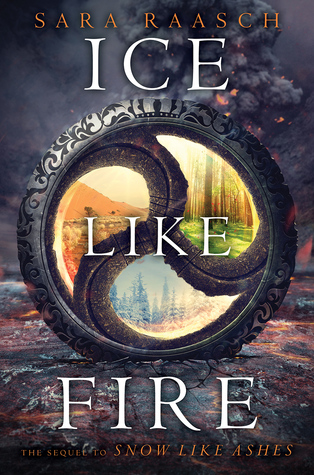 Ice Like Fire by Sara Raasch. Snow Like Ashes, #2. [Goodreads] Source: Library. Format: Hardcover.
Check out my review of book #1, Snow Like Ashes.
In the mood to read the sequel to Snow Like Ashes. I've gotten out Ice Like Fire from the library before, but didn't end up reading it. Hopefully now I get the chance to!
It's been three months since the Winterians were freed and Spring's king, Angra, disappeared—thanks largely to the help of Cordell.
Meira just wants her people to be safe. When Cordellan debt forces the Winterians to dig their mines for payment, they unearth something powerful and possibly dangerous: Primoria's lost chasm of magic. Theron sees this find as an opportunity—with this much magic, the world can finally stand against threats like Angra. But Meira fears the danger the chasm poses—the last time the world had access to so much magic, it spawned the Decay. So when the king of Cordell orders the two on a mission across the kingdoms of Primoria to discover the chasm's secrets, Meira plans to use the trip to garner support to keep the chasm shut and Winter safe—even if it means clashing with Theron. But can she do so without endangering the people she loves?
Mather just wants to be free. The horrors inflicted on the Winterians hang fresh and raw in Januari—leaving Winter vulnerable to Cordell's growing oppression. When Meira leaves to search for allies, he decides to take Winter's security into his own hands. Can he rebuild his broken kingdom and protect them from new threats?
As the web of power and deception weaves tighter, Theron fights for magic, Mather fights for freedom—and Meira starts to wonder if she should be fighting not just for Winter, but for the world.
---
Britt-Marie Was Here by Fredrik Backman. [Goodreads] Source: Atria Books. Format: ARC.
Sounds charming! I also love the cover. Always excited to get out of the YA bubble and try new books.
From the bestselling author of the "charming debut" (People) A Man Called Ove and My Grandmother Asked Me to Tell You She's Sorry, a heartwarming and hilarious story of a reluctant outsider who transforms a tiny village and a woman who finds love and second chances in the unlikeliest of places.
Britt-Marie can't stand mess. She eats dinner at precisely the right time and starts her day at six in the morning because only lunatics wake up later than that. And she is not passive-aggressive. Not in the least. It's just that sometimes people interpret her helpful suggestions as criticisms, which is certainly not her intention.
But at sixty-three, Britt-Marie has had enough. She finally walks out on her loveless forty-year marriage and finds a job in the only place she can: Borg, a small, derelict town devastated by the financial crisis. For the fastidious Britt-Marie, this new world of noisy children, muddy floors, and a roommate who is a rat (literally), is a hard adjustment.
As for the citizens of Borg, with everything that they know crumbling around them, the only thing that they have left to hold onto is something Britt-Marie absolutely loathes: their love of soccer. When the village's youth team becomes desperate for a coach, they set their sights on her. She's the least likely candidate, but their need is obvious and there is no one else to do it.
Thus begins a beautiful and unlikely partnership. In her new role as reluctant mentor to these lost young boys and girls, Britt-Marie soon finds herself becoming increasingly vital to the community. And even more surprisingly, she is the object of romantic desire for a friendly and handsome local policeman named Sven. In this world of oddballs and misfits, can Britt-Marie finally find a place where she belongs?
Zany and full-of-heart, Britt-Marie Was Here is a novel about love and second chances, and about the unexpected friendships we make that teach us who we really are and the things we are capable of doing.
---
Risuko by David Kudler. Seasons of the Sword, #1. [Goodreads] Source: Stillpoint Digital Press via NetGalley. Format: Egalley.
This is one of the most beautiful covers I have seen in a while. Plus, it's set in Ancient Japan, and you guys know how much I love books based on Asian history, culture, and mythology. Bring it on! I'm so excited to start reading this!
Can one girl win a war?
My name is Kano Murasaki, but most people call me Risuko. Squirrel.
I am from Serenity Province, though I was not born there.
My nation has been at war for a hundred years, Serenity is under attack, my family is in disgrace, but some people think that I can bring victory. That I can be a very special kind of woman.
All I want to do is climb.
My name is Kano Murasaki, but everyone calls me Squirrel.
Risuko.
Though Japan has been devastated by a century of civil war, Risuko just wants to climb trees. Growing up far from the battlefields and court intrigues, the fatherless girl finds herself pulled into a plot that may reunite Japan — or may destroy it. She is torn from her home and what is left of her family, but finds new friends at a school that may not be what it seems.
Magical but historical, Risuko follows her along the first dangerous steps to discovering who she truly is.
Kano Murasaki, called Risuko (Squirrel) is a young, fatherless girl, more comfortable climbing trees than down on the ground. Yet she finds herself enmeshed in a game where the board is the whole nation of Japan, where the pieces are armies, moved by scheming lords, and a single girl couldn't possibly have the power to change the outcome. Or could she?
Historical adventure fiction appropriate for young adult and middle-grade readers.
---
What books have you recently added to your collection?
And have you read any of the books I just acquired?
If so, which should I start ASAP?
Follow me @ toweroftomes on Twitter | Instagram | Goodreads | and Bloglovin'!