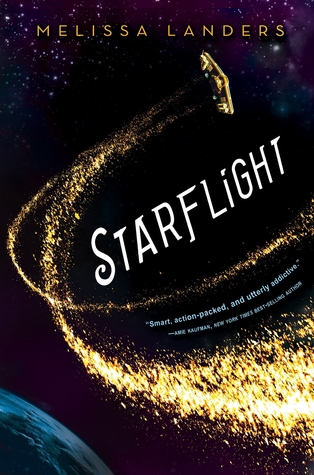 Starflight by Melissa Landers. Starflight, #1.
My copy: Hyperion (Disney Book Group), February 2016. Hardcover, 359 pages.
Source: Library.
Synopsis:
Life in the outer realm is a lawless, dirty, hard existence, and Solara Brooks is hungry for it. Just out of the orphanage, she needs a fresh start in a place where nobody cares about the engine grease beneath her fingernails or the felony tattoos across her knuckles. She's so desperate to reach the realm that she's willing to indenture herself to Doran Spaulding, the rich and popular quarterback who made her life miserable all through high school, in exchange for passage aboard the spaceliner Zenith.
When a twist of fate lands them instead on the Banshee, a vessel of dubious repute, Doran learns he's been framed on Earth for conspiracy. As he pursues a set of mysterious coordinates rumored to hold the key to clearing his name, he and Solara must get past their enmity to work together and evade those out for their arrest. Life on the Banshee may be tumultuous, but as Solara and Doran are forced to question everything they once believed about their world—and each other—the ship becomes home, and the eccentric crew family. But what Solara and Doran discover on the mysterious Planet X has the power to not only alter their lives, but the existence of everyone in the universe…
---
Some thoughts on Starflight:
+ Read that synopsis and tell me you don't love it. And add the fact that the Banshee crew also have some serious baggage. Solara and Doran are not the only ones running from the law…
+ I got a lot of Firefly vibes, which was a good thing. I am ashamed to say I haven't watched all of Firefly, but the good six or so episodes I did watch were awesome. Starflight struck me as somewhat influenced by the cult classic TV show, though it isn't too similar that it's a rip-off. Me thinks Melissa Landers is also a Firefly fan.
+ Why is it that seemingly all heroines in sci-fi books these days have to be mechanics? Cinder, Mechanica, now Starflight… I mean, girl mechanics are awesome (Firefly again), but really, there's got to be a job women in the future can do besides repair things. What about female pilots? Or female pirates, for that matter?
+ Doran's transformation from a complete a-hole to an incredibly loyal friend was great fun to watch, and it's amazing how much I grew to like him after I hated his guts in the beginning, just like Solara did. And I can't even pinpoint the exact place Doran shaped-up — his character development was that well written!
+ This book is really funny, too. Doran and Solara's insults, arguments, and undermining were hilarious. Perhaps my favorite humorous moment, though, was when Solara was running for her life and her dress got caught in an automatic door — so she unzipped her dress and took off down the street in her bra and underwear. I read that part twice and cackled because it was brilliant.
+ I almost felt like the romance took too long to show up. I did enjoy how plot-focused the book was, that was excellent, but I guess since most YA books these days just introduce the romance almost straight off the bat, I was a little surprised at how late our main characters finally got together. I would categorize the romance as a slow-burn, hate-to-love thing. No insta-love to be found here, all you insta-love haters! (I would know, I am one.)
+ I saw one of the "big reveals" coming a MILE away. Like, a MILE, I am not even kidding, it was that obvious. Without getting too spoiler-y, let me just say that the trope is getting reeeeal old concerning family members who are supposedly dead… Additionally, I totally nailed who ratted Doran out at one point in the book, and knew Doran and Solara were accusing the wrong person.
+ There were a bunch of loose ends that weren't resolved, which I hope will be taken care of in the next book, Starfall. But I don't have huge hopes for that, since Starfall is about Kane and Cassia, and more of a companion novel than a direct sequel.
To conclude… Starflight was a really great read, a total hoot and vastly entertaining. It's not the most original, knock-your-socks-off book, but it has incredibly interesting characters and a pretty packed plot. If you're looking for a space sci-fi with ships, pirates, criminals, and numerous locations, check out Starflight. And, if you're a fan of Melissa Landers' Alienated and Invaded, I have a feeling you'll like Starflight, maybe even more, like I did! ♦
---
Have you read Starflight?
If you haven't, would you be interested to?
What's a space sci-fi you've read/watched and really enjoyed?
Comment below letting me know!
And, as always, happy reading!
Follow me @ toweroftomes on Twitter | Instagram | Goodreads | and Bloglovin'!