Stacking the Shelves is hosted by Tynga @ Tynga's Reviews.
---
Here are the books I have recently acquired.
---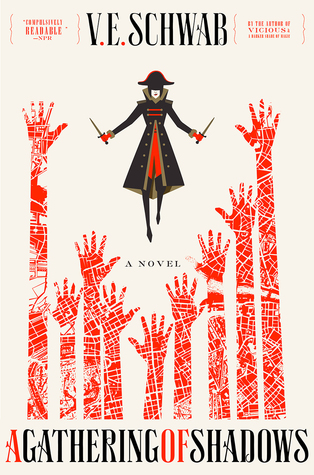 A Gathering of Shadows by V.E. Schwab. Shades of Magic, #2. [Goodreads] Source: Library. Format: Hardcover.
Read my review of book 1, A Darker Shade of Magic, here!
Whoo, so pumped to read the sequel to one of my favorite books I read last year! V.E. Schwab is a terrific writer, and I absolutely loved the magic and the multiple Londons and gah — isn't that cover marvelous? (OMG, I am fangirling so hard right now.)
Four months have passed since the shadow stone fell into Kell's possession. Four months since his path crossed with Delilah Bard. Four months since Rhy was wounded and the Dane twins fell, and the stone was cast with Holland's dying body through the rift, and into Black London.
In many ways, things have almost returned to normal, though Rhy is more sober, and Kell is now plagued by his guilt. Restless, and having given up smuggling, Kell is visited by dreams of ominous magical events, waking only to think of Lila, who disappeared from the docks like she always meant to do. As Red London finalizes preparations for the Element Games—an extravagant international competition of magic, meant to entertain and keep healthy the ties between neighboring countries—a certain pirate ship draws closer, carrying old friends back into port.
But while Red London is caught up in the pageantry and thrills of the Games, another London is coming back to life, and those who were thought to be forever gone have returned. After all, a shadow that was gone in the night reappears in the morning, and so it seems Black London has risen again—meaning that another London must fall.
---
Whisper to Me by Nick Lake. [Goodreads] Source: Bloomsbury. Format: ARC.
A remarkable story of strange beauty and self-discovery from Printz Award winner Nick Lake
Cassie is writing a letter to the boy whose heart she broke. She's trying to explain why. Why she pushed him away. Why her father got so angry when he saw them together. Why she disappears some nights. Why she won't let herself remember what happened that long-ago night on the boardwalk. Why she fell apart so completely.
Desperate for his forgiveness, she's telling the whole story of the summer she nearly lost herself. She's hoping he'll understand as well as she now does how love—love for your family, love for that person who makes your heart beat faster, and love for yourself—can save you after all.
---
The Map of Bones by Francesca Haig. The Fire Sermon, #2. [Goodreads] Source: Gallery Books via NetGalley. Format: Egalley.
Read my review of book 1, The Fire Sermon, here!
Definitely looking forward to The Map of Bones. It's been a while since I read book 1, but nonetheless I am eager to jump into the sequel. Plus — isn't that cover gorgeous?
Book Two in the critically acclaimed The Fire Sermon trilogy—The Hunger Games meets Cormac McCarthy's The Road in this richly imagined post-apocalyptic series by award-winning poet Francesca Haig.
Four hundred years in the future, the Earth has turned primitive following a nuclear fire that has laid waste to civilization and nature. Though the radiation fallout has ended, for some unknowable reason every person is born with a twin. Of each pair, one is an Alpha—physically perfect in every way; and the other an Omega—burdened with deformity, small or large. With the Council ruling an apartheid-like society, Omegas are branded and ostracized while the Alphas have gathered the world's sparse resources for themselves. Though proclaiming their superiority, for all their effort, Alphas cannot escape one harsh fact: whenever one twin dies, so does the other.
Cass is a rare Omega, one burdened with psychic foresight. While her twin, Zach, gains power on the Alpha Council, she dares to dream the most dangerous dream of all: equality. For daring to envision a world in which Alphas and Omegas live side-by-side as equals, both the Council and the Resistance have her in their sights.
---
Kahayatle by Elle Casey. Apocalypsis, #1. [Goodreads] Source: Bought (free on Amazon). Format: Kindle.
KAHAYATLE. My name is Bryn Mathis. I'm seventeen years old, and I live in a neighborhood outside of Orlando, Florida. I'm here alone because my dad died almost a year ago, along with all the other adults in the world. I'm almost out of food, and the gangs of kids that roam around my town are getting more vicious by the day. It's time for me to leave and find another place to live … a place where I can find food and shelter … a place where they won't be able to find me. Alone, it might have been possible, but now I've got company. I'm worried that I don't have what it takes to get from here to my final destination, and I have no idea what might be waiting for me when I get there.
---
Collide by H.M. Ward. The Secret Life of Trystan Scott, #1. [Goodreads] Source: Bought (free on Amazon). Format: Kindle.
Such a bad-ass cover!
When Mari accidentally overhears that Trystan is in love, she can't believe it. He's pining over some girl that doesn't know he's alive. The confident swagger and endless stream of girls is a facade. It conceals his loneliness and hides how messed up he's really become trying to flee from a life that's battered him to his core.
Trystan tries to figure out how to make it clear how much he loves Mari, but every insincere kiss and every broken promise haunts him, because she knows them all. Now, Trystan has to prove to the one girl he's actually fallen in love with that she's not just another conquest.
Mari has no idea who Trystan loves, but she can tell that whoever it is has captured his heart entirely. Soon Mari sees the man behind the mask, the guy that Trystan tries so hard to hide. Everything about him is appealing, and too hard to resist.
In a moment of desperation, Trystan uploads a love song he wrote for Mari, but before he can show it to her, the video goes viral. Everyone wants to know who he is, and the only thing shielding him is an anonymous account name and some thick shadows hiding his face. Tyrstan realizes that the consequences of revealing his identity will be disastrous. Everything he's tried so hard to hide will be exposed. It's a secret that is impossible to keep and the only girl who he wanted to hear it will never believe him.
---
What books have you recently added to your collection?
And have you read any of the books I just acquired?
If so, which should I start ASAP?
Follow me @ toweroftomes on Twitter | Instagram | Goodreads | and Bloglovin'!