Stacking the Shelves is hosted by Tynga @ Tynga's Reviews.
---
Here are the books I have recently acquired.
---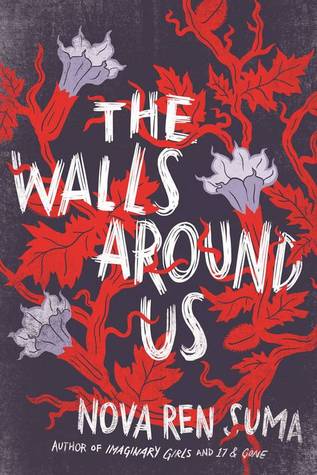 The Walls Around Us by Nova Ren Suma. [Goodreads] Source: Won a signed copy in a giveaway from Algonquin Young Readers. Format: Hardcover.
I actually reviewed The Walls Around Us a long time ago. It wasn't really my cup of tea, though, as excited for it as I was. (I gave it 1 star.) If you want to read my review, click here. My review is pretty harsh because of the nitpicking I did. There are just so many errors about ballet!
On the outside, there's Violet, an eighteen-year-old dancer days away from the life of her dreams when something threatens to expose the shocking truth of her achievement.
On the inside, within the walls of the Aurora Hills juvenile detention center, there's Amber, locked up for so long she can't imagine freedom.
Tying their two worlds together is Orianna, who holds the key to unlocking all the girls' darkest mysteries…
What really happened on the night Orianna stepped between Violet and her tormentors? What really happened on two strange nights at Aurora Hills? Will Amber and Violet and Orianna ever get the justice they deserve—in this life or in another one?
In prose that sings from line to line, Nova Ren Suma tells a supernatural tale of guilt and of innocence, and of what happens when one is mistaken for the other.
---
The Lie Tree by Frances Hardinge. [Goodreads] Source: The publisher, Amulet Books, via NetGalley. Format: Egalley.
I've read Fly By Night by Frances Hardinge, but not in years, and I mean years. I liked her writing style despite not being hooked by Fly By Night, so I'm interested to see what The Lie Tree is like. (And, now that I'll be visiting Frances's work again, maybe it's time to reread Fly By Night!)
In this deliciously creepy novel by the author of the critically acclaimed Cuckoo Song, the fruit of a magical tree uncovers dangerous truths.
Faith Sunderly leads a double life. To most people, she is reliable, dull, trustworthy—a proper young lady who knows her place as inferior to men. But inside, Faith is full of questions and curiosity, and she cannot resist mysteries: an unattended envelope, an unlocked door. She knows secrets no one suspects her of knowing. She knows that her family moved to the close-knit island of Vane because her famous scientist father was fleeing a reputation-destroying scandal. And she knows, when her father is discovered dead shortly thereafter, that he was murdered.
In pursuit of justice and revenge, Faith hunts through her father's possessions and discovers a strange tree. The tree only bears fruit when she whispers a lie to it. The fruit of the tree, when eaten, delivers a hidden truth. The tree might hold the key to her father's murder—or it may lure the murderer directly to Faith herself.
---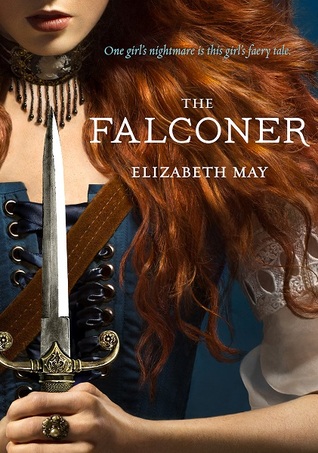 The Falconer by Elizabeth May. [Goodreads] Source: Library. Format: Hardcover.
Faeries, Scottish lore, and steampunk technology? I haven't seen a huge amount of buzz for The Falconer, although I've been aware of it for a while now, so I couldn't resist picking it up from the library shelf. Have any of you read this? Please tell me what you thought, if you have!
One girl's nightmare is this girl's faery tale
She's a stunner.
Edinburgh, 1844. Eighteen-year-old Lady Aileana Kameron, the only daughter of the Marquess of Douglas, has everything a girl could dream of: brains, charm, wealth, a title—and drop-dead beauty.
She's a liar.
But Aileana only looks the part of an aristocratic young lady. she's leading a double life: She has a rare ability to sense the sìthíchean—the faery race obsessed with slaughtering humans—and, with the aid of a mysterious mentor, has spent the year since her mother died learning how to kill them.
She's a murderer.
Now Aileana is dedicated to slaying the fae before they take innocent lives. With her knack for inventing ingenious tools and weapons—from flying machines to detonators to lightning pistols—ruthless Aileana has one goal: Destroy the faery who destroyed her mother.
She's a Falconer.
The last in a line of female warriors born with a gift for hunting and killing the fae, Aileana is the sole hope of preventing a powerful faery population from massacring all of humanity. Suddenly, her quest is a lot more complicated. She still longs to avenge her mother's murder—but she'll have to save the world first.
The first volume of a trilogy from an exciting new voice in young adult fantasy, this electrifying thriller combines romance and action, steampunk technology and Scottish lore in a deliciously addictive read.
---
The Impostor Queen by Sarah Fine. [Goodreads] Source: Library. Format: Hardcover.
Cait from Paper Fury's glowing review persuaded me to pick this book up. I can't wait to read it now! Definitely starting this ASAP!
Sixteen-year-old Elli was only a child when the Elders of Kupari chose her to succeed the Valtia, the queen who wields infinitely powerful ice and fire magic in service of her people. The only life Elli has known has been in the temple, surrounded by luxury, tutored by magic-wielding priests, preparing for the day when the queen perishes—and the ice and fire find a new home in Elli, who is prophesied to be the most powerful Valtia to ever rule.
But when the queen dies defending the kingdom from invading warriors, the magic doesn't enter Elli. It's nowhere to be found.
Disgraced, Elli flees to the outlands, home of banished criminals—some who would love to see the temple burn with all its priests inside. As she finds her footing in this new world, Elli uncovers devastating new information about the Kupari magic, those who wield it, and the prophecy that foretold her destiny. Torn between her love for her people and her growing loyalty to the banished, Elli struggles to understand the true role she was meant to play. But as war looms, she must choose the right side before the kingdom and its magic are completely destroyed.
---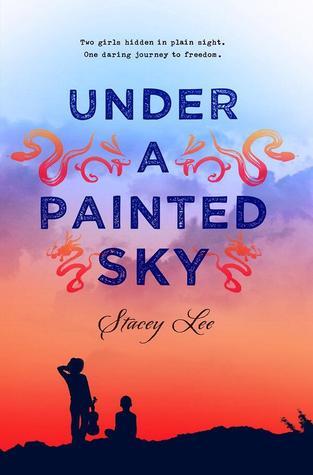 Under a Painted Sky by Stacey Lee. [Goodreads] Source: Library. Format: Hardcover.
Last year when Under a Painted Sky was released I got it out from the library. Sadly, it was neglected as I prioritized other books. But it is a book I haven't forgotten about in the slightest! And I aim to read this SOON because Stacey Lee's sophomore novel, Outrun the Moon, is coming out in May. Plus, I've always got my eyes peeled for book featuring Asian protagonists or Asian culture, and Under a Painted Sky has a Chinese-American violinist girl pretending to be a guy — while traversing the Oregon Trail. How amazing does that sound?!
Missouri, 1849: Samantha dreams of moving back to New York to be a professional musician—not an easy thing if you're a girl, and harder still if you're Chinese. But a tragic accident dashes any hopes of fulfilling her dream, and instead, leaves her fearing for her life. With the help of a runaway slave named Annamae, Samantha flees town for the unknown frontier. But life on the Oregon Trail is unsafe for two girls, so they disguise themselves as Sammy and Andy, two boys headed for the California gold rush. Sammy and Andy forge a powerful bond as they each search for a link to their past, and struggle to avoid any unwanted attention. But when they cross paths with a band of cowboys, the light-hearted troupe turn out to be unexpected allies. With the law closing in on them and new setbacks coming each day, the girls quickly learn that there are not many places to hide on the open trail.
This beautifully written debut is an exciting adventure and heart-wrenching survival tale. But above all else, it's a story about perseverance and trust that will restore your faith in the power of friendship.
---
The Rithmatist by Brandon Sanderson. [Goodreads] Source: Library. Format: Hardcover.
I haven't gotten into Mistborn, the series Brandon Sanderson is famous for, but I saw The Rithmatist sitting on the shelf and decided, Why not. Certainly sounds intriguing! Have any of you read this book? What's it like?
The Rithmatist, Brandon Sanderson's New York Times bestselling epic teen adventure is now available in paperback.
More than anything, Joel wants to be a Rithmatist. Rithmatists have the power to infuse life into two-dimensional figures known as Chalklings. Rithmatists are humanity's only defense against the Wild Chalklings. Having nearly overrun the territory of Nebrask, the Wild Chalklings now threaten all of the American Isles.
As the son of a lowly chalkmaker at Armedius Academy, Joel can only watch as Rithmatist students learn the magical art that he would do anything to practice. Then students start disappearing—kidnapped from their rooms at night, leaving trails of blood. Assigned to help the professor who is investigating the crimes, Joel and his friend Melody find themselves on the trail of an unexpected discovery—one that will change Rithmatics—and their world—forever.
---
What books have you recently added to your collection?
And have you read any of these books I've just acquired?
If so, which should I start ASAP?
Follow me @ toweroftomes on Twitter | Instagram | Goodreads | and Bloglovin'!