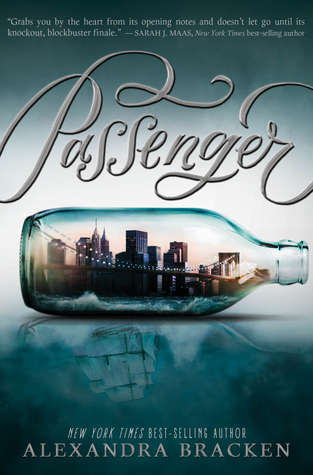 Passenger by Alexandra Bracken. Passenger, #1.
My copy: Hyperion (Disney Book Group), January 2016. Hardcover, 486 pages.
Source: Library.
Synopsis:
passage, n.
i. A brief section of music composed of a series of notes and flourishes.
ii. A journey by water; a voyage.
iii. The transition from one place to another, across space and time.
In one devastating night, violin prodigy Etta Spencer loses everything she knows and loves. Thrust into an unfamiliar world by a stranger with a dangerous agenda, Etta is certain of only one thing: she has traveled not just miles but years from home. And she's inherited a legacy she knows nothing about from a family whose existence she's never heard of. Until now.
Nicholas Carter is content with his life at sea, free from the Ironwoods—a powerful family in the colonies—and the servitude he's known at their hands. But with the arrival of an unusual passenger on his ship comes the insistent pull of the past that he can't escape and the family that won't let him go so easily. Now the Ironwoods are searching for a stolen object of untold value, one they believe only Etta, Nicholas' passenger, can find. In order to protect her, he must ensure she brings it back to them— whether she wants to or not.
Together, Etta and Nicholas embark on a perilous journey across centuries and continents, piecing together clues left behind by the traveler who will do anything to keep the object out of the Ironwoods' grasp. But as they get closer to the truth of their search, and the deadly game the Ironwoods are playing, treacherous forces threaten to separate Etta not only from Nicholas but from her path home . . . forever.
---
Time travel done right. Mostly. I really bought all the rules and mechanics of time travel in Passenger. I mean, I was still scratching my head at a few points, since time travel is such a hinky subject anyway, but I didn't find that many loopholes or inconsistencies. I enjoyed all the "info dumps", as some might call them, because learning about the travelers and their history was fascinating.
This book is long. Much of the middle-to-end is basically Etta going from Point A to Point B to Point C… you get the idea. Plus, while the beginning is really good, it's kind of… not very overall plot-related? I really liked the glimpse into Etta's life as a professional violinist, that was cool, and I enjoyed her time on the ship with the crew, because pirates (even if they're legal pirates) are awesome, but the actual book's plot doesn't start until around page 150. And then the book is almost 500 pages. I wasn't very bothered by all this, but I'm just pointing it out because I did feel like the story dragged at various points.
The characters are fine. To be honest, I didn't love Etta or Nicholas. They were good protagonists, and while they weren't bland at all, for some reason I just wasn't completely drawn to them. While Sophia was an ambitious, rotten egg, I actually found her pretty interesting, despite really hating her at times. Rose was the most interesting to me, definitely my favorite character, and I enjoyed how the story unraveled parts of her past. Alice was sweet and I sincerely hope we see more of her in the series. Cyrus Ironwood felt like a cliche bad guy, but at least we saw he wasn't always quite such a git.
The romance is sweet. Maybe too sweet. And a bit insta-lovey. There's obvious instant attraction between Etta and Nicholas. (*Cough* Insta-love. *Cough*) That keeps growing and growing… and then I remembered at various times — they've known each other only for a few weeks. Like, actually two or three weeks. (Which is a long time compared to some other books! But still… a bit fast, wouldn't you say? Especially in terms of, like, soulmate level?) They were a bit too lovey-dovey for my taste, although very sweet. Eh, a good romance, one that I did root for, but not the best I've read.
Some other random thoughts: +Diversity! Always glad to see it. +I really appreciated how Alex Bracken handled the topic of race and prejudice in both historical and contemporary times. +I thought more of the story would take place at sea/on a ship. Kinda sad, since I love pirates, but I'm glad the story changed scenery a ton. +That cliffhanger-ish ending was pretty unexpected. It wasn't a super cliffhanger ending, though, in the sense that I wasn't tearing my hair out and crying for the next book to find out what happens. So I think the ending was good, in that sense.
In the end, Passenger was a really good read. It didn't blow me away, but I was entertained, learned some new things, and really bought this book's version of time travel. I think I liked The Darkest Minds better, but for taking on such a completely different genre, I would say Alexandra Bracken is definitely an author whose work I can trust to be solid. ♦
---
Have you read Passenger?
If you haven't, would you be interested to?
What's a time travel book you've read where you really bought the time travel mechanics?
Comment below letting me know!
And, as always, happy reading!
Follow me @ toweroftomes on Twitter | Instagram | Goodreads | and Bloglovin'!