Stacking the Shelves is hosted by Tynga @ Tynga's Reviews.
---
Here are the books I have recently acquired.
---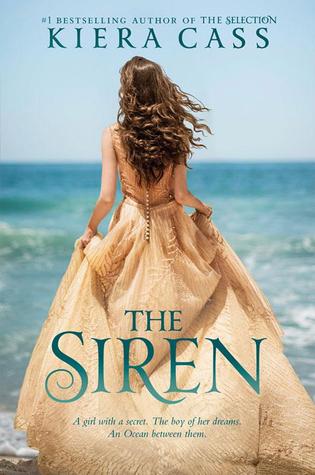 The Siren by Kiera Cass. [Goodreads] Source: Library. Format: Hardcover.
EDIT: Read my review of The Siren here!
From Kiera Cass, #1 New York Times bestselling author of the Selection series, comes a sweeping stand-alone fantasy romance.
A girl with a secret.
The boy of her dreams.
An Ocean between them.
Years ago, Kahlen was rescued from drowning by the Ocean. To repay her debt, she has served as a Siren ever since, using her voice to lure countless strangers to their deaths. Though a single word from Kahlen can kill, she can't resist spending her days on land, watching ordinary people and longing for the day when she will be able to speak and laugh and live freely among them again.
Kahlen is resigned to finishing her sentence in solitude…until she meets Akinli. Handsome, caring, and kind, Akinli is everything Kahlen ever dreamed of.
Falling in love with a human breaks the Ocean's rules. But for the first time in a lifetime of following the rules, Kahlen is determined to follow her heart.
---
Mossflower by Brian Jacques. Redwall, #2. [Goodreads] Source: Library sale. Format: Paperback.
The thrilling prequel to "Redwall". The clever and greedy wildcat Tsarmina becomes ruler of all Mossflower Woods and is determined to govern the peaceful woodlanders with an iron paw. The brave mouse Martin and quick-talking mouse thief Gonff meet in the depths of Kotir Castle's dungeon. The two escape and resolve to end Tsarmina's tyrannical rule. Joined by Kinny the mole, Martin and Gonff set off on a dangerous quest for Salamandastron, where they are convinced that their only hope, Boar the Fighter, still lives.
---
Truth by Christina Benjamin. The Geneva Project, #1. [Goodreads] Source: Benjaminoftomes' Free Book Friday pick of the week. Format: Kindle.
Trapped on a flood ravaged island full of orphans, natives and wealthy citizens of the prosperous city Lux, a young girl named Geneva finds herself enslaved at an orphanage with no future and a past she can't remember. That all changes when she meets someone who promises her that there's more in store for her than she ever could have imagined. Her once dull life rapidly spirals out of control as she starts to acquire new magical powers that may be the key to unlocking an ancient legend along with her true identity. But first she must master these powers, all while trying to keep them secret from her friends and the evil head mistress at the orphanage. Before she knows it, Geneva is in over her head and has inadvertently wrapped her friends into her web of magic and lies and now all of their lives hang in the balance once the head mistress finds out her plan to prove that the legend of Lux may not be a legend at all! Who will Geneva trust and how far will she go to save her friends and find out her true identity?
---
What books have you recently added to your collection?
And have you read any of these books I've just acquired?
If so, which should I start ASAP?
Follow me @ toweroftomes on Twitter | Instagram | Goodreads | and Bloglovin'!