The Sunday Post is hosted by Kimba @ Caffeinated Book Reviewer.
---
Last week on the blog:
Yeah, it was super quiet on the blog. I took some time off to enjoy the holidays. But I have three posts scheduled for this coming week on Tuesday, Wednesday, and Thursday! End of 2015, guys — gotta cram the countdown and yearly wrap-ups in here. Stay tuned for 2016 releases I'm excited for, my top 5 favorite books of the year countdown part 2, and the (massively long) annual end of year book survey.
---
What I DNF-ed:
City of Ashes by Cassandra Clare. I only got two chapters in, reaching page 52. It's not that it's a bad book, it's just that I wasn't in the mood for it. I do really want to read The Mortal Instruments series and eventually The Infernal Devices, but City of Ashes isn't the right book to dive into at this time.
---
Currently reading:
I'm still technically reading The Trouble with Destiny by Lauren Morrill, which I really need to finish ASAP… Maybe this week, as the last book of 2015?
---
The books I acquired:
Here are the books I acquired this week.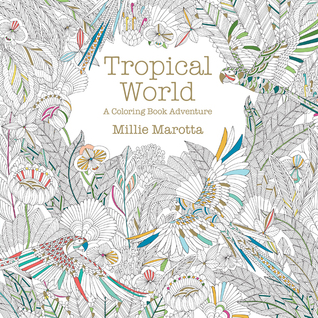 Tropical World: A Coloring Book Adventure by Millie Marotta. [Goodreads] Gift. | While it was Christmas, I didn't get any books except a new adult coloring book (I got other things), which isn't really a book to read, haha. But I'm still happy because coloring is awesome, and very fun to do with some music playing or when I catch up on my YouTube "watch later" playlist.
---
In other news…
Hopefully I'll be back to blogging regularly after the New Year. I'm planning a post about my 2016 reading and blogging goals and resolutions for the January 5th Top Ten Tuesday. Besides that post, I'm also planning a post about the series I'm going to drop/quit (because, really, I don't have time to be obsessive and finish every single series I've started). And part 3 of my Studio Ghibli Appreciation Series is coming, it's just going to take me a while to put it all together because I want to do a good job. Also, I'll be resurrecting the Waiting on Wednesday meme on the blog! And finally — hopefully in my December monthly wrap-up next Sunday, I'll be able to share with you all an exciting (and a bit scary to me) piece of blogging news!
I hope everyone had a great holiday, and that you all have a terrific New Year!
---
What are you currently reading?
Follow me @ toweroftomes on Twitter | Instagram | Goodreads | and Bloglovin'!