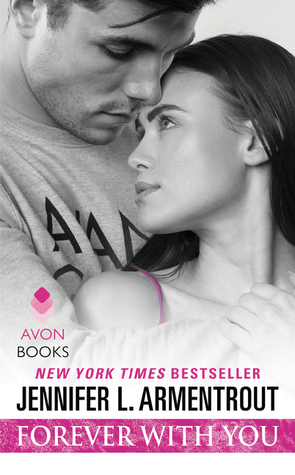 Book title: Forever with You
Author: Jennifer L. Armentrout
Series: Wait for You, #5
Publisher: Avon Books (Harper Collins Publishers)
Release date: September 2015
Format: Paperback, 370 pages
Source: Library.
Read my review of Wait for You, book 1, here.
Read my review of Stay with Me, book 3, here.
Read my review of Fall with Me, book 4, here.
Synopsis:
In the irresistibly sexy series from #1 New York Times bestselling author Jennifer L. Armentrout, two free spirits find their lives changed by a one-night stand…
Some things you just believe in, even if you've never experienced them. For Stephanie, that list includes love. It's out there. Somewhere. Eventually. Meanwhile she's got her job at the mixed martial arts training center and hot flings with gorgeous, temporary guys like Nick. Then a secret brings them closer, opening Steph's eyes to a future she never knew she wanted—until tragedy rips it away.
Nick's self-assured surface shields a past no one needs to know about. His mind-blowing connection with Steph changes all that. As fast as he's knocking down the walls that have kept him commitment-free, she's building them up again, determined to keep the hurt—and Nick—out. But he can't walk away. Not when she's the only one who's ever made him wish for forever . . .
Forever with You is the fifth book in Jennifer L. Armentrout's New Adult romance series. (I haven't read book 2, but I've read the other three.) This story follows Stephanie who, um, is kind of a bitch in previous books and has definitely hooked up with the likes of Cam and Jase before they found their one true loves Avery and Teresa, respectively. Steph is a harder character to relate to because of her blunt personality and her tendency toward flings instead of forming real relationships.
I'll be honest and say it took me a good third of the book to get invested in her and Nick's story. And once the "big incident" happened (which was obvious due to all the major hints leading up to it) it was really easy to predict how the rest of the story would go. I mean, most romances are easy to predict since they all go through the same formula, but with this specific event and the word "tragedy" on the book's blurb, things were pretty much spelled out. Plot-wise, eh.
But to talk about the romance and Steph's hot boy Nick… This is NA so there are definitely some hot and sweaty scenes here, but for some reason I wasn't as interested in them as I was in JLA's other books because I wasn't a huge fan of Steph or Nick. Nick cracked me up sometimes and I liked him a lot, but I didn't love him, not like I loved Cam or Jax from their books, or even the uber-protective Reece. I did absolutely love every single scene that had the characters from the other books in them, especially Roxy and Katie who really befriended Steph. But Calla and Avery were here, too, as were all the hot boyfriends. It was pretty awesome seeing the entire cast thus-far hanging out together often. But it's definitely saying something when the supporting characters totally steal the show away from the main ones…
In the end, Forever with You was an entertaining read, but it had a 100% predictable plot which made it less compelling. Steph and Nick weren't my favorite couple, and the side characters honestly took the limelight. This is probably my least favorite of JLA's books, although it's not bad at all. Steph and Nick really change by the book's end, maturing in drastic (but good) ways, and they really are great together. If you're a fan of JLA, you're going to find her trademark snark and sexy scenes here. But it's definitely not something to call home about. And that's okay. ♦
---
---
Have you read Forever with You?
If you haven't, would you be interested to?
Have you read any of Jennifer's other New Adult romances?
What's a book you can think of where the supporting characters are far more interesting than the main ones?
Comment below letting me know!
And, as always, happy reading!
Follow me @ toweroftomes on Twitter | Instagram | Goodreads | and Bloglovin'!