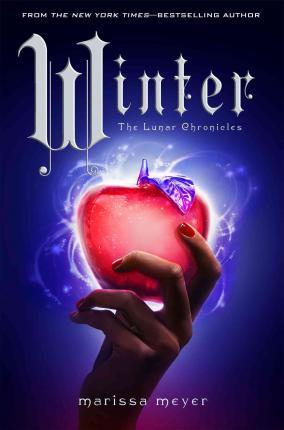 Book title: Winter
Author: Marissa Meyer
Series: The Lunar Chronicles, #4
Publisher: Feiwel and Friends (Macmillan)
Release date: November 10th, 2015
Format: Hardcover, 823 pages
Source: Library.
Read my review of Fairest, book #3.5, here.
Synopsis:
Princess Winter is admired by the Lunar people for her grace and kindness, and despite the scars that mar her face, her beauty is said to be even more breathtaking than that of her stepmother, Queen Levana.
Winter despises her stepmother, and knows Levana won't approve of her feelings for her childhood friend—the handsome palace guard, Jacin. But Winter isn't as weak as Levana believes her to be and she's been undermining her stepmother's wishes for years. Together with the cyborg mechanic, Cinder, and her allies, Winter might even have the power to launch a revolution and win a war that's been raging for far too long.
Can Cinder, Scarlet, Cress, and Winter defeat Levana and find their happily ever afters?
---
♣ Overall rating: 5 stars ♣
Plot: 4 | Pacing: 5 | Characters: 5 | Writing: 5 | World building: 3 | Romance: 5 | Feels: 5
---
So what's Winter about? Well, it is the conclusion to the amazing sci-fi fairy tale retelling series called the Lunar Chronicles, if you didn't know. The fourth book in the series, though fifth if you include the prequel novella Fairest, is basically one epic battle against the evil Queen Levana. It brings the wonderfully eclectic and diverse cast of characters from the previous stories together as they start a revolution to put the rightful Queen Selene on the Lunar throne.
Characters! Characters! Who were your favorites? I'll always love Cinder the cyborg mechanic, but I must say that Cress and Wolf are absolute dears in this book. It was amazing reading about everyone's role in the fight against Levana and to see how much they have grown over the course of the series. In Winter, Cress grew the most, I think, but Cinder learned to accept herself and her true role as a leader, and Thorne showed that he's entirely capable of acting serious when situations call for it. Wolf's dedication to Scarlet and hers to him was absolutely perfect. Iko continued to be awesome, hilarious, annoying, and helpful. But I can't forget to talk about Winter and Jacin, our Snow White and Hunter in this tale. Winter was an odd character, one I sincerely loved but not quite as much as everyone else. Jacin was an interesting person, a man stuck in extremely complicated and uncomfortable situations who was entirely devoted to Winter but had a hard time patching things up. Winter and Jacin were a pretty damaged pair, but they were always trying to get through things together, and I really liked that.
Okay, villains? Levana especially. Yup, Levana is a true piece of work. If you've read her prequel novella you're going to understand her a lot more, even though you still hate her. I pitied her at times, but for the most part I really couldn't wait to find out how she'd be deposed from her (unrightful) claim on the Lunar throne. If you haven't read Fairest, you're going to absolutely despise and loathe her horrible schemes. And even if you have, you're still going to hate her, but you'll understand why she acts the way she does. I will say that the final showdown was quite a spectacle, one that held an incredible amount of tension and stakes with only (I believe, so don't quote me) Levana, Cinder, Thorne, Cress, and Wolf in the room — and most everyone incapacitated or disabled in some way, shape or form. Also, to briefly mention (SPOILER ALERT! DON'T READ THIS IF YOU HAVEN'T READ WINTER), I was incredibly grateful when Levana's head Thaumaturge Aimery was killed. Yeah, it was pretty brutal, but about freakin' time, I'd say, after all the horrible messed-up things he'd done. (END OF SPOILER.)
What about the romances? Yup, we've got four different pairs: Cinder and Kai, Scarlet and Wolf, Cress and Thorne, and Winter and Jacin. I liked Scarlet and Wolf's relationship the most; theirs is the strongest from what we'd seen thus far in the series, and their complete dedication and faith in each other was just heartwarming to see. Wolf went through some really terrible things but he fought against it all for Scarlet, because she's his alpha and love always triumphs over evil. Cress and Thorne were adorable, although they both tried to deny their feelings for each other for most of the book. It was so frustrating but all the more satisfying when they finally admitted how they feel. It was also great seeing how Cress helped her friends so much, often times completely on her own. Girl doesn't give up and I loved that. Winter and Jacin are both extremely damaged people who love and care for each other no matter what. Winter, man… she's crazy, and it sometimes was hard to feel for her, especially with how perfect she was on the flip side. Cinder and Kai's relationship was never easy but they acknowledged their love for each other a while ago and are both smart enough and determined enough to make it work somehow. There are some great kissing scenes to be found from all the couples, but Scarlet and Wolf take the cake in my book. ❤
Plot? Pacing? Okay, I'll be honest — this book was too long. Plot-wise it felt like any other dystopian finale, only on the moon and with neat mind-control powers to shake things up. The pacing was off the charts fast, with things happening in almost every single chapter and absolutely no emotional breathers. The entire book is the climax of the series and while it was exciting it was also exhausting at times. Feels-wise, however, this book slayed. I didn't want it to be over, I didn't want to lose any of the characters I'd become so attached to. I was a wreck reading Winter, even if it felt the least original out of all the books — and that's saying something, since all of them are sci-fi fairy tale retellings. I'm not hating, nor am I disappointed, because we all knew there'd be a revolution, right? The Lunar Chronicles is an excellent series, don't get me wrong, and I gave this book 5 stars. But I'm stating the truth that this is very similar to any other final book in a dystopian society, just longer and better and more glamorous.
Final thoughts? Winter isn't perfect, but it is a terrific conclusion to the series. It's long, it's action-packed, it's romantic, it's dark, it's crazy… The FEELS, guys. At some points I didn't want to even read it because I knew I'd only get that much closer to the end. If you're a fan of the series thus far then Winter is definitely going to rip you apart multiple times. If you haven't read the Lunar Chronicles yet, I highly suggest you do and can assure you that the final book is pretty satisfactory. Marissa Meyer did a more than decent job wrapping things up at the very end, even if there are a few miracles, although I'm not complaining. Also, if you can stand Levana enough to read her novella, I recommend doing so. It gives you a lot of back story for her and Winter's pasts on Luna, so you'll have a better grasp of what made them so… well, them. In conclusion, I loved Winter and am going to miss these awesome books about a totally kick-ass group of unlikely friends fighting to save not just Earth but Luna, too. ♦
---
---
Have you read Winter? Or any of the Lunar Chronicles?
If you haven't, would you be interested to?
What's a favorite fairy tale retelling you've read?
What's one of the most unique retellings you've read?
Comment below letting me know!
And, as always, happy reading!
Follow me @ toweroftomes on Twitter | Instagram | Goodreads | and Bloglovin'!