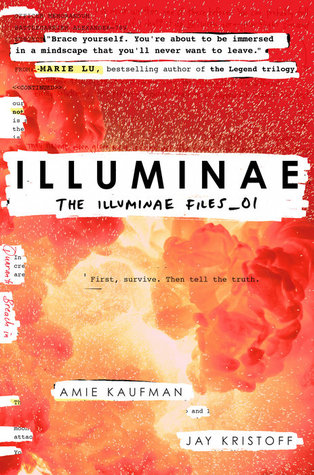 Book title: Illuminae
Author: Amie Kaufman, Jay Kristoff
Series: The Illuminae Files, #1
Publisher: Knopf Books For Young Readers
Release date: October 2015
Format: Egalley, 215 pages [the finished hardcover is 608 pages]
Source: I received this book from the publisher through NetGalley in exchange for an honest review. Thank you, Knopf BFYR!
Synopsis:
This morning, Kady thought breaking up with Ezra was the hardest thing she'd have to do.
This afternoon, her planet was invaded.
The year is 2575, and two rival megacorporations are at war over a planet that's little more than an ice-covered speck at the edge of the universe. Too bad nobody thought to warn the people living on it. With enemy fire raining down on them, Kady and Ezra—who are barely even talking to each other—are forced to fight their way onto an evacuating fleet, with an enemy warship in hot pursuit.
But their problems are just getting started. A deadly plague has broken out and is mutating, with terrifying results; the fleet's AI, which should be protecting them, may actually be their enemy; and nobody in charge will say what's really going on. As Kady hacks into a tangled web of data to find the truth, it's clear only one person can help her bring it all to light: the ex-boyfriend she swore she'd never speak to again.
Told through a fascinating dossier of hacked documents—including emails, schematics, military files, IMs, medical reports, interviews, and more—Illuminae is the first book in a heart-stopping, high-octane trilogy about lives interrupted, the price of truth, and the courage of everyday heroes.
I'll be honest and say I didn't love Illuminae. There were parts that I liked and parts that I didn't like. On Goodreads I gave it 3 stars. There was/is just so much hype surrounding the book that expectations for it are bound to be super high. (Heck, the physical ARCs looked like finished hardcovers. I didn't get one; I got an egalley — more on that later.) And, sadly, I was more confused and bored than I was riveted.
Let's start with what I liked.
Illuminae, for a 600+ page book, is actually quite a quick read. Mostly because of how it's formatted. I read probably the last two thirds of the book in about two hours. Granted, I was skimming sometimes, but the pace was still super fast even when I wasn't skimming. (More on the skimming later.)
I liked the original format the book is told in. It's a really cool, unique spin on the normal novel format. It makes for a fast read and is never boring to look at. But, at its core, it's just a gimmick, a trick. A pretty cool trick, yes, but one that's being used as a marketing tool. Although props to Amy Kaufman and Jay Kristoff for writing the book so unconventionally. I'm of two minds about the format, although I like it more than I dislike it.
The second half of the book picks up considerably, and the last third/quarter is really fast-paced and thrilling. (It probably goes without saying that the first half is pretty darn slow.)
There were a few jaw-dropping twists that I probably should have see but didn't. Also, there are some pretty creepy scenes concerning the plague victims. *Shudder.*
AIDAN was actually fascinating. Quite disturbing, but I was riveted by his verse-like prose. Computers that begin to think for themselves are definitely scary. I really liked how AIDAN was written.
Now, as for what didn't work for me…
It was kind of confusing. I spent most of the book just nodding and going along with everything because I couldn't be bothered to read every single word and analyze every single page. Sometimes I like being spoon-fed information. This book takes some work to suss out, and since the pace wasn't going very fast at first, I wasn't motivated to piece everything together.
A huge portion of the book is made up of IM chats between Kady and Ezra or Kady and Byron. And these were boring as heck. If dialogue/conversation is good and used meaningfully, I'm okay with it in the IM format (or any format, actually). If it's just random teen-speak and nothing is being shared that has anything to do with moving the plot forward, I'm skimming it. And skim it I did.
See that? I skimmed. Mostly the middle of the book, because that's where things really dragged. I skimmed much less in the book's last quarter, when things finally got good, and at first tried very hard to read everything in the book's beginning.
The romance was so flat. I know a lot of people liked it, even loved it, but I felt no connection between Kady and Ezra. It's hard to portray real love and emotion through IM chats. And I got tired of all the snark and sappiness. I also don't think eighteen-year-olds write like that anymore, at least not to the extent Kady and Ezra were doing.
Another thing I must mention, and this isn't a fault of the book, but the fault of the book's "unique" format and the platform I read it on: The egalley I received and read in Adobe Digital Editions wouldn't let me zoom in the images, so I wasn't able to read a lot of things, such as those beautiful "space" pages with the swirling writing, and the "Wikipedia-like" pages. It was frustrating knowing I was missing some, probably, key details. It made the reading experience much less enjoyable because of all the squinting I did before I gave up on trying to read the pages I couldn't enlarge. (Some pages squinting wouldn't even work, so I had to skip them.) Also, my egalley was "215" pages when the physical hardcover is over 600. I kept scratching my head in puzzlement, but since the egalley seems to end at a place that makes sense, I figured that the hardcover probably has double-spacing and that my Adobe reader was also messing with the font size and whatnot. I've seen that some other reviewers who read the egalley had this problem, too, so I might browse through the hardcover next time I'm in a bookstore to see if my egalley truly did end where the finished book ends. It's very likely the egalley doesn't do the book justice, but a book should be equally enjoyable on any platform. The fact that I couldn't read parts of the book because I had an egalley is very disappointing.
Overall, Illuminae is an interesting sci-fi novel that has a big mix of pros and cons. It has very uneven pacing and flat characters, as well as just too many characters to keep track of besides the main ones. The plot is actually really complex, but that makes it very confusing. I wanted to love Illuminae, and at the very beginning it was looking like I was going to. But things went downhill for me and I started to skim… and skimming really didn't help make things easier to understand. I'm not bashing this novel, this original "file collection", but, for me, Illuminae really didn't live up to all the hype. I know a ton of people loved reading this book, and I'm glad they did, but its overall execution just wasn't for me. ♦
---
Have you read Illuminae?
If you haven't, would you be interested to?
What's a sci-fi/space novel you've recently read?
Or, what's a book you've read that is written in a "unique" format?
Comment below letting me know!
And, as always, happy reading!
Follow me @ toweroftomes on Twitter | Instagram | Goodreads | and Bloglovin'!