Graphic novels!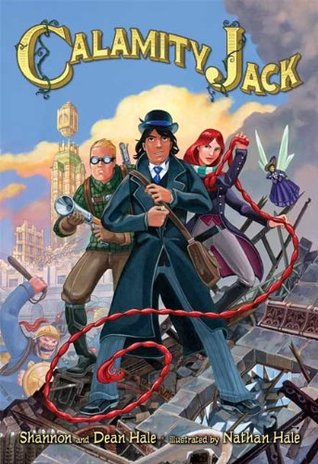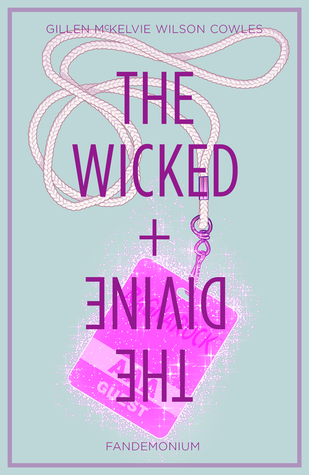 Calamity Jack by Shannon Hale, Dean Hale, and Nathan Hale
&
The Wicked + the Divine, Volume 2: Fandemonium by Kieron Gillen, Jamie McKelvie, Matt Wilson, and Clayton Cowles
---
---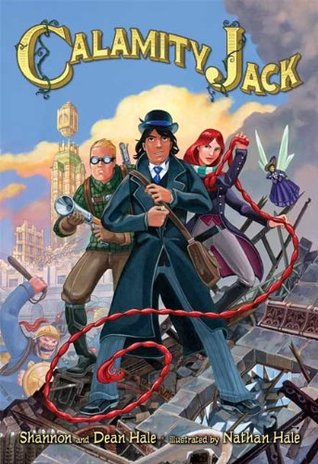 Book title: Calamity Jack
Author: Shannon Hale, Dean Hale, and illustrated by Nathan Hale
Series: Rapunzel's Revenge, #2
Publisher: Bloomsbury USA Children's
Release date: January 2010
Format: Paperback, 144 pages
Source: Library.
Read my review of Rapunzel's Revenge, book #1, here.
Synopsis:
Jack likes to think of himself as a criminal mastermind…with an unfortunate amount of bad luck. A schemer, plotter, planner, trickster, swindler…maybe even thief? One fine day Jack picks a target a little more giant than the usual, and one little bean turns into a great big building-destroying beanstalk.
With help from Rapunzel (and her trusty braids), a pixie from Jack's past, and a man with inventions from the future, they just might out-swindle the evil giants and put his beloved city back in the hands of good people ….while catapulting themselves and readers into another fantastical adventure.
In Calamity Jack, it is our prankster and thief Jack who takes center stage with Rapunzel as his backup. It's a creative take on the Jack and the Beanstalk fairy tale, and focuses a lot on Jack's inner conflict about being a "good" guy when he thinks he's "bad", and his insecurities and moral questionings. Jack seems more of an intimate character than Rapunzel does, back in Rapunzel's Revenge. Rapunzel's still being absolutely bad-ass here, but this is Jack's time to shine, and we get a surprising amount of backstory regarding him.
I enjoyed the steam-punk and western flair of these graphic novels, although Calamity Jack takes place in an industrial city run-over and being run by giants. The giants, the villains of the story (as well as some random, frightening ant people), were pretty despicable and one-dimensional. They're bad guys, they're horrible, they eat people — and our heroes are out to stop them and save the city!
In terms of the artwork, I think it has improved since Rapunzel's Revenge. Characters' faces look smoother and more consistent, or, as another reviewer pointed out, maybe I'm just getting used to Nathan Hale's art style. In any case, I found I didn't have as many problems with the illustrations in Calamity Jack than I did in the previous book, where I wasn't a huge fan of the artwork.
This book is pretty open-ended in a really sweet way, so there's definitely room for a third book. Also, I'll briefly mention that I appreciate having a brave, funny, and likable Native American protagonist. We need more of the better-known European-originated fairy tale retellings led by racially diverse characters.)
In the end, Calamity Jack was an entertaining, quick graphic novel read. It's quite different from Rapunzel's Revenge, but still fun and quirky and action-packed. I might like Calamity Jack better than Rapunzel's Revenge, actually (and I don't dislike Rapunzel's Revenge as much as my mini-review of it seems to imply). ♦
---
---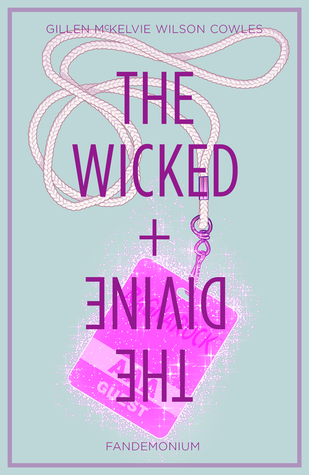 Book title: Fandemonium
Author: Kieron Gillen (writer), Jamie McKelvie (illustrator), Matt Wilson (colorist), Clayton Cowles (letterer)
Series: The Wicked + the Divine, Volume 2 (collects issues #6-11)
Publisher: Image Comics
Release date: July 2015
Format: Paperback, 168 pages
Source: Library.
Read my review of The Faust Act, book #1, here.
Synopsis:
The second volume of the award-winning urban fantasy series where gods are the ultimate pop stars and pop stars are the ultimate gods. Following the tragic and unjust death of Lucifer, it takes a revelation from Inanna to draw Laura back into the worlds of Gods and Superstardom to try and discover the truth behind a conspiracy to subvert divinity. Includes issues 6-11 of the series, plus supplementary material.
First thing I must say — THAT ENDING HOLY CRAP HOLY CRAP HOLY CRAP.
Okay, now to be brutally honest: the story is a bit confusing. (Like, kind of a lot confusing.) It's all over the place and characters don't have the most straight-forward conversations. I actually don't mind that much because, in all honestly, I'm mostly here for the gorgeous (and I mean GORGEOUS) artwork and colors, but I'm kind of (as another reviewer put it) "winging it" when it comes to figuring out what's going on. Mostly I'm just nodding and going, "Uh-huh, I think I get it?" and then a few pages later, "Wait, what? Did I miss something? … Too lazy to go back and try to find what my brain didn't compute." But the plot isn't necessarily what interests me about these graphic novels — it's the artwork and, less-so, the larger-than-life characters.
Fandemonium is essentially the search for a killer. And it's slow and really not that interesting. There are way too many gods running amok and doing weird shit. I think we've finally met all 12 gods, so that's something. But I can't recall them all, nor all their names. I liked Baphomet a lot, though, he was hot. 😉
Each god/character is so wonderfully unique. And glamorous. And even sparkly or shiny in some cases. I also loved how each god had their own typeface/font they spoke in. Nice touch.
One good thing about The Wicked + the Divine is that I still don't know what to expect next. This is the type of story that you really can't predict because anything bizarre or downright terrible could happen. (LIKE THAT ENDING.)
The artwork, I need to mention the artwork again, because Jamie McKelvie is a MASTER. And Matt Wilson sure as heck knows how to color to perfection. The most boring part of the book, which also happens to be the most stunningly gorgeous part, was the rave Dionysus hosted. Plot and dialogue-wise it was a snooze, but visually it might be my favorite thing I've seen in a graphic novel so far. The layout, the colors, the vibe… Absolute visual genius, that section was.
The Wicked + the Divine isn't the easiest story to grasp, and with so many gods running around things can be hard to piece together and remember. But the story's unpredictability, the gods' varying personalities, and the jaw-dropping-ly stunning art and colors are what keep me coming back. If you're just getting into graphic novels, I'm not sure The Wicked + the Divine is the best representation of a terrific story being told through the graphics medium, but if you want some eye candy to drool over, these are definitely the books to read. ♦
---
---
Have you read Calamity Jack? Or Rapunzel's Revenge?
How about Fandemonium? Or the first Wicked + Divine volume?
If you haven't, would you be interested to?
What's a book you've read that has a confusing-as-heck plot but that you don't really mind because of some other brilliant factor it has?
Comment below letting me know!
And, as always, happy reading!
Follow me @ toweroftomes on Twitter | Instagram | Goodreads | and Bloglovin'!