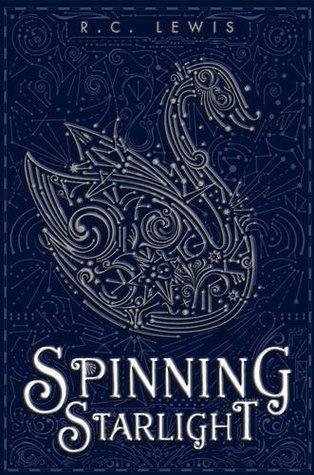 Book title: Spinning Starlight
Author: R.C. Lewis
Publisher: Disney Hyperion
Release date: October 6th, 2015
Format: Egalley, 336 pages
Source: I received this book from the publisher through NetGalley in exchange for an honest review. Thank you, Disney Hyperion!
Synopsis:
Sixteen-year-old heiress and paparazzi darling Liddi Jantzen hates the spotlight. But as the only daughter in the most powerful tech family in the galaxy, it's hard to escape it. So when a group of men show up at her house uninvited, she assumes it's just the usual media-grubs. That is, until shots are fired.
Liddi escapes, only to be pulled into an interplanetary conspiracy more complex than she ever could have imagined. Her older brothers have been caught as well, trapped in the conduits between the planets. And when their captor implants a device in Liddi's vocal cords to monitor her speech, their lives are in her hands: One word and her brothers are dead.
Desperate to save her family from a desolate future, Liddi travels to another world, where she meets the one person who might have the skills to help her bring her eight brothers home-a handsome dignitary named Tiav. But without her voice, Liddi must use every bit of her strength and wit to convince Tiav that her mission is true. With the tenuous balance of the planets deeply intertwined with her brothers' survival, just how much is Liddi willing to sacrifice to bring them back?
Haunting and mesmerizing, this retelling of Hans Christian Andersen's The Wild Swans strings the heart of the classic with a stunning, imaginative world as a star-crossed family fights for survival in this companion to Stitching Snow.
---
What I liked:
I really like sci-fi fairy tale retellings, I've found (as well as those dark and grand high fantasy retellings). Spinning Starlight is a retelling of the Hans Christian Anderson tale The Wild Swans. R.C. Lewis did a great job retelling the fairy tale, and the parallels to the original story are very nice and creative, I must say.
I liked Liddi, the main character. Because she can't speak aloud or else her brothers will die, it was fascinating seeing how she managed to communicate with others. I really felt her frustration, fear, and anger. And her narrative ("inner monologue" you could call it?) was a very strong voice. I admired her determination and really appreciated her unwavering love for her brothers. I love strong family bonds in books.
The romance was really cute! It progressed at a nice pace and evolved from a nice friendship. Tiav was an absolute sweetheart and I thought he and Liddi had great chemistry and worked well together. It was definitely difficult for them at times, especially for Tiav, because relationships are built on trust, and Liddi couldn't tell him everything she wanted to or what he wanted to know. But I really liked the romance, which wasn't the book's focus at all.
What I didn't like as much:
The Wild Swans has 11 brothers, but this book cut that down to 8. Still, I think that was too many. They were all nice and stuff, but I really couldn't tell you all their names or characteristics except for Emil and Fabin.
All the technical and scientific terms went a bit over my head… I tried paying close attention but there were so many terms that I gave up. Maybe the explanations and definitions could have been a bit more concise because I really was lost.
I wasn't a huge fan of the flashbacks in third person at the end of every chapter. These were the parts of the book I skimmed. This is not a fault of the author or writing or story — I just personally dislike flashbacks in books. I think these flashbacks were so we could get to learn more and Liddi's childhood and her relationship with her brothers. I'm sure they added a lot to Liddi's character, but I personally wasn't very interested since I just don't like flashbacks in general.
To sum up my feelings:
I enjoyed Spinning Starlight. The beginning was a bit confusing, but after Liddi met Tiav things really picked up. The technical terms were hard to sort out, but that didn't hamper my enjoyment. I liked Liddi, I really liked the romance, and I liked how the fairy tale retelling was done. Despite too many brothers to keep track of and all the flashbacks, I read the majority of this book in two days and wasn't ever bored with it. Not my favorite retelling ever, but it's a book with a lot of good things in it. ♦
---
Have you read Spinning Starlight?
If you haven't, would you be interested to?
What's a retelling you've read based on a lesser-known fairy tale?
Comment below letting me know!
And, as always, happy reading!
Follow me @ toweroftomes on Twitter | Instagram | Goodreads | and Bloglovin'!