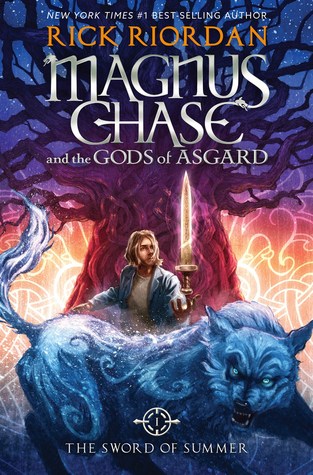 Book title: The Sword of Summer
Author: Rick Riordan
Series: Magnus Chase and the Gods of Asgard, #1
Publisher: Disney-Hyperion
Release date: October 6th, 2015
Format: Hardcover, 491 pages
Source: Library.
Synopsis:
Magnus Chase has always been a troubled kid. Since his mother's mysterious death, he's lived alone on the streets of Boston, surviving by his wits, keeping one step ahead of the police and the truant officers.
One day, he's tracked down by a man he's never met—a man his mother claimed was dangerous. The man tells him an impossible secret: Magnus is the son of a Norse god.
The Viking myths are true. The gods of Asgard are preparing for war. Trolls, giants and worse monsters are stirring for doomsday. To prevent Ragnarok, Magnus must search the Nine Worlds for a weapon that has been lost for thousands of years.
When an attack by fire giants forces him to choose between his own safety and the lives of hundreds of innocents, Magnus makes a fatal decision.
Sometimes, the only way to start a new life is to die . . .
---
Magnus Chase and the Gods of Asgard is Rick Riordan's newest mythology series. This time the focus is Norse mythology! You know, Thor, Loki, Freya, Odin…? Valkyries? Fenris the wolf? Ragnarok, aka doomsday, aka the end of the world? All that good stuff. Anyway, Magnus Chase happens to be Annabeth Chase's cousin — and the few cameos Annabeth makes in this first book, The Sword of Summer, are pretty great, if very minor.
At this point, Rick's books are entirely predictable in their formula. We get a prophecy. We have to find a specific missing item/person. There's a deadline. We go on a quest and make many pit-stops. There's a big confrontation at the end and some things are resolved but a lot more things are brought to light that will need to be solved in the next book…
I think most of us are a little tired of the same formula book after book, even though it works well for this sort of quest-type story. Reading The Sword of Summer, though, felt a little bit like a chore when I got to the middle of it. After Magnus gets introduced to Valhalla and his Norse heritage, which was really cool, he goes on a quest to track down the Sword of Summer and find a way to keep Fenris the wolf tied up and unable to start Ragnarok. The many pit-stops got old after a while, and the "final showdown" actually felt a bit lackluster. Basically, if you've read one Rick Riordan book, you know how all the others are laid out. And while it's fine because, obviously, we all keep clamoring back to them, it does get a bit repetitive.
But enough about the plot formula. Let's talk about the characters! Magnus Chase features an entirely new set of characters, there's almost no cross-over here (Annabeth being the only link between series, and she has nothing to do plot-wise in this book).
Magnus is this book's protagonist (if you hadn't guessed), and we're back to first person tense, like in Percy Jackson and the Olympians. Magnus, I think, is a somewhat different character from Percy, although there are similar characteristics they share. Magnus is much more sarcastic than I remember Percy being, though (but then, I haven't read the Percy Jackson series in a few years, so my memory could be a bit faded). He's also older, at sixteen, versus Percy was, what, twelve? I liked Magnus a lot. Do I love him as a character? Not yet, I'm not hugely attached to him right now like I was with Percy after I read The Lightning Thief. But I imagine Magnus will grow on me.
Magnus's quest buddies include the Valkyrie Samirah al-Abbas, a Muslim-American demigod who is the daughter of a Norse god. Sam's cool. She's smart and tough, and sometimes wears a pea-green hijab that doubles as a camouflage/invisibility cloak. She's also in an arranged marriage with a distant cousin, like a cousin twice-removed or something. And she's all for it because she's been crushing on this guy for years. Rick doesn't dwell on these "diverse" topics but mentions them like they're the most normal things in the world. You go, Rick. You go, Sam. You're both awesome.
There is also Blitzen, a fashion-designer dwarf (!), and Hearthstone, a deaf elf who uses American Sign Language to communicate. Because why the heck not? Diversity FTW.
Then there are the Norse gods and creatures and beings. And they're just as douche-y and despicable as all the other mythological gods in Rick's books seem to be. Thor cracked me up and might be my favorite so far — apparently he's waaaaay behind on Sherlock and Game of Thrones, ha!
One of my favorite things about this book are the chapter titles. Like, take a look at these: "Make Way for Ducklings, or They Will Smack You Upside the Head", "Four Million Channels and There's Still Nothing On Except Valkyrie Vision", "Come to the Dark Side. We Have Pop-Tarts", "We Are Falafel-Jacked by an Eagle", "Thou Shalt Not Poop on the Head of Art", "I Am Trash-Talked by a Squirrel", "Freya Is Pretty! She Has Cats!", "We Have a Pre-decapitation Party, with Egg Rolls", "Hearthstone Passes Out Even More than Jason Grace (Though I Have No Idea Who That Is)", and "We Have the Talk-About-Turning-Into-Horseflies Chat". Gold, pure gold. How I missed these kind of chapter titles from the Percy Jackson books…
There are also some funny little inside jokes and throwbacks to the Percy Jackson and Heroes of Olympus series to be found, which were quite amusing. (I flipped at the pen-sword part, haha.) And, oh boy, the humor in this book is wonderful! It's pure teenage sarcasm. Perhaps not the most sophisticated wit ever, but it's entertaining and I chuckled many, many times. Especially at almost everything the Sword of Summer said (yes, that's right, this sword can TALK).
In the end, The Sword of Summer was a fun book, but not one that blew me away. It's an entertaining and funny adventure, and I'm beyond pleased that Rick is writing about Norse mythology. (Now, if he could just write a series about Asian mythology, I could die happy.) I highly recommend his new Magnus Chase series to Riordan newbies. But even if you've read his other books, you'll enjoy this, I'm pretty sure. It's not going to be as surprising or original because of the formula it follows, but it's definitely something to pick up if you miss the Percy Jackson days and don't mind some similarities. And last, because I just have to mention it, there's a character to be found named Mallory Keen, who is one of Magnus's hall-mates in Valhalla. I loved every single scene she was in because, duh, reasons. I always like strong females who share my name. ♦
---
Have you read The Sword of Summer?
If you haven't, would you be interested to?
What other Rick Riordan books have you read, if any?
What's a book featuring mythology that you really love?
Comment below letting me know!
And, as always, happy reading!
Follow me @ toweroftomes on Twitter | Instagram | Goodreads | and Bloglovin'!