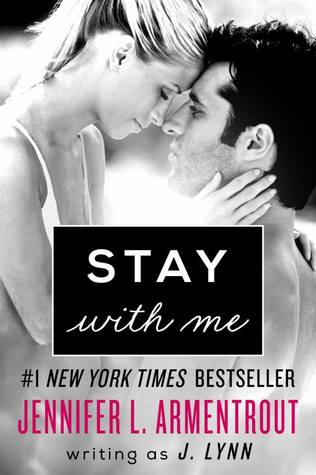 Book title: Stay with Me
Author: J. Lynn/Jennifer L. Armentrout
Series: Wait for You, #3
Publisher: William Morrow (Harper Collins Publishers)
Release date: September 2014
Format: Paperback, 438 pages
Source: Library.
Read my review of Wait for You, book 1, here.
Read my review of Fall with Me, book 4, here.
Synopsis:
At 21, Calla hasn't done a lot of things. She's never been kissed, never seen the ocean, never gone to an amusement park. But growing up, she witnessed some things no child ever should. She still carries the physical and emotional scars of living with a strung-out mother, Mona—secrets she keeps from everyone, including her close circle of college friends.
But the safe cocoon Calla has carefully built is shattered when she discovers her mom has stolen her college money and run up a huge credit card debt in her name. Now, Calla has to go back to the small town she thought she'd left behind and clean up her mom's mess again. Of course, when she arrives at her mother's bar, Mona is nowhere to be found. Instead, six feet of hotness named Jackson James is pouring drinks and keeping the place humming.
Sexy and intense, Jax is in Calla's business from the moment they meet, giving her a job and helping her search for Mona. And the way he looks at her makes it clear he wants to get horizontal . . . and maybe something more. Before Calla can let him get close, though, she's got to deal with the pain of the past—and some very bad guys out to mess her up if she doesn't give them her mom.
---
As usual, I stayed up all night reading another of Jennifer's books… One sitting, guys. Her books are just that addicting. I always know I'm going to love what she writes, and when it comes to her NA romances I'm all like, Sign me up! Let's get all warm and fuzzy and maybe even a bit hot and steamy!
In the Wait for You series, each book features a new couple from a group of college friends. Stay with Me is book number three, and focuses on the shy Calla Fritz. I've read book one, Wait for You, and book four, Fall with Me, but I think Stay with Me might be favorite of the series so far.
The plot, in short, is about Calla's mother spending her daughter's entire savings. Mamma Fritz goes missing, as she's running from bad people she owes money to. Calla returns home over the summer to try to track her mom down, and she gets targeted by the people her mom owes money to because her mom isn't there to take the consequences. I personally liked the plot in this book more than the plots in Jennifer's other NA books. Wait for You had a rape plot, Fall with Me had stalking. While Stay with Me has drugs and mobsters, I found it more exciting simply because of the thriller-like feel it had at some points. I guess you could say this really romantic suspense.
Now, the romance is the star of the book, obviously. And, wowzers, Jackson James is one hottie. He's a bartender and a super smexy guy who immediately likes Calla, scars and all. Yup, Calla was in a fire when she was a child, which has left her body with scars, including a giant one on her face that she's very self-conscious of. A lot of the book focuses on Calla's insecurity and how she grows more confident, and that was great to see. She's shy, she's inexperienced, she's sincere, but she's got fire to her and isn't a dumb pushover. I really liked her, much more than Roxy from Fall with Me, and possibly a bit more than Avery from Wait for You.
Calla's relationship with Jax felt very realistic and, luckily, they were honest with each other and didn't do that whole miscommunication crap. I utterly loathe when characters miscommunicate — or don't even communicate, for that matter, and Calla and Jax kept it smart and didn't hide things from each other, at least for very long. Hooray, hooray. (Well, the whole uproar over Jax's ex-girlfriend was definitely unpleasant and could have been avoided, but there always needs to be some fight between couples in romance books, and that one was actually kind of awesome, even though it was pretty ugly.)
Stay with Me is excellent, as I knew it would be. Jax is a total hottie, absolutely trustworthy and protective, and a little bit bossy, which was cute. I loved the supporting characters, I loved the cameos of the other couples from the other books — heck, even Tyler and Sydney from Frigid popped up briefly! I'm dying to read the rest of the books in this series and it pains me that I can't read them in order (because I'm weird like that) because my library doesn't have some of the books. Anyway, if you're a fan of Jennifer L. Armentrout's sexy boys and like New Adult or want to get into New Adult, I highly recommend Stay with Me — and the whole Wait for You series. Where can I find myself a Jax, Cam, or Reece?! ♦
---
Have you read Stay with Me?
If you haven't, would you be interested to?
Have you read any of Jennifer's NA (or YA) books?
What's a romance you read and really liked?
Comment below letting me know!
And, as always, happy reading!
Follow me @ toweroftomes on Twitter | Instagram | Goodreads | and Bloglovin'!