Graphic novels!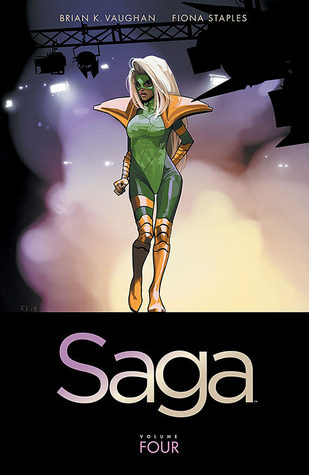 The Wicked + the Divine, Volume 1: The Faust Act
by Kieron Gillen, Jamie McKelvie, Matt Wilson, and Clayton Cowles
&
Saga, Volumes 2, 3, and 4
by Brian K. Vaughan and Fiona Staples
---
---
Book title: The Wicked + the Divine, Volume 1: The Faust Act
Authors: Kieron Gillen, Jamie McKelvie, Matt Wilson, Clayton Cowles
Series: The Wicked + the Divine, #1-5
Publisher: Image Comics
Release date: April 2015
Format: Paperback, 144 pages
Source: Library.
Synopsis:
Every ninety years, twelve gods incarnate as humans. They are loved. They are hated. In two years, they are dead. The team behind critical tongue-attractors like Young Avengers and PHONOGRAM reunite to create a world where gods are the ultimate pop stars and pop stars are the ultimate gods. But remember: just because you're immortal, doesn't mean you're going to live forever. Collects THE WICKED + THE DIVINE #1-5
---
The Wicked + the Divine is relatively interesting and actually pretty crazy.
There is lots of blood. Lots of gore. Lots of exploding heads.
It's a bit confusing at first, and there are many questions left unanswered by this collection's end.
I wasn't ever completely invested in the story or the characters. Everyone seems pretty unlikable, although bad-ass and hot.
I loved the emphasis on the art. The speech bubbles and text are quite small. It's all about the imagery! I really liked that.
A+ for the artwork, definitely! I loved the colors, too, and the very clean and crisp illustrations.
There were gods from all sorts of mythologies. And the characters themselves were all racially diverse, too.
Not my favorite graphic novel ever, but I'm definitely going to be reading the second volume! ♦
---
---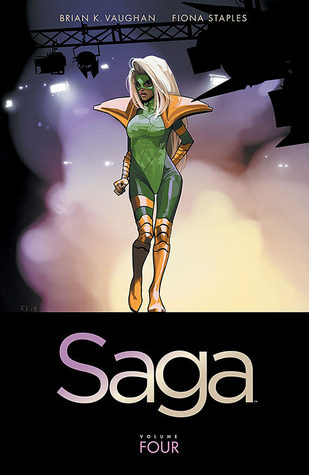 Book titles: Saga, Volume 2 | Saga, Volume 3 | Saga, Volume 4
Authors: Brian K. Vaughan, Fiona Staples
Series: Saga, #2, #3, and #4
Publisher: Image Comics
Release dates: June 2013, Mach 2014, December 2014 (respectively)
Formats: Paperbacks, 168, 144, and 152 pages (respectively)
Source: Library.
Read my review of Saga, Volume 1, here.
Synopsis of Saga, Volume 2:
From award-winning writer BRIAN K. VAUGHAN (Pride of Baghdad, Ex Machina) and critically acclaimed artist FIONA STAPLES (Mystery Society, Done to Death), SAGA is sweeping tale of one young family fighting to find their place in the universe. Thanks to her star-crossed parents Marko and Alana, newborn baby Hazel has already survived lethal assassins, rampaging armies, and horrific monsters, but in the cold vastness of outer space, the little girl encounters her strangest adventure yet… grandparents.
Collects Saga issues #7-12
---
Saga is an epic space opera graphic novel series that is completely worth all the hype that surrounds it.
Volume 3 might be my least favorite in the series so far, as it felt like the overall story really began to meander around and branch out. But I still gave it four stars! Volume 4 improved but also lacked in some areas. (Still gave it four stars.) The very first volume is definitely my favorite, but all the books really are spectacular.
You can read each collected volume in one sitting. And trust me, you're gonna want to! They're just addicting, so fast-paced, and (for the most part) have characters you're drawn to and that are morally gray. Everyone seems real here. Everyone's lives are pretty screwed-up and it's beautiful to see them all intertwine with one another as the series progresses.
I loved getting to know Marko's parents. They're awesome. His mom might be my favorite throughout the series, although baby Hazel is adorable, too! And I thought that Gwendolyn and The Will made an epic, hilarious duo.
There's plenty of humor to be found, as well as very serious moments. Our characters fight, they make-up, they guard each other's backs. It's a roller-coaster of emotions and no one in any story-line has it easy.
There is plenty of adult content in these books, mind you. There's violence, sex, and topics like child prostitution and Red Wedding-like scenarios. Keep this far away from any young'uns.
The artwork! The artwork! A+++++ for the stunning illustrations, the detailed drawings, and the vibrant colors! Reading something as amazing as Saga makes me wonder how such gorgeous artwork is even possible.
Read Saga. Read it. Even the weaker volumes in the series are incredibly amazing. I can't recommend these books enough! ♦
---
---
Have you read The Wicked + the Divine: The Faust Act?
How about any of the Saga books?
If you haven't, would you be interested to?
What's the last graphic novel you read?
Comment below letting me know!
And, as always, happy reading!
Follow me @ toweroftomes on Twitter | Instagram | Goodreads | and Bloglovin'!