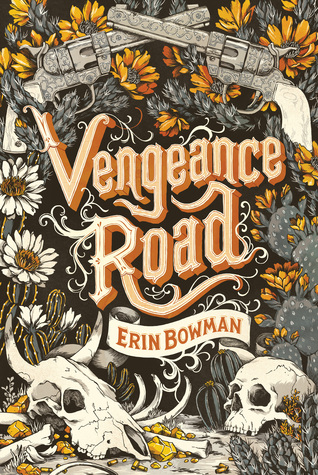 Book title: Vengeance Road
Author: Erin Bowman
Publisher: Houghton Mifflin Harcourt BFYR
Release date: September 1st, 2015
Format: Egalley, 318 pages
Source: I received this book from the publisher through NetGalley in exchange for an honest review. Thank you, HMH!
Synopsis:
When Kate Thompson's father is killed by the notorious Rose Riders for a mysterious journal that reveals the secret location of a gold mine, the eighteen-year-old disguises herself as a boy and takes to the gritty plains looking for answers and justice. What she finds are devious strangers, dust storms, and a pair of brothers who refuse to quit riding in her shadow. But as Kate gets closer to the secrets about her family, she gets closer to the truth about herself and must decide if there's room for love in a heart so full of hate.
In the spirit of True Grit, the cutthroat days of the Wild West come to life for a new generation.
---
Vengeance Road is an absolutely amazing revenge story set in the Wild West in 1877. There's so much action, but also plenty of heartfelt moments. None of the characters are perfect, even the good guys. The bad guys are really bad (like, they're downright terrible), but even our "heroes" are definitely morally gray. What's great about the book's main characters is that, while they often jump before they look, they acknowledge their faults and learn from them. So much great character development is to be found here, as well as a story that is very richly detailed. I could always imagine everything that was going on perfectly; I felt like I was really caught in all the gunfire, like I was trekking through the mountains in search of the gold mine. Everything about this book felt so real. I was completely immersed in Kate Thompson's hard, dangerous journey.
Kate is an awesome protagonist. She's strong, she's stubborn, she's smart, she's reckless, she's unafraid, she's fierce (should I go on?). She has a goal to seek justice and she doesn't lose sight of it. But neither does she let her thoughts of revenge consume her. Through all her grit she also shows softer sides. She can be difficult but she's not unfeeling, nor is she unaffected by everything that happens.
When Kate's father is murdered by the notorious Rose Riders, she sets out after them to exact revenge and justice. She eventually finds herself traveling with brothers Jesse and Will who decide to accompany her, and the three of them soon realize that what they've gotten themselves tangled up in is even more dangerous than what they originally thought. But none of them turn back. They started it, they're going to finish it. And even though there's a lot of conflict among the three of them, including their party splitting up and going after different things at one point, it's really a great story about friendship and not giving up on your friends.
Jesse is the older brother, and I thought he was great, although I liked him a lot more pre-traumatic incident than post. I liked how he and Kate bickered and how he teased her. I didn't like the change that overcame him when shit got waaaaaay too real because he got more and more affected by events. It was realistic, but it was sad to see Jesse like that. I did really like the slow-burn romance between him and Kate. And I didn't mind how little of it there was. The romance was perfect. The story is, first and foremost, about vengeance, with some romance on the side. The balance was really well-done.
Through Kate's travels, she also befriends a Apache Indian girl named Liluye. "Lil" was absolutely awesome and I really liked the friendship (if you can even all it that) that formed between her and Kate. I liked Lil's complete nonchalance regarding everyone and everything. She said things bluntly and didn't waste any words. She was a tough cookie and I loved her.
The Rose Riders, and their leader, Rose himself, were such slimy, despicable twerps. But, like, the real villain of the story?! I totally didn't see that coming. There were warning flags leading up to the twist, which I did notice, but I didn't think they'd lead in that particular direction. The big plot twist towards the end was so jolting and kind of depressing and I'm honestly of two minds about it. I both like it because of its complete boldness but also dislike it because it maaaaaybe was a bit too over the top. The Rose Riders were crazy enough, did we really need another thing added to all the chaos? So yeah, the twist was both good and bad, but I'm perfectly content with being content with it.
Now, the book's writing… is so authentic! There are lots of "ain'ts" and (intentional) grammatical mistakes and slang from the time period. It never felt overdone and I loved Kate's rough voice, as well as the way everybody else spoke. Some books are written in strange voices just for the sake of it, but Erin Bowman totally nailed it here. It never felt gimmicky or jarring. Yes, it took a few pages to get used to it, but then I was transported to the 1870s Arizona, right beside Kate, and it was awesome.
I liked how Erin didn't shy away from all the violence, too. Plenty of people die in this book, with some deaths being more hard-hitting than others, but no one dies simply for the sake of it. (Well, named characters, that is. Lots of Rose Rider goonies get killed off, but for good reasons, too — like in spectacular saloon shoot-outs.) Kate wants vengeance, and she kills when she has to in order to get closer to Mr. Rose himself. It's brutal, but it makes the story realistic and dangerous. No one's safe here. And I love books that make you really unsure if the main characters you've grown attached to are actually going to come out of everything alive or still in one piece.
Vengeance Road is a phenomenal historical novel that blew me away and I highly recommend to everyone. It's gritty, it's violent, it's actioin-packed, it's authentic, it's character-driven, and it's just plain ol' BADASS. Also, if you do end up reading it, I recommend reading the Author's Note at the end of the book. It's a fascinating little piece on the history that inspired the book. Bravo, Erin Bowman — Vengeance Road is a new favorite of mine, and definitely one of the best books I've read this year. ♦
---
Have you read Vengeance Road?
If you haven't, would you be interested to?
What's a Western you've read and liked?
What was the last historical fiction novel you read?
Comment below letting me know!
And, as always, happy reading!
Follow me @ toweroftomes on Twitter | Instagram | Goodreads | and Bloglovin'!