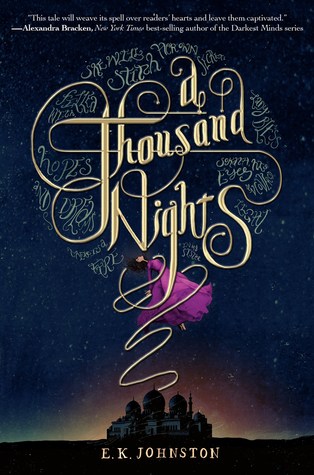 Book title: A Thousand Nights
Author: E.K. Johnston
Publisher: Disney-Hyperion
Release date: October 6th, 2015
Format: Egalley, 336 pages
Source: I received this book from the publisher through NetGalley in exchange for an honest review. Thank you, Disney-Hyperion!
Synopsis:
Lo-Melkhiin killed three hundred girls before he came to her village, looking for a wife. When she sees the dust cloud on the horizon, she knows he has arrived. She knows he will want the loveliest girl: her sister. She vows she will not let her be next.
And so she is taken in her sister's place, and she believes death will soon follow. Lo-Melkhiin's court is a dangerous palace filled with pretty things: intricate statues with wretched eyes, exquisite threads to weave the most beautiful garments. She sees everything as if for the last time.But the first sun rises and sets, and she is not dead. Night after night, Lo-Melkhiin comes to her and listens to the stories she tells, and day after day she is awoken by the sunrise. Exploring the palace, she begins to unlock years of fear that have tormented and silenced a kingdom. Lo-Melkhiin was not always a cruel ruler. Something went wrong.
Far away, in their village, her sister is mourning. Through her pain, she calls upon the desert winds, conjuring a subtle unseen magic, and something besides death stirs the air.
Back at the palace, the words she speaks to Lo-Melkhiin every night are given a strange life of their own. Little things, at first: a dress from home, a vision of her sister. With each tale she spins, her power grows. Soon she dreams of bigger, more terrible magic: power enough to save a king, if she can put an end to the rule of a monster.
---
A Thousand Nights is a retelling of One Thousand and One Nights, aka The Arabian Nights. It will undoubtedly be continually compared to its older sibling, The Wrath and the Dawn, which is also a retelling of One Thousand and One Nights. Both books are completely different from each other although they retain the same basic plot: A king takes a wife, only to have her killed, and then he takes another wife, only to have her killed, too, and the cycle repeats and repeats. The Wrath and the Dawn had some insufferable characters (*cough* Tariq) and its heroine never acted upon her decisions, but the romance was amazing. Still, I think I prefer A Thousand Nights a little more (eep, don't hate me, Kara!). It isn't as showy and isn't as complicated as Wrath & Dawn, but it's a quietly beautiful book about a girl who loves and doesn't fear.
A Thousand Nights focuses on its nameless protagonist, a girl who gives herself up to the king in order to save her beloved sister from an imminent death. What is unique about E.K. Johnston's beautiful tale is that no one but the king has a name (the king's name is Lo-Melkhiin, in case you were wondering). Everyone is referred to as "my sister, my father, my father's father's father" or their respected titles. I didn't mind this at all, but I can see how this would bug some readers out there. I thought that the nameless characters gave the book an old-timey feel.
There's not a whole lot of plot to be found, as it's mostly just the MC's life as the king's wife, and details her daily activities as she wonders how much longer she has left to live. It shows her acceptance with the fate she chose, as well as the power she has in the form of magical visions that become reality. It's slow-paced but I didn't mind it at all because of the immersive, well-built world and the gorgeous, atmospheric, whimsical writing.
There isn't any of the actual storytelling, though, which I was disappointed about. In the original tale, the girl stays alive by telling the king a story the first night. She stops without finishing it. The king, intrigued, lets her live so that he may find out what happens next. A Thousand Nights' "stories" were about the MC's sister and her life back home. There were no grand tales of adventure that the MC weaved for her husband, but this didn't really detract my love the for the story overall. Not every retelling has to be completely faithful to its source.
The romance here is pretty NIL, which I both liked and didn't like. I liked it because it was a story about a girl and nothing more. I liked it because nothing was being shoved at us or the characters. But I was disappointed because The Wrath and the Dawn had one of the most amazing slow-burn romances I've ever read about. It's a good thing, perhaps, that the MC in A Thousand Nights didn't "fall in love" with her husband. It showed that a girl doesn't need a man to take care of her and that she can be powerful all on her own (not that there's anything wrong with having an awesome, supportive partner). The MC here did have some sparks with Lo-Melkhiin, but she less "loved" him than understood him and knew he wasn't completely evil; she didn't completely lose faith in him, and all that is what set her apart from the countless other girls he'd married and killed.
Speaking of Lo-Melkhiin, I never felt like the real Lo-Melkhiin was ever present. (If you've read the book, you'll know what I mean.) I wanted to know the man the MC had married. I wanted him to fight and show signs, even small ones, of his true self. I thought the chapters from his perspective were really great and actually quite sad, but I wanted more. I wanted to like the man underneath and Lo-Melkhiin was pretty unlikable and kind of washed-out.
I did really like Lo-Melkhiin's mother, as well as the MC's supportive family members, from her sister, to her brothers, to her mother, to her sister's mother, and to her father. Even the palace servants were nice women, taking care of the MC and one another. The henna artist was an especially cool woman, too, reminding the MC that she was just as strong as any man, and perhaps had even more power than they did. Hooray for feminism and supportive, loving families.
In the end, A Thousand Nights was a really great read. I understand all the negative reviews out there, but I loved the writing and the simpler approach to the story. There were no bells and whistles, no twists out of the blue, no cliffhangers, no angst. It's just a beautiful story with a hint of magic to it. The MC grows through the book and becomes stronger and more self-assure. I do wish some things had been done differently, but there's nothing I am upset about. I do recommend trying A Thousand Nights. Not every book needs to go along at breakneck speed or have a plot that goes from A to B to C. This was a really refreshing novel, very different from the usual YA I'm used to reading. It's not a book for everyone, but I personally loved it. ♦
---
Have you read A Thousand Nights?
If you haven't, would you be interested to?
What's the last retelling you read?
What's the last book set in West-Asia you read?
Comment below letting me know!
And, as always, happy reading!
Follow me @ toweroftomes on Twitter | Instagram | Goodreads | and Bloglovin'!