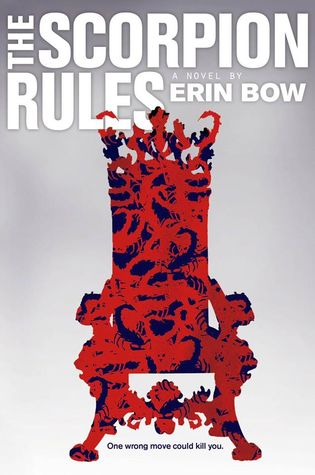 Book title: The Scorpion Rules
Author: Erin Bow
Publisher: Margaret K. McElderry Books (Simon and Schuster Children's Publishing)
Release date: September 22nd, 2015
Format: Egalley, 384 pages
Source: I received this book from the publisher through NetGalley in exchange for an honest review. Thank you, Simon and Schuster!
Synopsis:
A world battered by climate shift and war turns to an ancient method of keeping peace: the exchange of hostages. The Children of Peace – sons and daughters of kings and presidents and generals – are raised together in small, isolated schools called Preceptures. There, they learn history and political theory, and are taught to gracefully accept what may well be their fate: to die if their countries declare war.
Greta Gustafsen Stuart, Duchess of Halifax and Crown Princess of the Pan-Polar Confederation, is the pride of the North American Precepture. Learned and disciplined, Greta is proud of her role in keeping the global peace, even though, with her country controlling two-thirds of the world's most war-worthy resource — water — she has little chance of reaching adulthood alive.
Enter Elián Palnik, the Precepture's newest hostage and biggest problem. Greta's world begins to tilt the moment she sees Elián dragged into the school in chains. The Precepture's insidious surveillance, its small punishments and rewards, can make no dent in Elián, who is not interested in dignity and tradition, and doesn't even accept the right of the UN to keep hostages.
What will happen to Elián and Greta as their two nations inch closer to war?
---
The good:
I really loved how Greta's voice and mind changed and broke in and out at the end. That was really cool to see.
The Abbot was actually really interesting, and I liked learning about him as the book progressed.
In the middle:
The beginning was slow but intriguing, the middle was a bit confusing and I skimmed parts occasionally, and the end was fascinating, though abrupt and open-ended.
Elian started off pretty interesting, but lost his steam in the middle, and never really grew into the person I wanted him to become, even though I did like him. He was also a manic pixie dream boy, useful in the story only to "wake up" the main character. I didn't hate it, but Elian really didn't do much. I liked his rebellious side, but I wish he'd been fleshed out more.
I really wanted to like Xie, and while I kind of did, she never did much of anything to make me really like her. I was fond of her and Greta's strong BFF relationship, but I didn't see the romantic spark/tension between them. (Yup, there's a F/F romance here. Which I totally wasn't aware of going into the book.)
The not-so-good:
The constant threat of Greta's death scared her, but didn't scare me. Or at least, I didn't feel scared for her, since I never felt that attached to her.
The fact that the other kids thought of Greta as their "leader" was a little odd, seeing as there was never a good reason presented as to why they looked up to her. If anyone, it should have been Xie who was the person everyone looked to for advice and decision-making.
There is a love triangle. And Greta's trying to sort out her feelings for both Xie, her best friend, and Elian, the new boy. I was totally not aware this was a F/F romance book — although the romance in here is very minimal. I liked Elian more than Xie, but the romance in general was very weak and kind of sudden. I also disliked how we start off rooting for one person but then the book tries to force us to ship the other person. Like, NO, STAHP. DON'T TELL ME WHAT TO DO AND WHO TO LIKE.
The other supporting characters were like cardboard. Hooray for such a diverse cast, but not when they're completely forgettable.
At first I thought the Precepture school was a cool setting, where the Children of Peace basically acted as farmers and had robots overseeing and teaching them. However, the limited setting got old very fast.
I really hated Talis. Like, really hated him. But at the same time I didn't totally hate, like, two things about him: one being he was lonely for other AIs (Artifical Intelligence) who were once human, and two being that he gave Greta an option to live. But I still hated him, especially for what he did to Elian's grandmother. Talis was also snarky and childlike and I didn't think it suited his character very well. He's hundreds and hundreds of years old and controls the whole dang world and he seemed like a thirteen year old boy you wish you could just squish like a roach. Plus he was an AI in a girl's body, but was still referred to as a "he", which made my brain so confused.
The randoms:
"Xie" is apparently pronounced "Zee". Which I could see making sense, but since Xie's full name is Li Da-Xia and is the princess of one of the new Asian countries with way too many words in its name, I would have thought "Xie" would be pronounced traditionally, like "Shee-eh," one syllable. But I guess not? Eh, I pronounce names how I want to pronounce them, but this didn't make a lot of sense to me.
Also, trying to visualize the AIs? They had screens as faces. And if an AI was tired or malfunctioning, their "face" was pixelated. It was weird. Talis had a human body, but the Abbot seemed to be entirely a robot. It was just a weird visualization.
In conclusion: I didn't hate The Scorpion Rules, but it wasn't what I thought it would be. There are some good things about it, but a lot of its aspects are barely developed, mainly the characters. Everything doesn't 100% come together and it was missing that something to hook me in. It's a very cool premise, but the story was so uneven. ♦
---
Have you read The Scorpion Rules?
If you haven't, would you be interested to?
What's a "hostage situation" book you've read?
What was the last dystopia you read about princes and princesses?
Comment below letting me know!
And, as always, happy reading!
Follow me @ toweroftomes on Twitter | Instagram | Goodreads | and Bloglovin'!