Waiting on Wednesday is hosted by Jill @ Breaking the Spine.
---
What book am I eagerly anticipating at this moment? Why it just so happens to be…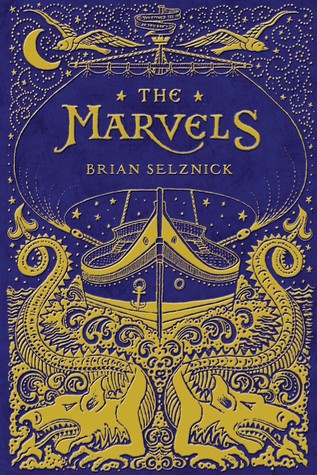 The Marvels
by Brian Silznick
Releases September 15th, 2015 from Scholastic Press
EDIT: Check out my review of The Marvels!
Synopsis:
Caldecott Award winner and bookmaking trailblazer Brian Selznick once again plays with the form he invented and takes readers on a voyage!
Two seemingly unrelated stories–one in words, the other in pictures–come together. The illustrated story begins in 1766 with Billy Marvel, the lone survivor of a shipwreck, and charts the adventures of his family of actors over five generations. The prose story opens in 1990 and follows Joseph, who has run away from school to an estranged uncle's puzzling house in London, where he, along with the reader, must piece together many mysteries.
---
Brian Selznick's merge of illustrations and writing is absolutely gorgeous. I loved his The Invention of Hugo Cabret and if The Marvels is anything like it, then I am certain I shall love it. Brian's Hugo Cabret was a wonderful children's story that really hit me in the feels. I can't wait to experience another one of his whimsical and enchanting tales.
---
Are you looking forward to reading The Marvels?
What can't you wait to read right now?
Follow me @ toweroftomes on Twitter | Instagram | Goodreads | and Bloglovin'!