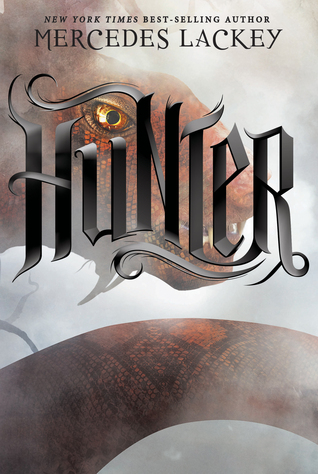 Book title: Hunter
Author: Mercedes Lackey
Series: Hunter, #1
Publisher: Disney-Hyperion
Release date: September 1st, 2015
Format: Egalley, 384 pages
Source: I received this book from the publisher through NetGalley in exchange for an honest review. Thank you, Disney-Hyperion!
Synopsis:
Centuries ago, the barriers between our world and the Otherworld were slashed open allowing hideous fantastical monsters to wreak havoc; destroying entire cities in their wake. Now, people must live in enclosed communities, behind walls that keep them safe from the evil creatures constantly trying to break in. Only the corps of teen Hunters with lightning reflexes and magical abilities can protect the populace from the daily attacks.
Joyeaux Charmand is a mountain girl from a close knit village who comes to the big city to join the Hunters. Joy thinks she is only there to perform her civic duty and protect the capitol Cits, or civilians, but as cameras follow her every move, she soon learns that the more successful she is in her hunts, the more famous she becomes.
With millions of fans watching her on reality TV, Joy begins to realize that Apex is not all it seems. She is forced to question everything she grew up believing about the legendary Hunters and the very world she lives in. Soon she finds that her fame may be part of a deep conspiracy that threatens to upend the protective structure built to keep dark magic out. The monsters are getting in and it is up to Joy to find out why.
---
This is a DNF review. I gave up at 44%.
Hunter's concept is cool: a dystopia where monsters from the Other side are wreaking havoc on civilization, and its up to Hunters with magical abilities to kill them and protect the towns and cities. Sadly, what might have been a pretty awesome story was, for me, incredibly tedious, frustrating, and disappointing. I pushed myself to read almost half the book before I gave up. This "review" is basically an explanation on why I DNF-ed this book I was so eagerly anticipating.
The 44% of the book I read was larded with info dump after info dump, with exposition and more exposition. (I don't think I've read a book with this much info dumping, ever.) Joyeaux (Joy) narrates the story in the first person and talks to the reader in that "breaking the fourth wall" way. I didn't mind her awareness of the reader, but it was the insane amount of explaining she did that got on my nerves. There are long paragraphs and practically entire chapters dedicated to telling us about the world and its customs. While the world building is so detailed and thought-out, it certainly didn't need to be relayed in the form of a textbook. I appreciate a few paragraphs here and there that make a world and its history concrete, but this was just excessive. Nothing happens in the first chapter, it's just Joy on a train talking about things, and I didn't care one ounce. I actually read the first chapter twice because nothing that went into my head stayed. It was really a waste to have all that information packed in there, which was not just in the first chapter, but also the second, as well as the rest of them. (I think I reached chapter 10 when I gave up.)
Character-wise, I was severely disappointed, too. I had no interest in Joy or any of the other people she met. They all felt bland, Joy especially. I didn't care about her, I didn't want her excessive lecturing and nattering-on. The few characters that might have shaped up to be interesting people I barely got to know because of all the info dumps and explanations Joy had to cram in there. I liked the two fight scenes with monsters I read about, and I thought Joy's Hounds were awesome, but everything else was so disappointing.
I might have tried to finish this book if the plot looked like it was going to move somewhere, but it was nearly halfway through and Joy was still just barely situated at Hunter school/headquarters and I was like, Nope, sorry, I can't do this. Though I ultimately quit the novel because I found myself skimming because I was so not going to read any more of those info dumps. I normally try to push through books even if I'm not really enjoying them, just because I hate quitting, but the boring characters, meandering plot, annoying futuristic terms and slang, and a world I had absolutely no interest in after reading the first chapter twice really made me question the reason why I should keep going. I apologize for the rant, and how much I've repeated myself, but I'm sad to say that Hunter just wasn't what I thought it would be. ♦
---
Have you read Hunter?
What's a dystopia you thought you'd like but ended up not?
What's a book you just couldn't bring yourself to finish?
Comment below letting me know!
And, as always, happy reading!
Follow me @ toweroftomes on Twitter | Instagram | Goodreads | and Bloglovin'!