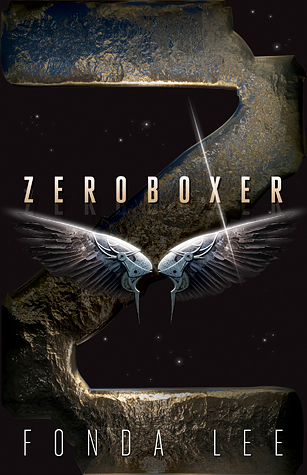 Book title: Zeroboxer
Author: Fonda Lee
Publisher: Flux (Llewellyn Worldwide Ltd.)
Release date: April 2015
Format: Paperback, 351 pages
Source: Library.
Synopsis:
A Sci-Fi Thrill Ride Set in the Action-Packed Sports Arena of the Future
A rising star in the weightless combat sport of zeroboxing, Carr "the Raptor" Luka dreams of winning the championship title. Recognizing his talent, the Zero Gravity Fighting Association assigns Risha, an ambitious and beautiful Martian colonist, to be his brandhelm––a personal marketing strategist. It isn't long before she's made Carr into a popular celebrity and stolen his heart along the way.
As his fame grows, Carr becomes an inspirational hero on Earth, a once-great planet that's fallen into the shadow of its more prosperous colonies. But when Carr discovers a far-reaching criminal scheme, he becomes the keeper of a devastating secret. Not only will his choices place everything he cares about in jeopardy, but they may also spill the violence from the sports arena into the solar system.
---
Zeroboxer is a fascinating look at fame and how it affects everyone. Specifically, a new, young, up-and-coming Zeroboxer named Carr "The Raptor" Luka. Zeroboxing is a futuristic sport that is, at its core, boxing in zero-gravity. This sci-fi sports novel is so unique and original and I something I highly recommend to sports novel fans and those who really enjoy original sci-fi/space stories.
As stated in the book's synopsis, there is a "criminal scheme" that is a strong plot arc. The main plot is Carr's rise to Zeroboxing fame through his talent, his training, and his excellent Brandhelm, a very cool, smart, and savvy young woman named Risha. This "scheme/secret" is not what you think it's going to be, and while it's not that unique in the scope of YA sci-fi, it suits the book perfectly. I did think, however, that Carr was stupid to keep this secret from Risha, his personal publicist, because she was equipped to help him strategize how best to deal with it. But, eh, we gotta have a lover's quarrel due to Carr holding back information. If only people would talk to each other, life would be so much simpler.
There is some romance between Carr and Risha, but it's very low-key; the Zeroboxing plot is the giant elephant in the room. The story spans a few years through Carr's career, and I found the jumps in time quite abrupt at time. I really liked some of the supporting characters, like Uncle Polly, Carr's gruff coach, and Enzo, Carr's number one fan and a sort of younger brother figure. The futuristic sci-fi world seemed very logical and realistic, and the terms and slang were cool and believable.
The book's description is a little vague and seems to hint at a huge plot point concerning conflict between Earth (which is now called Terran) and Mars. This is misleading, and what the book is actually about is still very awesome. It wasn't exactly how I predicted things to go, but I really liked the developments. The ending was abrupt and open-ended, but it felt very appropriate, and I'm ultimately very satisfied. It was symbolic with Carr's journey and character growth, and I think it's an even better ending the more I think about it.
Zeroboxer really impressed me with every single aspect. It's not exactly what you think it's going to be, but it's pretty darn-tootin' close. Carr is a character you root for, his opponents are a mix of utter douche bags and respectable fighters just doing what they love, and the slippery villain is a greasy slime-ball. I'm not a huge sports person in general so I often skimmed the incredibly detailed Zeroboxing fight scenes, even though they were very cool to visualize. Fonda Lee's writing is fluid and engaging, and I'm sure that readers who enjoy sports or sci-fi will lap this amazing debut novel right up. ♦
---
Have you read Zeroboxer?
If you haven't, would you be interested to?
What's a sports novel you've read and enjoyed?
Comment below letting me know!
And, as always, happy reading!
Follow me @ toweroftomes on Twitter | Instagram | Goodreads | and Bloglovin'!