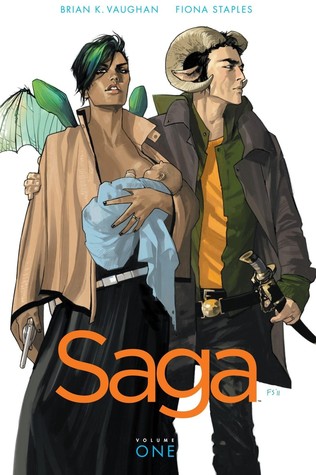 Book title: Saga, Volume 1
Author: Brian K. Vaughan, illustrated by Fiona Staples
Series: Saga, #1
Publisher: Image Comics
Release date: October 2012
Format: Paperback, 160 pages
Source: Library.
---
Synopsis:
When two soldiers from opposite sides of a never-ending galactic war fall in love, they risk everything to bring a fragile new life into a dangerous old universe.
From bestselling writer Brian K. Vaughan, Saga is the sweeping tale of one young family fighting to find their place in the worlds. Fantasy and science fiction are wed like never before in this sexy, subversive drama for adults.
Collects Saga issues #1-6.
---
The review:
Saga is unlike anything I've read before. I was so immersed while reading it, from page 1 until the end!
It was one of the first graphic novels I ever heard about, mainly because everyone on BookTube for a while was hyping the crap out of it. Well. Saga certainly lives up to the hype!
I think I love space operas now?
Plot-wise, think Romeo and Juliet, but sci-fi and set in space and on a much grander scale. Basically, though, it's about two people from two different warring sides who fall in love… and have a baby. The story follows the survival of this unexpected family.
The story is told by a mixed-species (is that what I should call her?!) girl named Hazel (said baby), who chronicles her beginnings and her parents attempts to keep her alive and safe. We know Hazel survives this entire adventure, obviously (… or do we?), but do her parents survive the entire saga? So nerve-wracking not knowing! And there's still so much more of the story to go!
Baby Hazel is actually really cute!
The book has amazing characters with layers and depth and dimension.
I loved Alana and Marko, Hazel's parents, and their realistic relationship. They balanced each other well and I don't know which of them I prefer. They were amazing protagonists that I really cared about.
The Stalk was actually my favorite character, weirdly enough. So strange but so fascinating. Does that make me weird?
Some things are not the easiest to grasp and understand, as there is quite a bit of dialogue at times (info dumps! Exposition!), but this barely detracted from my enjoyment of the story. Things get explained pretty well, for the most part.
There is humor here, and it is appropriate and successful. After all, this is a pretty dark story full of blood and gore. Total drama, but nicely sprinkled with some funny and chuckle-worthy bits.
There are twists and turns I didn't see coming.
The artwork is absolutely gorgeous and fits the story's vibe perfectly.
The cliffhanger at the end of the book killed me. I NEED TO KNOW WHAT HAPPENS NEXT.
EPIC. One word to describe Saga would be EPIC. ♦
---
So tell me…
Have you read Saga, Volume 1? If you haven't, would you be interested to? What's an epic space adventure you've read? What's the last sci-fi book you read? Comment below letting me know! And, as always, happy reading!
Follow me @ toweroftomes on Twitter | Instagram | Goodreads | and Bloglovin'!