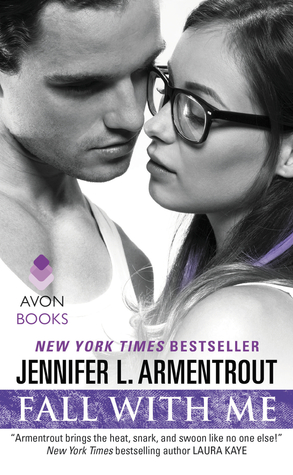 Book title: Fall with Me
Author: J. Lynn (aka Jennifer L. Armentrout)
Series: Wait for You, #4
Publisher: Avon Books (Harper Collins Publishers)
Release date: March 2015
Format: Paperback, 376 pages
Source: Library.
Read my review of Wait for You, book 1#, here.
---
Synopsis:
Jennifer L. Armentrout, New York Times bestselling author of the Wait for You series, delivers a new novel of first love, second chances, and scorching chemistry between an artistic bartender and the tough, sexy cop who's determined to win her.
Roxy's loved Reece Anders since she was fifteen, so when the straitlaced cop finally surrendered to a steamy encounter years later, Roxy hoped he'd fall for her, too. He didn't. Or that's what she's always believed. But then Reece storms back into her life when the man who injured her childhood friend is out of prison and wanting to make amends—something Roxy cannot do.
The last thing she wants is to go there with Reece again, but he's determined to prove to her that he's exactly what she needs. Especially when a sick creep starts messing with her. But what's more dangerous to Roxy—a psycho after her or the past that refuses to let go and allow her to open up her heart again?
---
The review:
Jennifer L. Armentrout's New Adult romance series, Wait for You, follows a different pair of friends in every book. Because my library strangely doesn't have books 2 or 3, I was forced to jump from book 1, Wait for You, to book 4, Fall with Me. While these are really just companion novels, I was still potentially spoiled for what might be a big plot point in one of the other books. It's not the end of the world, but because all these characters form a circle of friends, there are cameos and random discussions that seemed to be fan-service. This is pretty minor in the scope of reading enjoyment, however, but I did feel a little out of loop occasionally while reading book 4 when I hadn't read books 2 and 3, which makes obvious sense.
Moving along from that lengthy paragraph… Fall with Me is about Roxy, a bar tender, and Reece, a police officer. They've known each other for a long time but an incident happened that put a strain in their relationship. The book is about the two of them coming back together, and, like all romance books, has total miscommunication between the two characters. JLA does add in a plot, which, while worked well, I really wasn't a fan of. I don't like reading about stalkers and phychos, honestly. Roxy infuriated me with how stupid she acted, mainly by keeping things to herself when she should have told someone. It was also pretty obvious who the culprit/stalker was, but the climactic scene was definitely hair-raising and terrifying.
Of all of Jennifer's heroines, I actually felt the least connected to and interested in Roxy. I still liked her, but she wasn't as open and likeable as Jennifer's other protagonists are. She and Reece definitely had chemistry, though, and while I did really like Reece, the whole sexy cop thing wasn't really my cup of tea. I did like how Roxy and Reece's relationship felt very realistic. Also, there are plenty of sexy times here!
As usual, when it comes to a JLA book, I stayed up waaaaaay too late at night finishing Fall with Me! And while I enjoyed this book very much, I think I preferred the first in the series, Wait for You, over this one. Still, any book by JLA is great. She writes amazing romance. I still like her Young Adult paranormal and sci-fi books the most, simply because of the action and complicated plots and those crazy twists and cliffhangers, but her New Adult books are excellent, too. ♦
---
So tell me…
Have you read Fall with Me? If you haven't, would you be interested to? Have you read any other New Adult books by Jennifer L. Armentrout? How about any of JLA's YA books? Comment below letting me know! And, as always, happy reading!
Follow me @ toweroftomes on Twitter | Instagram | Goodreads | and Bloglovin'!