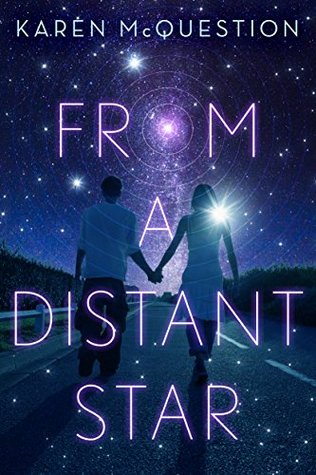 Book title: From a Distant Star
Author: Karen McQuestion
Publisher: Skyscape (Amazon Children's Publishing)
Release date: May 2015
Format: Egalley, 256 pages
Source: I received this book from the publisher through NetGalley in exchange for an honest review. Thank you, Skyscape!
---
Synopsis:
Seventeen-year-old Emma was the only one who hadn't given up on her boyfriend, Lucas. Everyone else—his family, his friends, his doctors—was convinced that any moment could be his last. So when Lucas miraculously returns from the brink of death, Emma thinks her prayers have been answered.
As the surprised town rejoices, Emma begins to question whether Lucas is the same boy she's always known. When she finds an unidentifiable object on his family's farm—and government agents come to claim it—she begins to suspect that nothing is what it seems. Emma's out-of-this-world discovery may be the key to setting things right, but only if she and Lucas can evade the agents who are after what they have. With all her hopes and dreams on the line, Emma sets out to save the boy she loves. And with a little help from a distant star, she might just have a chance at making those dreams come true.
---
The review:
From a Distant Star started off pretty bumpy, but turned out to be a wonderful (road-trip!) story about friendship and hope. If I had to compare it to another book, I'd say it's pretty similar to The Host (which I haven't read, although I have seen the movie), but only in, like, two regards: One, that a character becomes the host for an alien life-form, and two, that baddies are hunting down said host and alien and their friends/accomplices.
From a Distant Star seems like it's going to be a twisted romance book, with the girl in love with both the human and the alien, but, thankfully, it's not. Remember what I said about friendship? Love is the driving force behind the protagonist's willingness to help the alien, and a strong friendship forms between the two of them as they struggle to find a way to get him safely home.
Said protagonist is a girl named Emma, whose boyfriend Lucas is dying of cancer. Our alien life-form crash-lands in Lucas's backyard, and zippies into Lucas's body in order to keep itself and Lucas alive. However, suspicious government authorities soon show up and start snooping around for evidence of a "plane crash wreckage", or something along those lines, and it's pretty clear they're looking for the alien that has taken Lucas's body as its host. Emma and Lucas's (awesome) younger brother, Eric, decide to help the alien try to find a way home, and thus Emma and "Scout" embark on a road trip up to a research facility to attempt to send a signal to Scout's home planet.
Obviously, there's much more to the story than that, but that's the basic gist of it. The book wasn't perfect by all means, but it was enjoyable and pretty upbeat. I thought that Emma and Eric's belief in Scout's story about being an alien that's taken over Lucas's body went by really fast and really easily. They just bought it all, which turned out to be great and for the best, but it took, like, only one chapter for them to believe Scout and agree to help him. It seemed a bit far-fetched, but I suppose, at the pace the story was going, they kind of had to believe him without questioning it too much. After all, those shady agents snooping around definitely had everyone on edge.
I really liked how Emma didn't fall in love with Scout, but how she also didn't give up on Lucas, who she did really love. At first it was hard for her to separate Scout from Lucas, but eventually she did and she ended up forming a strong bond with Scout. They worked together and became good friends. They trusted each other. They didn't give up. And even though they formed a close friendship, each knew there was an end goal they both wanted: For Scout, it was to return home; for Emma, it was to get Lucas back.
From a Distant Star is a fun story with quite a lot more heart than I anticipated. Despite some of its far-fetched points and the bumpy beginning, I did end up enjoying it. It's not something entirely new or original, but the colorful supporting cast and the great friendship that builds between the two main characters are what make this book. It's not the most memorable alien book I've read, but it tells a good story and I can totally get behind that. ♦
---
So tell me…
Have you read From a Distant Star? If you haven't, would you be interested to? What is your favorite book featuring aliens? Comment below letting me know! And, as always, happy reading!
Follow me @ toweroftomes on Twitter | Instagram | Goodreads | and Bloglovin'!