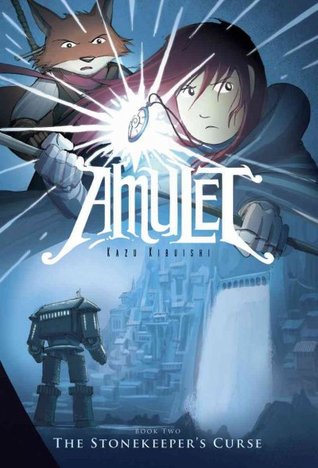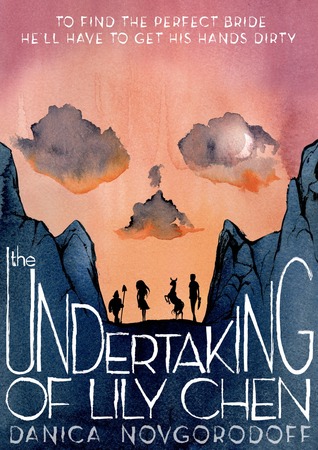 Amulet, Book 2: The Stonekeeper's Curse by Kazu Kibuishi
&
The Undertaking of Lily Chen by Danica Novgorodoff
---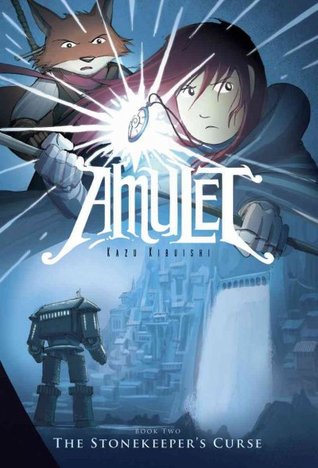 Book title: The Stonekeeper's Curse
Author: Kazu Kibuishi
Series: Amulet, #2
Publisher: GRAPHIX (Scholastic)
Release date: September 2009
Format: Paperback, 219 pages
Source: Library.
Read my review of The Stonekeeper, book #1, here.
Synopsis:
In this thrilling sequel to AMULET #1: THE STONEKEEPER, Emily and her brother Navin head for Kanalis, a beautiful and mysterious city of waterfalls, where they hope to find the antidote for the poison that felled their mother. That cure lies in the eggs of a giant serpent atop Demon's Head Mountain, but the kids' archenemy, Trellis, is headed for the peak, too. A battle that will engulf all of Kanalis is looming. It's up to Em to triumph over evil while controlling the amulet's power . . . without losing herself!
---
The Stonekeeper's Curse is a wonderful continuation of the Amulet series. Kazu Kibuishi's artwork is absolutely stunning, and the full-page spreads and vibrant colors really make this a gorgeous book. It picks up shortly after the end of book 1, and is a quest to find a magical fruit that has special healing properties. Throw in some evil elves and more backstory on the amulet itself, and it's a terrific adventure story with plenty of action. This book introduces lots of great, new fantasy elements. However, where book 1, The Stonekeeper, was surprisingly dark and mature, book 2 is not. The Stonekeeper's Curse felt very appropriate for its targeted age group. This is not a bad thing at all, but now I'm wondering if this series is going to remain a bit more childish or gain back some of the mature elements found in the first book. Still enjoyed this very much, and read it one sitting, riveted and blown away by the breathtaking illustrations. ♦
---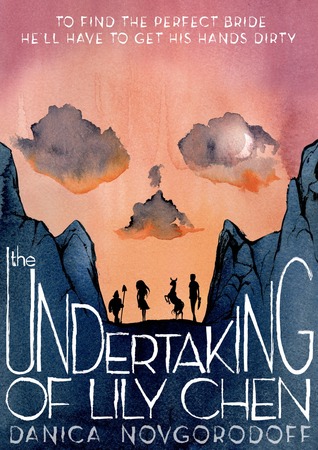 Book title: The Undertaking of Lily Chen
Author: Danica Novgorodoff
Publisher: First Second (Roaring Book Press)
Release date: March 2014
Format: Paperback, 430 pages
Source: Library.
Synopsis:
In the mountains of Northern China ancient custom demands that every man have a wife to keep him company in the afterlife.
Deshi Li's brother is dead–and unmarried. Which means that Deshi must find him an eligible body before the week is up.
Lily Chen, sweet as a snakebite, needs money and a fast ride out of town.
Haunted by the gods of their ancestors and the expectations of the new world, Deshi and Lily embark on a journey with two very different destinations in mind. They travel through a land where the ground is hard and the graves, where marriage can be murder and where Lily Chen is wanted–dead and live.
---
I was browsing my library's graphic novel section when this book caught my attention with its stunning watercolor cover. I skimmed the jacket flap and noticed it was set in China, and decided, hey, why the heck not. It ended up being a quick read, despite the large page count. But.. I was disappointed. The Undertaking of Lily Chen had a lot of potential, but it just didn't deliver.
The story is about a young man whose brother dies, and he's tasked with finding his dead brother a wife so that the brother can be at peace in the afterlife. (They synopsis explains this much better than I just did.) The well-and-alive brother, Deshi, heads out, even digging up graves in hopes to find a girl not too long ago deceased, when he meets a spunky and very-alive-girl named Lily Chen. The book is about their personal struggles and unhappiness, and how they both find a way out of their current lives and try to start new ones. I never connected to either of the protagonists, and didn't really care much about their journey.
The artwork was also very uneven/un-matchy throughout the book. The watercolors, which made up much of the scenery, were gorgeous, but the rest of the art, such as the characters, didn't always seem cohesive. The not-very-interesting characters plus the mismatched art styles just didn't work for me, sad to say. This wasn't a bad book, but it's not as good as it sets itself up to be. ♦
---
Have you read The Stonekeeper's Curse?
How about The Undertaking of Lily Chen?
If you haven't, would you be interested to?
What's your favorite thing about graphic novels? (Story, art, colors, dialogue, etc.)
Comment below letting me know!
And, as always, happy reading!
Follow me @ toweroftomes on Twitter | Instagram | Goodreads | and Bloglovin'!