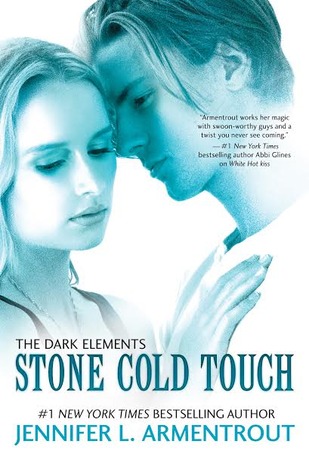 Book titles: Stone Cold Touch, Every Last Breath
Author: Jennifer L. Armentrout
Series: The Dark Elements, #2, #3
Publisher: Harlequin Teen
Release dates: October 2014, July 2015 (respectively)
Formats: Paperbacks, 448 pages, 378 pages (respectively)
Source: Library.
Read my review of White Hot Kiss, book #1, here.
Synopsis for Stone Cold Touch, book #2:
Every touch has its price
Layla Shaw is trying to pick up the pieces of her shattered life—no easy task for a seventeen-year-old who's pretty sure things can't get worse. Her impossibly gorgeous best friend, Zayne, is forever off-limits thanks to the mysterious powers of her soul-stealing kiss. The Warden clan that has always protected her is suddenly keeping dangerous secrets. And she can barely think about Roth, the wickedly hot demon prince who understood her in ways no one else could.
But sometimes rock bottom is only the beginning. Because suddenly Layla's powers begin to evolve, and she's offered a tantalizing taste of what has always been forbidden. Then, when she least expects it, Roth returns, bringing news that could change her world forever. She's finally getting what she always wanted, but with hell literally breaking loose and the body count adding up, the price may be higher than Layla is willing to pay…
---
The Dark Elements trilogy is strongly a YA romance (definitely for more mature YA readers; you could probably categorize this as YA/NA crossover) with the plot of all Hell breaking loose by the evil doings of a demon called the Lilin. The romance is also a love triangle. Like, seriously, Layla loves both boys (Warden/gargoyle Zayne and demon/Crown Prince of Hell Roth) and can't make up her mind about them — until book 3, Every Last Breath. It was actually pretty surprising how quickly she made her decision of who was always the one for her. It was also slightly disappointing how little happened in the third and final book. There was some action, and everything was resolved in the end plot-wise, but almost half the book was just romantic times between Layla and the guy she picked. Not saying I didn't enjoy it, but the great action and plot twists normally found in Jennifer L. Armentrout's paranormal and sci-fi books was definitely lacking in Every Last Breath.
But to talk about book 2, Stone Cold Touch… I probably should have reviewed the book closer to when I finished it, but I'll point out a few things: 1) Where Roth was featured and Zayne sidelined in White Hot Kiss, it's the reverse in book 2. Zayne takes center stage in Stone Cold Touch (I think the title makes it pretty obvious) and we really get to know him a lot better. Remember in my review of White Hot Kiss how I said Zayne was sweet and all but boring as cardboard? Well, I take it back. I really, really began to like him in Stone Cold Touch — but I was always Team Roth from the very beginning. Zayne just never stood a chance.
2) The whole Lilin plot-line in book 2 is waaaaay more interesting than it is in book 3. Book 2 makes the identity of the Lilin a mystery, a sort of guessing game. Unfortunately, when I was flipping to the back of the book to find out how many pages the book was (448, if you're wondering), I accidentally saw the very last sentence of Stone Cold Touch — WHICH COMPLETELY SPOILS EVERYTHING if you haven't gotten very far into the novel! I was so pissed at myself. I'm always super careful about not reading the last page of a book, but this one sentence was just sitting there by itself, cackling at me when my peripheral vision saw it. A lot of other readers have said the Lilin's identity was pretty obvious throughout the book, but now I'll never know what I would have thought about it! The last sentence literally tells you who the Lilin is. And I never got a chance to piece it all together myself. Grrrr.
To talk about something in both books… I liked how Stone Cold Touch played with the stereotypes of good guys being bad, and how Every Last Breath played with bad guys being good. In book 2, the whole Abbot story-line was pretty rough to handle. I was never a fan of Abbot's, and I certainly loathed him and the choices he made in book 2. He redeemed himself in book 3, though. But back to stereotypes… Abbot and some other Wardens are supposedly the good guys, people with completely pure souls who keep the peace and demon population down topside. Well, ahem. Meanwhile, Roth is the Crown Prince of Hell but is pretty much a great guy who doesn't have a very demonic personality. Not gonna complain, but it was interesting seeing how he and his friend Cayman weren't actually evil, like, ever. Even the Boss of Hell showed some compassion at the end of Every Last Breath, and c'mon — that was pretty unbelievable, if incredibly fortunate! That all being said, I enjoyed how Layla showed a true mixture of both good and bad in her, although she was definitely mostly good. And her being aware of her "bad" tendencies really messed with her head at points, which was interesting.
To talk about Every Last Breath some more… This was the final book. Where Layla would pick her one true love and break the other guy's heart. Where the Lilin would be confronted and destroyed. This was the book everything was leading up to… And while I loved it (4 star rating, guys), it definitely wasn't as action-packed and satisfying as I wanted it to be. Everything's kind of predictable (and just so neat and non-messy for the most part), from who Layla picks, to her confronting her shitty parents, to the Lilin being defeated, and to the happily ever after ending. (Guys, you didn't not think it would be a happy ending, right? Happy endings have to happen in romances. Except for 1% that are romantic tragedies, almost every single romance book, because that is what Every Last Breath is above all else, ends happily for the two lovers. Just saying.) I still stayed up until 3am reading this book, but the journey into Hell and the meeting with Lilith, among a few other scenes, were definitely anticlimactic. I also totally didn't dig the whole familiars-as-people part. That was just weird and, honestly, unnecessary.
In the end, the Dark Elements series was super fun and super sexy. As usual, JLA delivers a terrific paranormal series with book boyfriends to swoon over and a heroine who really grows throughout the entire story. Add in all the snark and the great action scenes and some colorful supporting characters, and you're bound to have a great ride. I highly recommend this series. I think I still prefer Jennifer's Lux and Covenant series over the Dark Elements (mainly because of the bigger, more complicated plots and slightly because of either no or far more muted love triangles, respectively), but if you're a JLA fan you're going to love these books, I'm sure. I will read anything by JLA, as I've mentioned many times previously. She's a great writer who really knows how to perfectly throw in all that kissing when the world's about to end. 😉 ♦
---
Have you read Stone Cold Touch and or Every Last Breath?
How about book 1, White Hot Kiss?
If you haven't, would you be interested in reading the Dark Elements series?
What was the last paranormal book you read?
And what do you think about love triangles? (I know, I just unleashed practically every reader's rant about them!)
Comment below letting me know!
And, as always, happy reading!
Follow me @ toweroftomes on Twitter | Instagram | Goodreads | and Bloglovin'!