Waiting on Wednesday is hosted by Jill @ Breaking the Spine.
---
What book am I eagerly anticipating at this moment? Why it just so happens to be…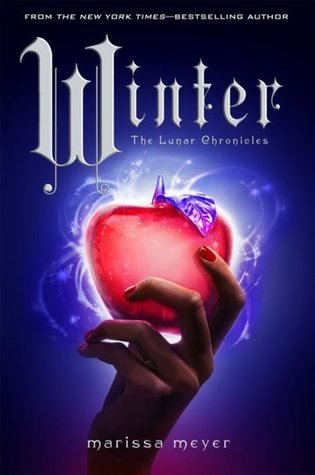 Winter
by Marissa Meyer
Releases November 10th, 2015 from Feiwel and Friends
EDIT: Check out my review of Winter!
Synopsis:
Princess Winter is admired by the Lunar people for her grace and kindness, and despite the scars that mar her face, her beauty is said to be even more breathtaking than that of her stepmother, Queen Levana.
Winter despises her stepmother, and knows Levana won't approve of her feelings for her childhood friend–the handsome palace guard, Jacin. But Winter isn't as weak as Levana believes her to be and she's been undermining her stepmother's wishes for years. Together with the cyborg mechanic, Cinder, and her allies, Winter might even have the power to launch a revolution and win a war that's been raging for far too long.
Can Cinder, Scarlet, Cress, and Winter defeat Levana and find their happily ever afters?
---
THE CONCLUSION TO THE EPIC SCI-FI FAIRYTALE RETELLINGS SERIES!!! I loved, Cinder, Scarlet, Cress, and the prequel Fairest. I KNOW I AM GOING TO LOVE WINTER. (Sorry for the yelling.) This is a Snow White retelling, if you're unaware. I absolutely cannot wait. I want to know how it all ends! I want everyone to find their happily ever after! I want Queen Levana to have karma hit her to the moon — ah, wait, she's already from the moon, and we certainly don't want her anywhere near Earth… Well, Levana just needs karma to hit her like an asteroid. But Winter. I already love it!
---
Are you looking forward to reading Winter?
What can't you wait to read right now?
Follow me @ toweroftomes on Twitter | Instagram | Goodreads | and Bloglovin'!