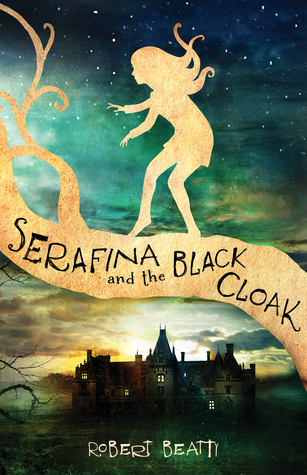 Book title: Serafina and the Black Cloak
Author: Robert Beatty
Publisher: Disney Hyperion
Release date: July 2015
Format: egalley, 304 pages
Source: I received this book from the publisher through NetGalley in exchange for an honest review. Thank you, Disney Hyperion!
---
Synopsis:
A spooky mystery-thriller about an unusual girl who lives secretly in the basement of the grand Biltmore Estate.
"Never go into the deep parts of the forest, for there are many dangers there and they will ensnare your soul."
Serafina has never had a reason to disobey her pa and venture beyond the grounds of Biltmore Estate. There's plenty to explore in the shadowed corridors of her vast home, but she must take care to never be seen. None of the rich folk upstairs know that Serafina exists; she and her pa, the estate's maintenance man, have secretly lived in the basement for as long as Serafina can remember.
But when children at the estate start disappearing, only Serafina knows who the culprit is: a terrifying man in a black cloak who stalks Biltmore's corridors at night. Following her own harrowing escape, Serafina risks everything by joining forces with Braeden Vanderbilt, the young nephew of Biltmore's owners. Braeden and Serafina must uncover the Man in the Black Cloak's true identity before all of the children vanish one by one.
Serafina's hunt leads her into the very forest that she has been taught to fear. There she discovers a forgotten legacy of magic that is bound to her own identity. In order to save the children of Biltmore, Serafina must seek the answers that will unlock the puzzle of her past.
---
The review:
Serafina and the Black Cloak is a lovely middle grade novel about a girl who is determined to find out who the man in the mysterious black cloak is. It's a mystery/thriller with some fantasy thrown in (and even a few sprinkles of horror), and it was an absolute joy to read. This was a book that made me remember why I love reading. It was wonderful and magical and made me happy. I haven't read a book in ages that made me warm and fuzzy inside because of its simple yet complex story. It's just a story, not a story with a gazillion ideas and emotions that come with it, you know what I mean? Basically, it's good to get out of the YA bubble sometimes.
I loved Serafina; she was such a great protagonist. She was brave, she was smart, but she was also appropriately frightened in given situations. She's different and knows she's different, and she grows to like and accept herself, and be comfortable forming relationships with other people. I also loved Braeden, the boy she becomes friends with. He was curious, bright, and really sweet, and he and Serafina made an awesome duo. I also totally adored Giddean, Braeden's canine friend. Animal pals make all books 10x better. And even the adults felt realistic. I especially liked Serafina's dad, even though he was gruff and difficult sometimes. He loved her, though, and showed it in his own way.
The ending I didn't see coming at all, but it all worked out. The resolution and the explanations were easy to understand, and while things did wrap up pretty quickly, I was very satisfied and even went, "Aw." Yup, Serafina saves the day and gets a giant-ass cake of hooray. (Whoa, unintentional rhyme.)
And Robert Beatty's writing is marvelous. Immediately upon starting this book I noticed his beautiful prose that was easy to follow but didn't seem simplistic. I always felt like I was right beside Serafina through the entire story, and I loved how all the characters had completely different voices. Serafina and the Black Cloak is a fantastic book aimed at the middle grade audience, but that can definitely be loved and enjoyed by older readers. The danger and mystery were terrific, and Serafina was such a compelling character to root for. Loved loved loved this book! ♦
---
So tell me…
Have you read Serafina and the Black Cloak? If you haven't, would you be interested to? What was the last book about magic you read? Or, what was the last middle grade novel you read and really enjoyed? Comment below letting me know! And, as always, happy reading!
Follow me @ toweroftomes on Twitter | Instagram | Goodreads | and Bloglovin'!