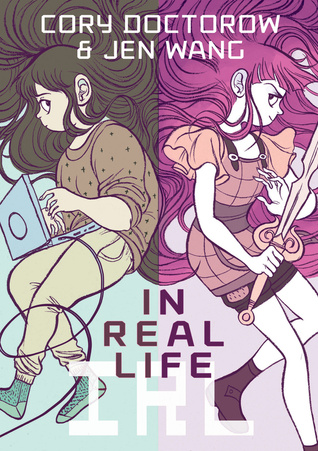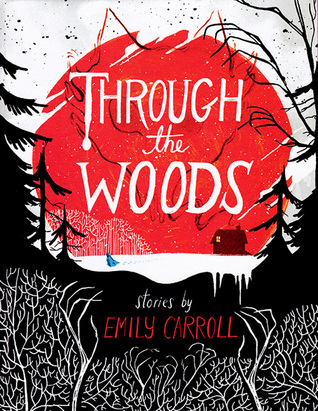 In Real Life by Cory Doctorow and Jen Wang
&
Through the Woods by Emily Carroll
&
Rapunzel's Revenge by Shannon and Dean Hale, illustrated by Nathan Hale
---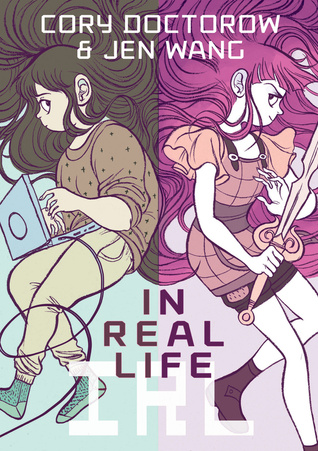 Book title: In Real Life
Author: Cory Doctorow and Jen Wang
Publisher: First Second (Roaring Book Press)
Release date: October 2014
Format: Paperback, 175 pages
Source: Library.
Synopsis:
Anda loves Coarsegold Online, the massively-multiplayer role-playing game where she spends most of her free time. It's a place where she can be a leader, a fighter, a hero. It's a place where she can meet people from all over the world, and make friends.
But things become a lot more complicated when Anda befriends a gold farmer–a poor Chinese kid whose avatar in the game illegally collects valuable objects and then sells them to players from developed countries with money to burn. This behavior is strictly against the rules in Coarsegold, but Anda soon comes to realize that questions of right and wrong are a lot less straightforward when a real person's real livelihood is at stake.
From acclaimed teen author (Little Brother, For the Win) and Boing Boing editor Cory Doctorow and Koko Be Good creator Jen Wang, In Real Life is a perceptive and high-stakes look at adolescence, gaming, poverty, and culture clash.
---
In Real Life really blew me away. I thought it was going to be fun and lighthearted, but it turned out to be very serious and even sad. It's about a girl who starts playing a MMORPG called Coarsegold, where she gets involved in gold farming — or, rather, hunting down the gold farmers in-game who are making money from their illegal activities in the real world. You've probably heard of it: players farming and grinding so they can sell their items and accomplishments for real cash to players who don't have the time or patience. Anyway, this graphic novel is absolutely gorgeous. The illustrations are terrific and the colors — man, the colors are absolutely stunning. Throw in the fictional fantasy elements from Coarsegold and it really felt like I was in a whole different world. I got chocked up while reading this fabulous story, and I highly recommend it. ♦
---
Book title: Through the Woods
Author: Emily Carroll
Publisher: Margaret K. McElderry Books (Simon and Schuster Children's Publishing Division)
Release date: July 2014
Format: Paperback, 208 pages
Source: Library.
Synopsis:
'It came from the woods. Most strange things do.'
Five mysterious, spine-tingling stories follow journeys into (and out of?) the eerie abyss.
These chilling tales spring from the macabre imagination of acclaimed and award-winning comic creator Emily Carroll.
Come take a walk in the woods and see what awaits you there…
---
Through the Woods might be my favorite graphic novel I've read to date. It is creepy and haunting and dark and scary as heck! I had goosebumps and spine-tingles. This was absolutely superb; I was riveted and couldn't put it down. It's a book of five different horror stories that are absolutely terrifying. Emily Carroll's writing is fairy-tale like, and her stunning artwork is colorful, gorgeous, and frightening in what it depicts. I think the second story, A Lady's Hands Are Cold, was my favorite, although all of them were great. I'm so glad I didn't read this book before bed because I don't know if I would have been able to sleep completely at peace… I'm not big on horror stories, but it's been a long time since I've read a book that had me worrying about every little creak and groan in the house, and of what lurks in the dark when all the lights are off at night… You absolutely need to read this book of dark and twisted tales. Every element was perfect. ♦
---
Book title: Rapunzel's Revenge
Author: Shannon Hale and Dean Hale, illustrated by Nathan Hale
Series: Rapunzel's Revenge, #1
Publisher: Bloomsbury USA Children's Books
Release date: August 2008
Format: Paperback, 144 pages
Source: Library.
Synopsis:
Once upon a time, in a land you only think you know, lived a little girl and her mother . . . or the woman she thought was her mother.
Every day, when the little girl played in her pretty garden, she grew more curious about what lay on the other side of the garden wall . . . a rather enormous garden wall.
And every year, as she grew older, things seemed weirder and weirder, until the day she finally climbed to the top of the wall and looked over into the mines and desert beyond.
Newbery Honor-winning author Shannon Hale teams up with husband Dean Hale and brilliant artist Nathan Hale (no relation) to bring readers a swashbuckling and hilarious twist on the classic story as you've never seen it before. Watch as Rapunzel and her amazing hair team up with Jack (of beanstalk fame) to gallop around the wild and western landscape, changing lives, righting wrongs, and bringing joy to every soul they encounter.
---
This was all right; nothing special. I actually read a bit of Rapunzel's Revenge years ago when it first came out, and I remember not being that impressed by it. All these years later, I still was not that impressed. I love Shannon Hale, she's one of my favorite fantasy authors, but this story just didn't do it for me. I liked the concept of setting Rapunzel in the Wild West, but the illustrations and the dialogue just didn't quite mesh together perfectly. It was hard to believe everything that was happening. This wasn't bad at all, but it definitely wasn't my favorite book I've read by a long shot. ♦
---
Have you read any of these graphic novels?
If you haven't, would you be interested to?
What was the last graphic novel you read?
Is there are graphic novel you'd like to recommend me?
Comment below letting me know!
And, as always, happy reading!
Follow me @ toweroftomes on Twitter | Instagram | Goodreads | and Bloglovin'!