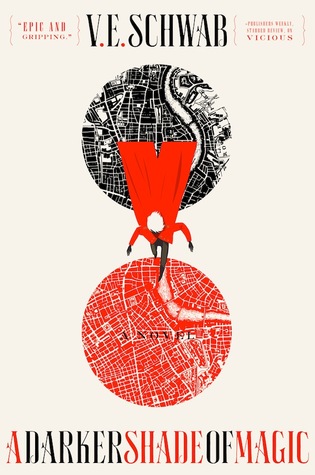 Book title: A Darker Shade of Magic
Author: V.E. Schwab
Series: A Darker Shade of Magic, #1
Publisher: Tor (Tom Doherty Associates Book)
Release date: February 2015
Format: Hardcover, 398 pages
Source: Library.
---
Synopsis:
Kell is one of the last Travelers—rare magicians who choose a parallel universe to visit.
Grey London is dirty, boring, lacks magic, ruled by mad King George. Red London is where life and magic are revered, and the Maresh Dynasty presides over a flourishing empire. White London is ruled by whoever has murdered their way to the throne. People fight to control magic, and the magic fights back, draining the city to its very bones. Once there was Black London—but no one speaks of that now.
Officially, Kell is the Red Traveler, personal ambassador and adopted Prince of Red London, carrying the monthly correspondences between royals of each London. Unofficially, Kell smuggles for those willing to pay for even a glimpse of a world they'll never see. This dangerous hobby sets him up for accidental treason. Fleeing into Grey London, Kell runs afoul of Delilah Bard, a cut-purse with lofty aspirations. She robs him, saves him from a dangerous enemy, then forces him to another world for her 'proper adventure'.
But perilous magic is afoot, and treachery lurks at every turn. To save all of the worlds, Kell and Lila will first need to stay alive—trickier than they hoped.
---
The review:
A Darker Shade of Magic was a book I started that I immediately knew would be fabulous. I ended up loving it, no surprise there. And my book blogger friends have been raving about it. I had high expectations — which were met! I've been meaning to read more of Victoria Schwab's books for a while now. I read The Archived a while back and didn't really like it (although I want to reread it now to see if my opinion has changed), but thought her a good writer I'd like to read more from, perhaps in a different genre. Turns out her high fantasy is absolutely my calling. Now I'm dying to read Vicious, as well as the sequel to A Darker Shade of Magic, A Gathering of Shadows, which doesn't come out until 2016! 😥
In A Darker Shade of Magic, there are various parallel worlds that each have a city called London. Gray London is in our world. Red London is where the protagonist, Kell, comes from — he's a traveler, an Antari, a magician, who can walk between worlds. White London is evil, pretty much, and ruled by a mad pair of siblings. Black London no longer exists… or, what remains of it is pretty sad. The plot revolves around a magic stone from Black London that Kell and Lila, the other protagonist, unfortunately find themselves in the possession of. Only problem is that others want the stone back, which is dangerous and capable of insanely strong, dark magic. The book is Kell and Lila's plan to return the stone home to Black London.
I loved all the characters. Kell and Lila were amazing protagonists, but I think I liked Lila a little more. She was smart and brave, and didn't take crap from anybody. She's vulnerable but overcomes her fears. She wants adventure and, boy, does she find herself one. Kell was great, too. Also smart, he understood the weight and importance of maintaining balance and doing good. He struggles to find acceptance and accept himself. He cares for his adoptive family, and for Lila, his new friend and partner in crime. The supporting characters were great, too. Holland, an antagonist, was fascinating. Rhy, Kell's brother, was hilarious and sincere. And the mad queen (whose name I am blanking on right now, since I don't have my library copy anymore) was absolutely loony but delicious. I really love crazy-ass queens, if they're done well. (I also tend to picture them as Helena Bonham Carter, not gonna lie.)
A lot of reviewers have complained how the worlds and information are a bit confusing at first and not explained very well. Everyone's entitled to their opinion, but I loved how Victoria explained things bit by bit. Rules weren't always laid out right away. Details weren't always elaborated on until later. I loved the air of mystery surrounding Red and White London. I loved discovering the laws of magic, which were quite dark and, dare I say, inventive. The world building was phenomenal, with each London completely different in feeling, color, magic, and language. Everything was rich and complex. Love love love!
I don't want to spoil anything for you if you haven't read this book. All I knew going into it was that there were parallel worlds and magic. I was hooked from page one and read most of the book in one sitting. There's no romance to be found here, which was a pleasant, much-needed change from the angst-ridden YA/NA I've been reading lately (*cough* Jennifer L. Armentrout, whose books I do adore). Overall I highly recommend A Darker Shade of Magic. This is one of my favorite books I've read this year so far. It was every ounce my kind of book. This is what I look for in fantasies: strong characters, wondrous worlds, and dangerous, creative magic. ♦
---
So tell me…
Have you read A Darker Shade of Magic? If you haven't, would you be interested to? What's a book you liked that featured multiple/parallel worlds? Comment below letting me know! And, as always, happy reading!
Follow me @ toweroftomes on Twitter | Instagram | Goodreads | and Bloglovin'!