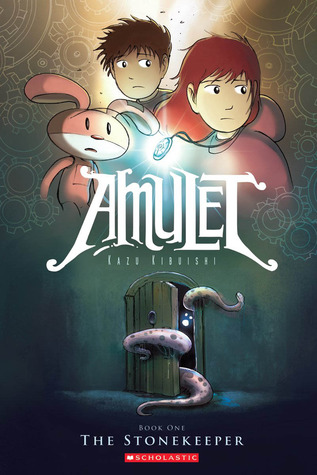 The Stonekeeper by Kazu Kibuishi
&
The Gigantic Beard That Was Evil by Stephen Collins
---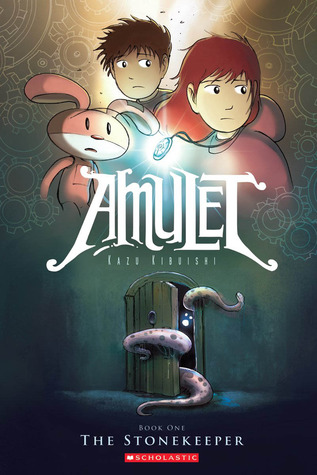 Book title: The Stonekeeper
Author: Kazu Kibuishi
Series: Amulet, #1
Publisher: GRAPHIX (Scholastic)
Release date: January 2008
Format: Paperback, 187 pages
Source: Library.
Synopsis:
THERE'S SOMETHING STRANGE BEHIND THE BASEMENT DOOR…
After a family tragedy, Emily, Navin and their mother move to an ancestral home to start a new life. On the family's very first night in the mysterious house, Em and Navin's mom is kidnapped by a tentacled creature. Now it's up to Em and Navin to figure out how to set things right and save their mother's life!
---
The Stonekeeper is a wonderful setup for the rest of the Amulet series. This graphic novel is much darker than I expected — the prologue alone had me in shock it was so sad. The full-color artwork is beautiful and fabulous and just eye candy. There's lots of awesome action as well as some really heartfelt moments. I wish the book had been longer, though, or that I just had the entire series to marathon at once. I read The Stonekeeper in one sitting, absolutely enthralled by its fun story and its great characters. I highly recommend this middle grade graphic novel. ♦
---
Book title: The Gigantic Beard That Was Evil
Author: Stephen Collins
Publisher: Picador
Release date: October 2014
Format: Hardcover, 240 pages
Source: Library.
Synopsis:
NOW A NEW YORK TIMES BESTSELLER
The job of the skin is to keep it all in…
On the island of Here, livin's easy. Conduct is orderly. Lawns are neat. Citizens are clean shaven-and Dave is the most fastidious of them all. Dave is bald, but for a single hair. He loves drawing, his desk job, and the Bangles. But on one fateful day, his life is upended…by an unstoppable (yet pretty impressive) beard.
An off-beat fable worthy of Roald Dahl and Tim Burton, Stephen Collins' The Gigantic Beard That Was Evil is a darkly funny meditation on life, death, and what it means to be different–and a timeless ode to the art of beard maintenance.
---
I think my favorite part of the book is quite possibly the title; it's certainly what got me interested in the book. The Gigantic Beard That Was Evil is a beautiful graphic novel, entirely in black and and white pencil drawings, that chronicles the gigantic and evil beard a boring, ordinary man named Dave suddenly grows. Stephen Collins' writing is poetic at times, and has a nice rhythm to it throughout. The story is really a metaphor for our own world and has so many different themes that can be interpreted. This stunning book is strange, bizarre, dark, and unique. It's quite longer in page count than I thought it would be, yet I still read it in one sitting, riveted by its originality and weirdness. I highly recommend picking up The Gigantic Beard That Was Evil. ♦
---
Have you read The Stonekeeper?
Or The Gigantic Beard That Was Evil?
If you haven't, would you be interested to?
What's your favorite graphic novel?
Any graphic novel you want to recommend me?
Comment below letting me know!
And, as always, happy reading!
Follow me @ toweroftomes on Twitter | Instagram | Goodreads | and Bloglovin'!