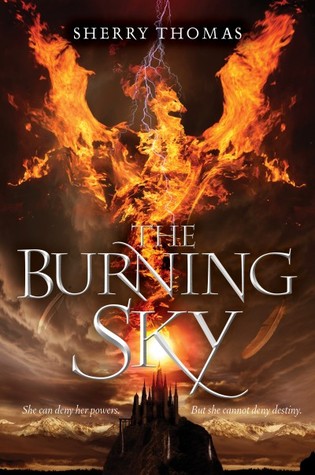 Book title: The Burning Sky
Author: Sherry Thomas
Series: The Elemental Trilogy, #1
Publisher: Balzer + Bray (Harper Collins Publishers)
Release date: September 2013
Format: Hardcover, 449 pages
Source: Library.
---
Synopsis:
It all began with a ruined elixir and a bolt of lightning.
Iolanthe Seabourne is the greatest elemental mage of her generation—or so she's been told. The one prophesied for years to be the savior of The Realm. It is her duty and destiny to face and defeat the Bane, the most powerful tyrant and mage the world has ever known. This would be a suicide task for anyone, let alone a reluctant sixteen-year-old girl with no training.
Guided by his mother's visions and committed to avenging his family, Prince Titus has sworn to protect Iolanthe even as he prepares her for their battle with the Bane. But he makes the terrifying mistake of falling in love with the girl who should have been only a means to an end. Now, with the servants of the tyrant closing in, Titus must choose between his mission—and her life.
The Burning Sky—the first book in the Elemental Trilogy—is an electrifying and unforgettable novel of intrigue and adventure.
---
The review:
The Burning Sky was not what I imagined, and that is both a good and bad thing. I'm not really sure how to review this novel. This review is probably going to be pretty short, but I'll do my best to get my thoughts across somewhat coherently. (Upon finishing writing the review, I can assure you it's not "pretty short," although it's definitely not 100% coherent.)
The premise. Iolanthe is a prophesied great elemental mage. When she summons a powerful bolt of lightning one day, it about alerts everyone in the magical Domain like a beacon to her existence. (Well, only those who are looking out for said prophesied mage, that is.) She's whisked away by Prince Titus, a powerful mage himself, to the human world (to Victorian-era England) where the two of them hide from the Bane and his Inquisitor — the book's villains who questionably rule over the Domain and want to use Iolanthe's elemental magic for their own doing. The Burning Sky is about Iolanthe (who poses as a boy named Archer Fairfax at an all-boy's boarding school), and Titus making a plan to strike back against the Bane and the Inquisitor.
The beginning. Was confusing as heck. I like how the action and plot immediately started, but things were really unclear at points and I felt completely lacking in information and explanations until much later on in the story.
The setting. The magical Domain had a really nice fantasy atmosphere, complete with magic and unique creatures and fun customs. The book really doesn't take place in the Domain, however, not except for the beginning and end, if I remember correctly. The non-magic world setting was fine, but not particularly unique. Boarding school books are a hit or miss for me, and while there are, like, absolutely no classes that even happen in the book, I still felt bored with the restricted setting of Eton College. There was also a magical place (not its own world, though) called the Crucible, which is a sort of place to escape to that has its own set of scenarios, and where it is safe to practice and use magic. Bouncing around from world to world was cool but also a bit jarring. It wasn't as smooth as I wanted it to be.
The characters. I actually loved Iolanthe and Titus. Titus was really sweet, and the complete dedication he had to his task was amazing. He was willing to die for a cause he believed in. He was also an extremely skilled mage who knew even he wasn't powerful enough alone, and therefore wanted to work with Iolanthe as a team. He knew he needed her to succeed. His friendship with Iolanthe developed so well, and the two grew to have mutual respect for each other. Their banter was hilarious, too.
Iolanthe perfectly nailed the teenage boy habits and mannerisms. Her snark and jokes made me smile. She was actually tricked into a deal with Titus, by Titus, concerning the confrontation with the evil Bane and his Inquisitor. She became forced to work with Titus and she hated how she had no power over it. (Magic oaths are really tricky to skirt around.) However, what neither of them expected was to fall in love with each other…
The romance. Falling in love with someone when they or you or both of you may die in the very near future is probably a bad idea. However, it happens. And the chemistry between the two main characters was undeniably good. The romance isn't the focus of the book at all, but there were some good moments where their attraction really sparks. I totally called Titus's Sleeping Beauty twist, though — which I actually thought was adorable and so hopelessly romantic.
The villains. The Bane and the Inquistor, a man and a woman, respectively. The Inquisitor had much more to do in this book than the Bane, but both are pretty menacing (the Inquisitor more so, I'd say. She's one despicable person). I was quite content with Iolanthe who, in canary form, managed to knock her out. (Also, the canary bit was hilarious and one of my favorite parts of the book.)
The dragons! Wyverns, as they're called. As soon as the dragons, guarding Sleeping Beauty's castle in the Crucible, appeared, my opinion of the book rose. Dragons make everything better. I love dragons. (Yes, I did just dedicate an entire, short paragraph of this review to dragons. Deal with it.)
The ending. Felt a little anti-climactic and rushed, but maybe that was because I was just racing along, eager to finish the book. Things were wrapped-up nicely, but there were some loose strings that will obviously be dealt with in the sequel, The Perilous Sea.
The magic. The magic was interesting, and the rules of it were fascinating. I love stories that really create a rich magic system, and The Burning Sky incorporates many aspects. Such as wands, elemental magic, vaulting, and more. It's been a while since I've read a book where the magic was really explained and uniquely thought out, so I must praise the book in regards to that.
Overall, The Burning Sky didn't blow me away, but it has some really great moments among some more confusing or duller ones. I didn't love it, but I'm still interested in finding out what happens next for Iolanthe and Titus in book two. I seem to be in the minority in that I didn't like this book as much as many others have, but it was engaging and quick, and a nice change from what I've been reading lately. ♦
---
So tell me…
Have you read The Burning Sky? If you haven't, would you be interested to? What was a book you read that featured mages or elemental magic? Comment below letting me know! And, as always, happy reading!
Follow me @ toweroftomes on Twitter | Instagram | Goodreads | and Bloglovin'!